Information & analysis
SPARK simplifies the process of sorting large volumes of unstructured data.
Simply type the name of the company, private entrepreneur, shareholder or director into the search bar, and SPARK will show you the most relevant results.
Search by
The company's legal address or telephone number
Tax identification number
Bank guaranties
Court rulings
Enforcement proceedings
VIN number of a company vehicle
Domains
Pledges and leasing contracts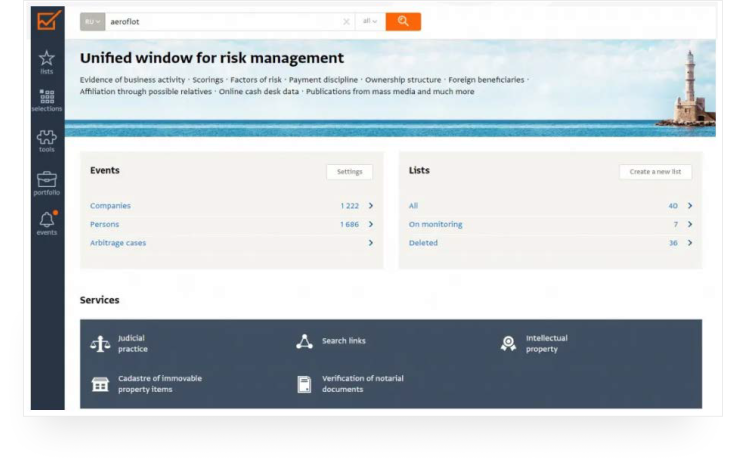 SPARK's sophisticated search algorithms help you find the most relevant results for your chosen filters.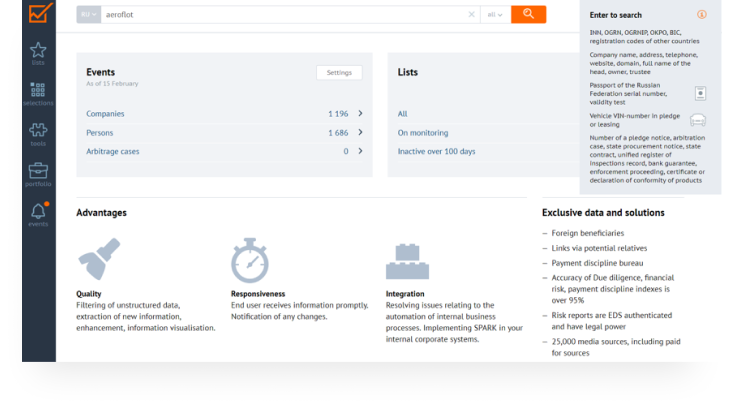 SPARK helps you focus on the crucial details
SPARK makes a crucial difference when you're researching a business or entrepreneur. With regularly updated data and ways to filter searches, SPARK helps you focus on critical information and highlights relevant risks.
Get access to
Registration and contact details
Company structure, shareholders, subsidiaries, branches and directors
Record of company changes
Affiliations
Risk factors
State registration bulletin announcements
Financial analysis and financial reports from companies, banks and insurers
Payment discipline
Legal cases and enforcement proceedings
Bankruptcy information
Participation in state and commercial procurement tenders
Patents, licenses and securities
Company vacancies
Domains
LEARN MORE