25 Aug 2023
Working in Africa requires a certain amount of patience - chairman of Russian Chamber of Commerce Business Council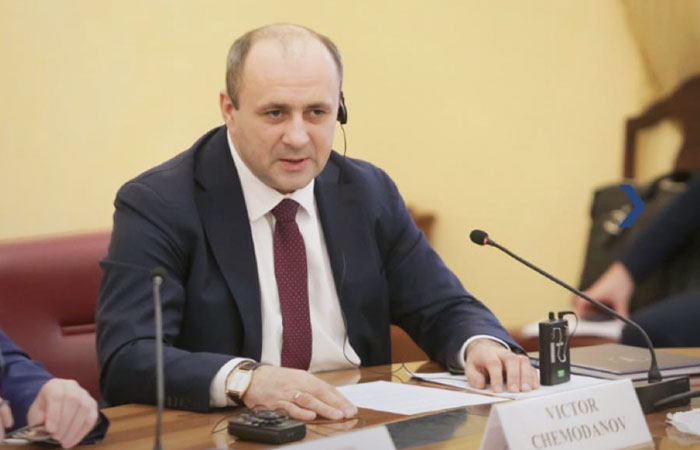 Victor Chemodanov
Courtesy photo

Russian companies have become increasingly interested in African countries over the past year. The region's potential has always been at the center of Russia's attention, but it has not yet been fully realized. The second Russia-Africa forum in St. Petersburg at the end of July looked at ways to use existing opportunities for mutually beneficial cooperation. The chairman of the Russia-Sudan Business Council of the Russian Chamber of Commerce and Industry, Viktor Chemodanov, talks in an interview with Interfax about what else is hindering and what can help in achieving the goals that have been set.
Q.: You said at the forum that the Chamber of Commerce and Industry had drafted a number of proposals for Russian companies to develop in Africa. What areas does this apply to above all?
A.: The Chamber presented the Russian-African house project at the international exhibition in Khartoum in 2020. We unveiled energy and industrial projects. We identified Zanzibar - Tanzania as its location. This is a very good country, there is annual economic growth of 25%, and their approaches are thorough, albeit under English law.
It is assumed that this venue will include pavilions where our large companies - Inter RAO, RusHydro, Gazprom, Avtovaz, Kamaz and Ural - would showcase their products. Then we were invited to consider creating a free economic zone in Port Sudan, where 40 hectares were allocated for this. However, fighting has broken out in Sudan, and now there are certain problems.
The region is in great need of energy and food, and it is a huge market. It's complex. Mostly European countries now work there, because it is the breadbasket of all of Europe. Europe has been sucking resources out of there for centuries. And Russia is still an unknown for Africa. This is no longer the USSR, which built communism everywhere. We are both different now. But they hold us in very high regard, they remember what the Soviet Union did for them.
We have been dealing with the region more or less actively since 2019, when the first Russia-Africa forum was organized. But the Chamber never forgot about Africa. We have 14 business councils, and we work closely with those countries with which we have a long-standing relationship. We have worked out a number of conceptual proposals, including the Africa-Russia house, so that Russians can calmly go there, feel at home and present their business.
We sent our initiatives to Economic Development Minister Maxim Reshetnikov, we have support from Rossotrudnichestvo, the Federal Agency for the Commonwealth of Independent States, Compatriots Living Abroad, and International Humanitarian Cooperation. Work is underway, and there ought to be some movement.
Q.: Is there a development plan in the region yet?
A.: In the program we are proposing we have created seven energy zones, because Africa is different in terms of ethnic groups, religion and many other factors. Having visited many countries - I've been in 12 myself - we realized what exactly needs to be developed and in which zones - why build capacity in one and use cross-flows in the other.
There is a lot of Western influence in many countries of the African continent, especially in those that were French or British colonies. They still don't let them invest freely, control investments, keep track of their money - any initiative has to be authorized. They want to be free of this financial oppression, when, for example, some large project needs clearance from France or another country.
We have a program and there is an understanding of the projects that need to be delivered. We are working with funds - these are funds from the Emirates, from Saudi Arabia - they are ready to enter the African continent together with Russian companies and participate in financing in some proportion.
Huge opportunities are opening up for Russia in a region where there was an acute shortage of electricity. For example there are big prospects for hydropower south of the equator, where we have identified the Eastern Energy Zone. The most important thing is that we must not approach this in such a way as to build some kind of unit and forget about it as if their poor networks are not our problem. On the contrary, we need to address these tasks on a turnkey basis, where we work everything out for them: flows, bottlenecks, where to smooth things out for some large industrial facility, and so on. And they are ready to pay for it.
Q.: What else might we be interested in Africa besides energy?
A.: We are also working on logistics routes, because ports are one of our most important state strategic plans. We have such projects in Zambia, Mozambique and Gabon. These are the main areas. And Egypt, of course, where we are already building a large hub, the first nuclear power plant in Africa, oil and gas are being produced, and this is a big, big head start. But we need to look at other countries as well. And we are ready to help our businesses with this.
When we manage the ports, our goods - grain, fertilizers - will come there. This is also a big market - there are 1.5 billion people, and they mainly live on agriculture. When our companies, Uralkali, Belkali, come and show them yield without fertilizers and with them, the difference is very noticeable - 100 times better. And from there we will be able to export bauxites, tungsten, nickel - they have the entire periodic table in Africa.
In transport infrastructure, I do not mention railways, which, of course, are an important artery for any developing country, but this is much more difficult there. So I think that energy and port areas are now the key areas that Russia should develop in Africa.
Africa likes us, it is waiting for us, but we just need more pragmatic approaches. And we do not need to go into all of the continent's 54 countries, we need to choose six to eight key countries, and all the rest will pull level on their own.
The Chamber of Commerce and Industry has developed a media program to support our companies in the region, and is ready to provide the necessary advice to businesses to increase awareness and, as a result, increase trade.
Q.: What prospects are there in oil and gas?
A.: They want to buy and are buying energy resources from us - oil products, chemicals. African countries are interested in having our companies build oil refineries with them that they do not have enough of. There is oil there, but they don't know what to do with it. As far as I've heard, I think Tatneft, which built a multimillion plant in Tatarstan, is very interested in such a project and ready to share its experience.
In exploration and extraction, meanwhile, colossal investments are needed. Their deposits are explored to about 15%, and the necessary documents for making decisions exist for only 5%. In this regard, Rosgeo and Zarubezhgeologia are carrying out work on predictive geological mapping so that our businesses can rely on something. Africa is a huge field for work in the economy. We have oil extraction technology and oil and gas equipment and we're prepared to offer them.
Oil and gas clusters are needed. For example, in Equatorial Guinea there are large deposits of gas and oil, we have a good relationship with them, and our companies are looking for opportunities. Tatneft, Lukoil and Zarubezhneft are already working in the region, which is currently a zone for the Europeans, Americans and Chinese. But we have to put up competition and come out on top.
Q.: Doesn't the political instability on this continent put you off?
A.: Well, these countries are 60 years old, something can always happen there, and no one will give you any guarantees. But why doesn't it scare the Chinese? They are working, and working hard, they know what they want. And we know what we want.
Safety is one of our advantages because they respect us very much. And, as you know, nothing ventured, nothing gained. So the stereotype we've had since childhood - "Don't go, children/To walk to Africa" - that needs to change.
Russian business needs to go to Africa, and it is getting there slowly. Of course, we have different mentalities - they take their time, they make promises, our businesses begin to work out issues with them, but not everything is always fine. If you persevere you'll be able to do business there. African countries require a certain amount of patience. And if you can afford to lose something, then go to Africa. There are risks everywhere, in any business.
Q.: At a recent meeting between the president and cabinet ministers, the Economic Development Minister proposed setting up a special investment fund to support Russian investments in this region. Will it really help kick-start the expansion?
A.: You know, I don't think an investment fund is needed. I would suggest creating not a fund, but a separate ministry, department, agency for Africa, similar to the Far East and Arctic Development Ministry. It's not clear who is responsible for such funds, but a special body could coordinate all the Africa initiatives and respond to all the questions and requests.
For example, one of our main issues now is insurance. When our companies enter the region, African countries have the lowest rating, and our cargo is very difficult to insure. But this can be resolved through the Chinese insurance companies, those of other partners, we just need a centralized approach to the problem, a united one, with a single leadership. But while everyone here is dealing with Africa, then too many cooks spoil the broth. Here I am talking with different Africans, and they say: "One, two, three, four, five fly out to us, but we do not understand who we are working with.
Well, they'll the fund to two, three, four companies, they will do something, but this is a one-time action, but you need to approach this structurally. This is my personal opinion.
Q.: Are the African countries where Western companies operate concerned about partnership with Russian organizations due to the sanctions against the Russian Federation?
A.: They wouldn't have come to the forum if they were worried. And there are certain blueprints for projects on how to work with this. Many foreigners are ready to meet and discuss things, they only ask that nobody be told about it. Africa likes us, is awaiting us and wants everything as soon as tomorrow: to build a railway, a nuclear power plant, etc. We try to explain to them that certain formalities have to be completed, but they think we'll give them money right away. But we can't have that - everything has to be mutually beneficial, both for us and for them. At the same time, it does not follow at all that they are prioritizing European companies - they have a market, and they work according to the market. And despite the fact that we forgave them a $25 billion debt back in 2019, Russia is ready to get ahead competitively.
Q.: How do you rate the prospects for our companies to return to Libya? So far, Tatneft has a limited presence there. But before the armed conflicts, Gazprom and Gazprom Neft had projects, Lukoil was interested...
A.: The situation in Libya is not straightforward, nor is it in Sudan. And President Vladimir Putin recently said at a meeting: "Look further down," meaning that other countries of the continent should also be explored.
Q.: Russia is switching to settlements in national currencies with many foreign partners. Have you discussed such options with Africa?
A.: Of course. Recently, at a meeting with the Russian president, it was mentioned that Russia can already carry out settlements in 60 currencies. So this topic does not and will not cause problems here. Settlements in rubles are being discussed. And given that the digital ruble will be launched in a year, there'll probably be no SWIFT either, which will make settlements generally easier.
And since they'll be buying more and more of our products, our task is to think about what we need from them. For example, agricultural produce, mainly fruit and vegetables. And our businesses can build production facilities to deliver products to the Russian consumer - to freeze or chill them, so that all this will reach Russia in the right condition.
Q.: Some say Russia has "lost" Africa because it hasn't been paying attention to it for many years. Do you agree with this?
A.: No, we haven't lost it. We have always been involved with it. We have plans and proposals, and we are ready to work. It's just that everything we do needs to be structured and gathered into a unified whole. Then, maybe not at the end of this year, but a year from now you'll already be able to see some real fruits of our labor.