23 Nov 2022
Severstal Deputy CEO Evgeny Chernyakov: It will take us three to five years to restore the percentage of high value-added exports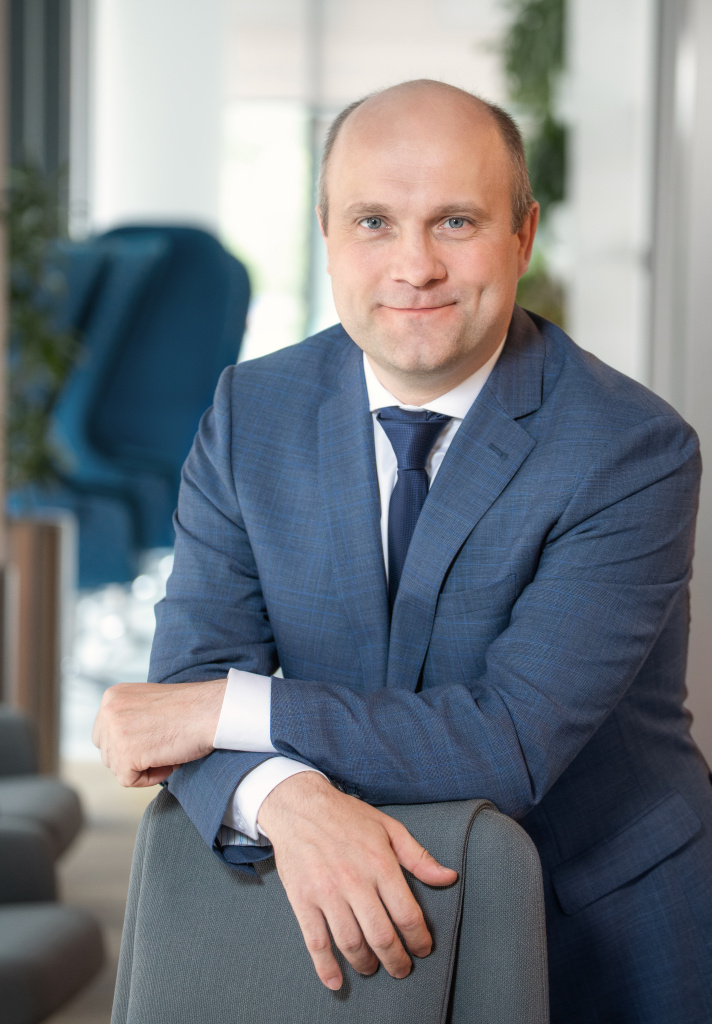 Evgeny Chernyakov
Photo: Press-office
Russian steelmakers have faced challenges such as weaker domestic demand, a stronger ruble and logistics and trade restrictions this year that have delivered a serious blow to the sector. Evgeny Chernyakov, Severstal's deputy general director for sales and operations, spoke in an interview with Interfax about how the company is adapting to the changes and trying to minimize operating losses.
Q.: The company boosted sales substantially in the third quarter due to demand from the construction and energy sectors. Will these two sectors provide support this quarter, too?
A.: This trend continues in the fourth quarter. We still see fairly robust demand from infrastructure projects and in general we see steady domestic demand in the medium and possibly long term.
Q.: When you say infrastructure, what specific projects are you talking about?
A.: In the context of Severstal, infrastructure projects mean construction, starting with highways and highway infrastructure, energy and port infrastructure. For example, when a pipeline is being built, related infrastructure is built around it, so today we no longer single out pipes as a sector, but look at them as part of infrastructure construction in general.
There are a number of public projects, projects by natural monopolies, which have already been announced, for which there is funding. And we rely heavily on them - not only Severstal, but our entire industry. For example, Gazprom's projects both for the trunk gas pipeline network and for gas processing. We are expecting big new orders from them.
Q.: Who besides Gazprom will support demand for Severstal's products from the oil and gas sector?
A.: In my opinion, our natural monopolies have learned to manage procurement effectively by eliminating most of the intermediaries. In addition, they have begun to buy "in the low phase of the market." Today, prices in Russia for basic raw materials and steel are at a low, companies are making purchases at big tenders very successfully at current prices. The effective management of natural monopolies should be mentioned here.
If we talk about the consumers of our products, then, for example, we are starting the production of large-diameter pipes at the Izhora Pipe Plant for Transneft.
We have some two dozen projects on our radar today. At the same time, we are ready to assume the role of an all-inclusive, integral supplier.
Q.: What does this mean? That you also take care of installation and servicing?
A.: Above all, we are talking about meeting the customer's needs for the entire range of steel goods. At the same time, we are also interested in projects where it is necessary to supply other steel products in addition to the range produced by Severstal. It is in such complex projects that we, thanks to our operating efficiency, project management skills and reliable collaborative network, are ready to provide the most effective, convenient and reliable solutions. Such solutions bring the maximum effect to the customer when our team is involved in the early stages of a project and offers various technical and service optimization solution options.
Q.: Do you know yet whether the company will have to review its product basket in the new realities? Despite the fact that steel production capacity in the Russian market exceeds domestic demand, do you see promising sectors that are not completely covered by Russian steel yet?
A.: We even see that a shortage may arise in a number of product areas, but this assumes that all anticipated projects will be implemented taking into account announced plans.
Q.: What products are we talking about?
A.: We think that on the 2023-2026 horizon there will be a shortage of capacities at structural steel factories. There is a shortage of high-quality heavy steel structures for large infrastructure projects. We see good demand in the market.
There are many structural steel plants in Russia, but those that are able to meet the requirements of large oil and gas companies can be counted on one hand.
Q.: Will Severstal have to re-profile production capacity to meet this demand, or maybe diversify production by acquiring new assets?
A.: We are looking at various possibilities. We have a structural steel plant in Oryol, and we see that its capacity is no longer sufficient. In this regard, we are actively developing a partner network, as well as considering other debottlenecking options.
Q.: What volume of Severstal's sales will come from this sector?
A.: According to our preliminary estimates, about 1 million tonnes.
Q.: Was the major slump in demand from the machine-building industry in the last quarter related to a sharp drop in consumption by the automotive industry?
A.: The passenger car industry and railcar building are the two segments that fell the most. But here you need to understand that amid the departure of international companies, the market will obviously have a different configuration, since there is still demand in most sectors. We are relying on demand for complex solutions, including engine components, fittings and so on.
Q.: Will diversification be needed? Do you already know what kind?
A.: We are currently assessing the opportunities here.
Q.: In addition to rolled products for the automobile industry, Severstal has also produced forgings, mainly for the international automotive industry. After all the foreign companies have left, are you betting on the domestic auto industry, or will forging for the auto industry also have to be repurposed?
A.: Yes, we continue to count on our own auto industry, although this has had a small share of shipments in our sales basket. Of course, this market has slumped. We are now watching closely how it is changing: new owners are coming in, Chinese manufacturers are starting to arrive. Obviously, we can expect it to recover in the medium term.
Q.: According to the company's annual report, construction accounted for 60% of shipped products in Severstal's sales basket in 2021, machine building and automotive for 13% and energy for 5%. Can you provide a rough breakdown in 2022?
A.: Machine building will slump considerably this year, due to a fall in the market. As for energy, as I said, we have begun to think differently, that is, we are not just looking at pipelines, but at the broader picture, taking into account infrastructure. Therefore, it is difficult to talk about comparing figures. But this year, I think, the share of the energy sector will increase. As a whole, the construction industry is falling somewhat, but at the same time, our share has increased markedly. To sum up: the share of the construction sector and energy will increase, while machine building will fall. The proportion will be approximately 70%-15%-5%.
Q.: Severstal increased shipments of semi-finished products last quarter, according to a trading update. Do you already have an idea of when you might return to the pre-crisis sales format, when a significant part will consist of high value-added products?
A.: The main blow to our sales structure was the loss of Europe as a key sales market. It had a fairly large share with us, over 30% at the end of 2021. Severstal supplied galvanized steel and plate to the European market. I can only guess now, but it will probably take us three to five years to restore the percentage of high-value-added exports.
Now we have a continuous hot-dip galvanizing unit idling, and I hope we'll start it up again next year. Tubular product capacity is underutilized. This year, cold-rolled steel output has recovered after a sharp drop: it plummeted in the second quarter, but we restored it thanks to the construction industry. I am talking about the restoration of capacities to meet domestic market demand in the baseline development scenario.
Q.: What lies in store for the renewable energy segment, which until recently seemed so promising? Severstal was the largest supplier of metal for Russian wind power. What is the situation now? Have steel shipments for this sector dwindled, and can we talk about their imminent recovery?
A.: The renewable energy segment this year is very challenging. The departure from Russia of large European manufacturers of wind turbine equipment such as Vestas and Siemens Gamesa, which participated in the localization of equipment and the construction of wind farms, effectively paralyzed half of the market.
The ongoing restructuring of the assets of generating companies has also affected the market in a big way. Sanctions, logistics problems and the high volatility of financial instruments have had a strong adverse impact. All these factors have caused a lot of projects to be suspended or frozen.
But there are also positive trends. One of the biggest is the Russian government's commitment to plans to support renewable energy. This year, the total installed renewable power generating capacity hash reached 6 GW, which is about 2.2% of the capacity of all power plants in the country. The plan is to commission new capacity at least until 2035.
Also encouraging is the fact that despite serious challenges, a narrow market and competition, investors are interested in developing renewable energy in our country. We cannot ignore technological progress and global energy transition trends. I think that next year the renewable energy market in Russia will stabilize, new technological solutions will appear, and we will continue to develop now "independent" renewable energy.
Q.: Are projects in the Arctic promising for Severstal and steelmakers in general?
A.: Yes. For example, we had several large-diameter pipe deliveries to Novatek for the Arctic LNG 2 construction. We also shipped a wide range of products for this project: rebar, hardware, the most sophisticated, unique equipment, replacing imported equivalents.
Another interesting project in terms of implementation and significance is the supply of shipbuilding steel and bimetallic sheet for the construction of the Rossiya icebreaker.
Severstal has become the main supplier of rolled metal products for the construction of an ice platform for gas production at the Kamennomysskoye-Sea field in the Ob Bay. Structures made from cold-resistant steel will be used in extreme conditions of the Far North at temperatures as low as minus 60°C.
Such projects are promising and especially important, since Severstal is fulfilling a unique order, tailored to the specific requirements of the client, and is thereby improving its technical competencies, developing new arrangements for working with consumers.
Q.: Not that long ago you sold the Neva-Metal stevedoring company due to "changes in the company's logistics flows." How seriously has logistics changed since leaving Europe?
A.: Over 30% of our sales were exports, and 90% of them were handled by Neva-Metal. Today, the share of exports has fallen by a third, even more. So it was logical to divest this business – the Baltic region is of no interest to Severstal in today's realities. For us it is most relevant to have access to other destinations, for example we expect to increase shipments to CIS countries.
Q.: What is the overall situation with logistics now? Have you managed to reduce costs? After all, Severstal is in the most disadvantageous position of all steelmakers in terms of logistics, if we are talking about shipping to the Asia-Pacific countries?
A.: Amid all the perturbations and absence of insurance, all international logistics companies left Russian ports, and tariffs and transshipment have risen sharply. This has hit us hard as prices have fallen in the international markets. Now things have improved, freight tariffs are more or less fine, and there are now flows.
Of course, we have been forced to look for new markets, and this lengthens the distances. We didn't have such problems in the past since we shipped our metal to Europe via St. Petersburg. Then, to be honest, we did not depend so much on Russian Railways.
Now we are redirecting shipments to the south and the Far East, we have completed a shipment to the most remote region for us - to Sakhalin. Of course, it is interesting and important for us to increase the volume of deliveries to these destinations, but the increase in railway tariffs hurts the cost of our metal and, as a result, the ultimate price of products. The question arises - how do we change this situation? And the most obvious answer is to shift the costs to the end customer. But you need to understand that the domestic market is highly competitive. And, if we raise prices due to increased logistics costs, then this will hit our competitiveness.
Q.: Is there an alternative to Russian Railways - maritime transportation, an increase in the share of automobile transport?
A.: Of course, we will continue to develop alternative delivery methods: water and road transport, interaction with ports, customers, and so on. And, of course, we continue to hold dialogue on tariffs with Russian Railways.