22 Feb 2022
Barry Callebaut General Manager in Russia Patrick Hautphenne: I've not seen such a crazy rise in raw materials prices for over 30 years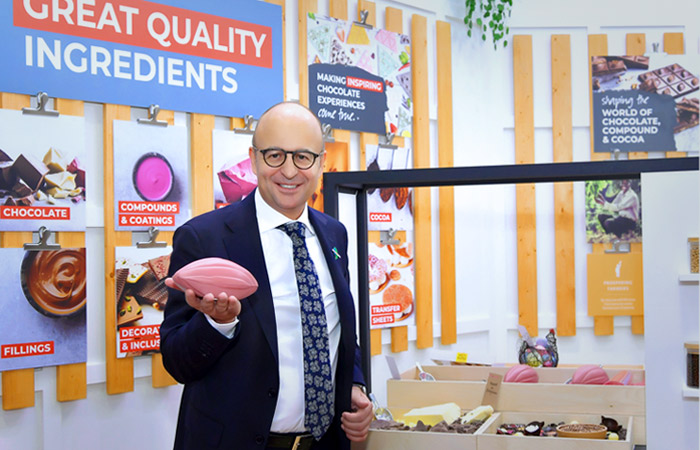 Patrick Hautphenne
Photo: Barry Callebaut press-service

The world's largest manufacturer of industrial chocolate and cocoa products, Barry Callebaut, which unites more than 60 enterprises, last year increased the number of its factories in Russia to three by buying a bankrupt factory in Kaliningrad.
In an interview with Interfax, Patrick Hautphenne, General Manager for Barry Callebaut Russia & CIS, talked about the company's interest in the Russian and CIS markets, the new sales channels the company introduced because of the pandemic restrictions, how it operates amid soaring raw material prices and how it transforms market trends into new marketing solutions.
Question: Barry Callebaut NL Russia has been operating in Russia since 2007. What does the production comprise at the present time? What kinds of products are produced?
Answer: We have three factories in Russia. The first one was built, as they say, in the middle of nowhere, in 2007 in Chekhov, Moscow region. It mainly produces dark and milk chocolate and high-quality compound using the equivalent of cocoa butter.
Barry Callebaut became the owner of the second factory after buying the Russian company Inforum in 2019; it is located in Kasimov, Ryazan region. It produces mainly compounds, fillings, and white chocolate. There is also a new line installed there, which can produce a range of colored and flavored chocolates and compounds.
We opened a third factory in August 2021 in Kaliningrad after winning the auction for this site. This factory can produce dark and milk chocolate, lauric and non-lauric compounds in liquid and easymelts and fillings. After additional capacities are installed, white compounds will be added to the product range. In general, all factories are interchangeable, but they do have some specialization.
In addition, the company has an office in Moscow and the Chocolate Academy, which is part of a network of Barry Callebaut centers of expertise around the world. All in all, the Barry Callebaut Group has 25 Chocolate Academies and the Russian one is the second largest in the world after the Belgian one. But the Chocolate Academy is only a center of expertise. There we have our manual production for development of innovative concepts, which we provide to our customers in tiny quantities, and then we discuss the possibility of introducing these concepts into their product range.
We have two main categories of customers. First of all, we have FM customers, we ship to them on an industrial scale. The second category is the so called Gourmet clients: pastry chefs, chocolatiers, hand-made pastry shops, restaurants, bakeries, pastry shops, cafes.
Q.: How many products did the Russian factories sell in 2021 compared to 2020?
A.: If we speak about sales volumes which include locally produced and imported products, the growth in FY21 which is from September 20 to August 2021 vs FY20 was 32%.
Q.: The revenue of the company in Russia in 2020 exceeded 11 billion rubles. Do you already have the figures for 2021?
A.: The Company's statements for 2021 according to the Russian standards will be published by April 30, while preparations are still underway.
Q.: Why do you expand production capacities in Russia, in particular, what was the reason behind the acquisition of the production site in Kaliningrad?
A.: We are growing very fast in Russia, so we are certainly looking for opportunities to expand. Such an opportunity came up last year in Kaliningrad. Unfortunately, the local factory went bankrupt, but it was a great opportunity for us, because at that very moment we were looking for ways to expand our capabilities in Russia.
We understood that it was not a good approach to concentrate all the capacity in such close regions as the Moscow and Ryazan regions. It would be better to distribute them across the country. It is also important that the Kaliningrad region has the status of a free economic zone, and this big advantage just makes up for the disadvantages that arise in relation to logistics.
Q.: How much is invested in the expansion of the factory in Kaliningrad?
A.: I can only say that the investments are quite significant. Apart from extension of our production capacities in Kaliningrad, we are extending capacities in Chekhov.
After the extension all our three factories together will be able to produce about 137 000 tons per year.
Q.: When will the factories reach their planned capacity?
A.: It will happen quite soon. The modernization of the factory in Kaliningrad should be finished in March. And we plan to complete the extension of production capacities in Chekhov till the end of this year.
Q.: Does the Company plan new acquisitions in the Russian Federation?
A.: The Russian market is the world's third-largest market for chocolate and compounds. It is extremely important for the Barry Callebaut Group, and it is the market where we want to grow fast. And if we compare the share of our company with other markets where Barry Callebaut operates, we see that we really have the potential to grow in Russia.
Today 25% of chocolate and cocoa products consumed in the world contain Barry Callebaut products. In Russia, this share is smaller, around 10%. Therefore we still have great potential for growth.
As for new acquisitions, it's too early to talk about that. Now we are going to expand the site in Kaliningrad, where 92 new work places have already been created. In general, we have a good growth rate: three years ago we had one site, now we have three, plus the renewed Russian Chocolate Academy. All this allows us to provide good service to customers and offer them a wider product portfolio than we were able to do before.
Q.: How did the pandemic change the Company operations and plans? Did you send office employees to work from home? Did you need extra costs to implement preventive measures at the factories?
A.: Our office employees have been working remotely since March 2020. And they are quite good at that. Now we have started slowly bringing employees to the office, but only those who are vaccinated. But to work in the office is not mandatory, it's up to them to come or not.
At the same time, at our factories, we have very strict safety measures and segregation rules – that's when one shift is separated from another and people don't come across each other.
Of course, we actively motivate people to get vaccinated, organize educational sessions, invite doctors for consultations.
Q.: Did you have any problems with limited HoReCa operations due to Covid-19?
A.: Of course, the pandemic first of all impacted the part of our business called Gourmet. This department sells most products to HoReCa. And as cafes and restaurants were closed, of course, sales decreased. Fortunately, the lockdown wasn't long and in a couple of months sales started growing again.
At the same time, we treated the pandemic as a new opportunity and started developing online sales, created online formats to interact with our customers, launched our marketing activities online. This also helped sales to recover.
Our business is unique as we sell both to FM clients and Gourmet clients. Almost none of our competitors in Europe has such a possibility. Such a combination is quite an important advantage.
I can tell you that in general we overcame this crisis quite successfully.
Q.: What are the shares of these segments in volumes, earnings?
A.: The basis of course is our FM customers. The Gourmet segment that includes sales to HoReCa, to bakeries, to chocolatiers who make handmade pralines accounts for about 10% by volume. In earnings its share is much higher of course.
Q.: Has the Company experienced any issues with raw material deliveries due to supply chain disruptions because of the pandemic? What is the share of imported raw materials in production?
A.: If we talk about FM customers, the share of imported raw materials is from 75% to 85%.
Of course, as many other suppliers dealing with trans-border deliveries, we faced quite a few problems. First of all, it's increased delivery time for the ordered products. The lack of trucks in Europe, delays with container shipping due to the increased demand and insufficient supply, as well as restrictions at borders especially impacted the situation.
In particular, one of the important border crossings on the Polish-Belarusian border has remained closed since the last year, and travel through the remaining crossing points has become longer. The seaports of the St. Petersburg hub are also unable to cope with the sharply increased cargo flow and create unpredictable delays. There were also problems with the availability of raw materials.
But the biggest problem is, of course, the rise in the price of raw materials. I have been working in the confectionery industry for over 30 years, and I have never seen such a crazy rise in the price of raw materials in any single year. All components, be it sugar, cocoa, milk powder, have risen considerably in price.
It was a little easier for us, though, because we always secure raw material orders. When we make a contract with a client and when he confirms the volume, we immediately order raw materials for that volume.
Q.: Has the Company increased the prices for its products or plan to do that?
A.: We make offers to customers based on the price of raw materials on the market. And as soon as something changes, we also change prices. This applies more to the Gourmet business, because we can't work with them the same way as with do with FM clients by securing the difference in price - sales are small.
But because our customers are our key value, we always try to find some middle ground with suppliers to maintain the prices.
Q.: What is the export program of the Company? How much do you export? To which countries?
A.: Exports accounted for 10% of sales last fiscal year. The main buyers are the CIS countries, Georgia, Ukraine, and Moldova. Here we talk about both products made in Russia and imported ones.
We have a big focus on these countries and drive sales and do promo campaigns for these markets as well. We also face some issues there. In 2021 we finally adjusted deliveries of our product to Turkmenistan which was quite a challenge due to the specifics of this country.
Q.: Taking into account that the Company has a network of Chocolate Academies, how do you influence the formation of customers' product portfolio taking into account market trends?
A.: That's one of the strengths of Barry Callebaut. We have very deep knowledge and understanding of consumer preferences and of where the market is headed in general. Both globally and locally. We aim to be not just a supplier of ingredients but a partner who inspires its customers for innovations and provides readymade concepts. That's why we are constantly monitoring market trends and recommend our partners to follow them.
Our task is to provide full marketing support. For that purpose we analyze the company product portfolio, suggest readymade ideas and solutions that fully fit both customers' capabilities and the areas they want to develop, and we help launch them on the market. We offer readymade concepts that they can not only look at, but taste, smell which is very important when making a decision.
Q.: And where do you think the Russian chocolate market is going now? How is consumer sentiment changing and what readymade concepts do you offer specifically to Russian participants?
A.: The Russian market, as I have already mentioned, is the third largest market in the world, and it definitely follows global trends, but with a slower pace.
Now we see that in general it is back to the level of 2019, in 2020 there was a slight dip. The volume of the confectionery market is 3.9 million tons, of which 30% is chocolate products. This segment shows some decline in sales, but there are categories like, for example, chocolate spreads, which show good growth, up to 20%.
Now Tablets is the biggest segment within chocolate category. And it becomes more and more complex. Even many tablets become like a big pralines with different inclusions, decorations, fillings. Manufactures are trying to surprise consumers with novelties and innovations. We can also see that more and more vegan solutions and options appear on the market, although it is still not at the level of European countries.
Overall consumption of chocolate in Russia is quite stable, about 4.4 kg per year, but this is far low than in European countries. For example in Switzerland it is 11 kg of chocolate per year. Russian consumers are fans of milk chocolate (almost 70% of consumption) but we see that categories of mixed/colored chocolates become more and more popular.
The export of Russian confectionery products is growing well, we see the increase of halal and kosher product deliveries.
Due to the pandemic people are more concerned about their health and buy products that have some healthy ingredients. Many started cooking at home to find some joy during the pandemic. That by the way really helped us as our online sales took off.
We clearly see the multisensory trend developing when consumers want totally different experiences: aroma, color, texture. They want their desserts not only tasty, but also pretty, to take a picture of it and show their friends. You know how it works now: if you didn't post it in the Internet it means you didn't eat anything.
Besides, the cocoa content in products is significantly increasing, we see a real spike.
Overall the Russian chocolate market is quite well balanced. Yes, during the pandemic we saw that consumers spent less on chocolate on the one hand, but on the other hand the interest to new tastes, prettier decorations for chocolate desserts has increased.
But we will have more information about trends in the second quarter this year when we finish our study of the Russian chocolate market.