16 Feb 2022
Agroexport head Dmitry Krasnov: Russia has potential to increase food, agricultural exports to Persian Gulf to $3 bln by 2030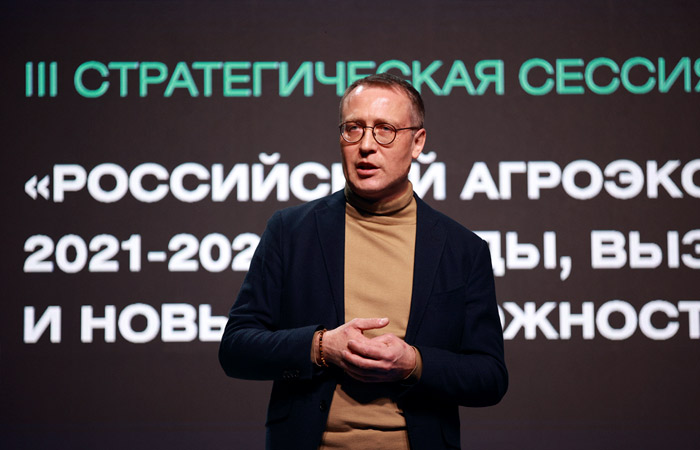 Dmitry Krasnov
Photo: Agroexport press-service

Russian exports of food and agricultural products have been increasingly turning their attention toward Persian Gulf countries in recent years, as they are major food importers. New opportunities to expand trade were discussed at Russian Agriculture Week, which opened at Expo 2020 in Dubai on February 11.
The head of the Russian Agriculture Ministry's Agroexport Federal Center for Development of Agribusiness Exports, Dmitry Krasnov spoke with Interfax on the eve of the opening about the potential for Russian food and agricultural exports to Persian Gulf countries, the specifics of trade with them and whether a breakthrough can be expected after Russia's participation in Expo 2020.
Question: Persian Gulf countries are increasingly mentioned as being among the largest importers of Russian food and agricultural products. Saudi Arabia, which was the main importer of Russian barley, is now also buying our wheat. Iran is actively increasing grain purchases, and the United Arab Emirates is buying Russian chicken.
When did this market become significant for Russian exporters? Which countries are the main buyers?
Answer: The Persian Gulf region, along with China, is one of the main [markets] in terms of potential for increasing agribusiness sector exports. It is unique to some degree, since it combines rapid population growth with high incomes in most countries. As a rule, population growth is slow or nonexistent in wealthy countries, but this is not the case with Persian Gulf countries.
Another specific element is the hot climate, which does not allow them to fully supply themselves with agricultural products of their own production. As a result, the region is rapidly increasing food imports and, despite import substitution programs in a number of agribusiness sectors, remains dependent on external supplies.
Trade in agribusiness products with countries in this region has doubled since 2016, and Russian exports have more than doubled, he said. There was a significant increase in exports in 2017, when they exceeded $800 million. Speaking about specific countries, the largest buyers of Russian agricultural products are Saudi Arabia, which accounted for 77% of total exports to this region in 2021, and the UAE for 12%.
The main export commodities are barley, which made up 32% of exports in 2021; wheat with 25%; sunflower oil with 12%; poultry meat with 11%; chocolate confectionery products with 7%; and beef with 3%.
Q.: What is the potential for Russian agribusiness products as a whole on the markets of countries in this region? What products might see the strongest demand in the near future?
A.: The main export products will be grains, confectionery products, sunflower oil, poultry meat and beef. These products are already in demand on markets in the region. Further growth of shipments will depend on whether Russian companies can establish long-term relations with buyers and implement marketing strategies to promote their products.
We estimate the potential for exports at almost $3 billion by 2030. Saudi Arabia and the UAE will remain the biggest buyers. Significant amounts will go to Iraq, Qatar, Oman and Kuwait.
Iran, which has become a major buyer of Russian sunflower oil and grain, will also be an important market. However, exports will depend on the harvest in this country, so they will be subject to fluctuations from season to season.
Q.: What are the specifics of the retail and HoReCa sectors in these countries? Are there any special requirements and how are Russian companies adapting to them?
A.: The main channels for selling food in Persian Gulf countries are super and hyper markets. The network of traditional small food stores is also developed. For example, "bakalas" in Saudi Arabia.
Q.: What about e-commerce?
A.: Yes, it's developing rapidly, but not playing such a role as in China, for example. Local consumers still prefer to buy goods offline.
As for HoReCa, among countries in the region this segment is most developed in the UAE. It is now recovering after the slump due to the coronavirus pandemic. There are also specifics in Saudi Arabia due to the significant segment of hotels and public catering businesses serving pilgrims during Hajj.
The pandemic has also had an impact on the behavior of consumers. They started going to restaurants less, cooking at home and shopping at stores more. During the lockdown, small convenience stores, which are largely oriented toward local products, particularly benefited.
And this, it must be said, is a challenge for exporters. Many countries are focusing on their own production. Imports will fall for a number of items that are important for us, so we need to strengthen our positioning in order to increase exports by increasing the margins on shipped products rather than physical volumes.
An important specific, as in many other Muslim countries, is the need to receive a Halal certificate for meat and dairy products, as well as confectionery products. Not all types of food products require Halal certification, but having it can affect the value of a product, make it more attractive to consumers and increase in the sale price.
Q.: What is the scale of Russian halal product exports to the region?
A.: Exports of halal products to countries in the region have almost doubled in the past three years and reached $180 million in 2021, with poultry meat accounting for $96 million of this figure. Exports of chocolate confectionery products and beef totaled $56 million and $26 million, respectively. The biggest markets for Russian halal products were Saudi Arabia and the UAE.
As you recall, overall poultry meat exports from Russia amounted to $519 million last year.
Q.: What measures are being taken to strengthen the presence of Russian agribusiness products on these markets? Which ones are most popular among businesses?
A.: In the past few years a comprehensive system of support for agricultural exports has been created in Russia that encompasses all stages, from the launch of an investment project to support in the promotion of finished products. This includes help with participating in exhibitions, placement of products in Russian Export Center pavilions. Agroexport, for its part, is creating a line of information and analysis materials for Russian companies: export guides, concepts for promotion, analytical and sectoral reports. Essentially, a new field of knowledge and competencies in the area of the foreign economic activities of agribusiness companies has been created recently.
More than 80 export guides were prepared from 2019 through 2021, including 22 on the markets of Persian Gulf countries, as well as two strategies for promotion on markets in the Middle East, North Africa and the Persian Gulf. These materials are created in collaboration with World Bank experts, industry associations and leading consulting agencies. And while export guides are needed by companies that are just planning to export their products, concepts for promotion are intended for those who are already actively engaged in exports and need to understand further steps to strengthen their position on the market and increase the profitability of their operations.
Q.: What countries and products do Russian agribusinesses compete with on Persian Gulf markets?
A.: We have different competitors on different markets: Australia and Argentina on Saudi Arabia's barley market, Brazil, Ukraine and France on the poultry market.
Producers of confectionery products compete with European, as well as Turkish and Egyptian companies. However, in 2020 Russia became the largest supplier of chocolate confectionery products to the markets of the UAE, Qatar and Bahrain, and was among the three main suppliers of sweets to Saudi Arabia and Kuwait.
On these markets, like on the markets of other countries, our producers compete with the largest food suppliers, with multinational companies. Therefore, they must not only meet local requirements, but also world standards of quality. And it should be noted that Persian Gulf countries are known for their strict requirements for their food products. Perhaps only Japan has stricter standards. And this is a challenge for Russian companies, forcing them to improve production and business processes, which has a positive impact not only on exports but also on the domestic Russian market.
Q.: Are there prospects for joint projects between Russian businesses and local businesses in this region? In what areas is this most possible? Are there examples of such cooperation?
A.: Persian Gulf countries actively invest in agribusiness production in other countries. This is due to the need to guarantee food supplies from abroad and establish close ties with producers of agricultural products.
In Russia, there have been several major deals in recent years involving investors from Kuwait, the UAE and Saudi Arabia. They are all aimed at the internal Russian market. Specifically, the Kuwait Investment Authority (KIA), in partnership with the Russian Direct Investment Fund (RDIF), invested in projects to produce beef, pasta and milk; Mubadala from the UAE and the Saudi Public Investment Fund (PIF) [invested] in beef production.
In general, the following model of cooperation could be promising: Arab investors invest in Russian production companies engaged in both production of raw materials and their processing, probably to a high degree of added value. And Russian companies, in turn, invest together with Arab funds in infrastructure in the Middle East to expand supply chains for their products, including processing on local markets.
Q.: Tell us about Russian Agriculture Week in Dubai. What is the program of events, what products are represented? Do you expect a breakthrough in trade after the exhibition?
A.: Russia's agriculture sector will be represented extraordinarily and vividly. The AgroArtMuseum exposition, which will relate the connection between Russian culture and agriculture, the importance of our agricultural production and culture for the Russian economy, world culture and general food security, will be displayed in the Russia pavilion using the latest creative solutions and multimedia technologies.
The world food market is notable for its great variety. It's difficult for the consumer to remember all the brand choices offered. In this situation, people often go by a product's country of origin rather than the brand. Therefore, it's very important that Russia have the image of an environmentally clean, but also technologically advanced country capable of producing high quality, safe and healthy products that taste good.
As part of the agriculture week there will be meetings with major distributors and investment companies from countries in the Persian Gulf, Middle East and Africa. Strategic sessions, roundtables and gastronomic events will be held. We plan to discuss the future of global agriculture, the potential for investment cooperation between Russia and Persian Gulf countries, current trends in the development of retail and HoReCa in the region, and the transformation of agriculture education taking into account new, including climate, challenges.
The international exhibition Gulfood 2022 is being held concurrently with Expo 2020 in Dubai. This year there are more than 360 meetings planned at it with almost 90 companies from the UAE, Saudi Arabia, Egypt and other countries.
As for a breakthrough, foreign economic activity is meticulous and systematic work. Today's negotiations could crystallize into signed contracts and physical shipments in a few months. But, based on the experience of previous such events, one can confidently say that participation in them increases opportunities for our companies in terms of exporting their products to the markets of countries in the Middle East and Africa. We had such a business mission with Algeria in the fall of 2020, and starting in November 2021 Russian wheat began to actively push European wheat out of this market and shipments reached an all-time record.