10 Feb 2022
Russian Ambassador to UK Andrei Kelin: We could become good partners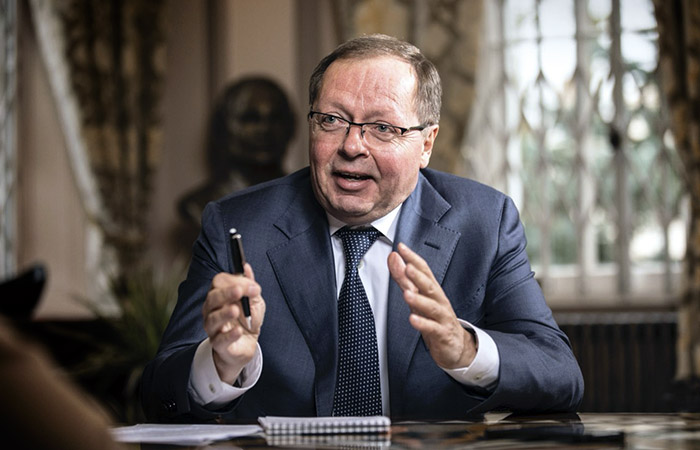 Andrei Kelin
Photo: Information and Press Department of the Russian Foreign Ministry
Russian Ambassador to the United Kingdom Andrei Kelin has given an interview to Interfax ahead of the Diplomats Day on February 10. He speaks about complicated Russian-British relations, which are unlikely to improve after the visits of the British foreign and defense secretaries, about the big gap between political and economic relations, as well as his work in the UK.
Question: You are Russia's top diplomat in London. How difficult is it to be a diplomat in the UK? Are you satisfied with results of your work, and are there any given complicated relations between Russia and the UK? Or is there an impression that you are constantly running up against a brick wall?
Answer: London has always been considered as a rather difficult and complicated place for our ambassadors. This is written in memoirs of such ambassadors as Anatoly Adamishin and those before him, and Viktor Popov. I wouldn't cannot say that everything is of course simple here, although the country is good and interesting but rather complicated at the same time.
As for the results. It is rather difficult to convey our point of view to the leadership, to the upper class, to the parliament. Here is a vivid example. The Financial Times commissioned Sergei Karaganov to write an article but didn't publish it, saying there is no room. I had almost the same story. I dictated a rather big item on Ukraine for the Sunday Times and there was a piece on China. Everything on China - and that is about 10% - was published and everything on Ukraine was discarded. So, things are not easy here.
Q.: It turns out that Russia is toxic at the political level for the UK, or is that not that case?
A.: No, it's not. When you talk to ordinary Britons, including from the establishment, all of them generally acknowledge that they are well-disposed towards Russia, they like us very much. As for being toxic, I don't have this impression.
Q.: What has happened in the British political establishment to prompt two key secretaries, Liz Truss and Ben Wallace, to suddenly go to Russia for talks with their Russian counterparts bearing in mind that there haven't been regular contacts for a long time?
A.: Indeed, the foreign secretary visited Moscow for the last time in 2017 and there've been no contacts with the defense secretary since 2013. But it looks like they feel the need for a conversation now. However, it depends on what kind of conversation it's going to be.
Q.: Do I understand rightly that this visit wasn't conceived in emergency and that it was prepared in advance and isn't directly related to Ukraine?
A.: No, the visit was not prepared and not expected in advance. It is purely the desire of the British prime minister and British ministers to visit Russia, moreover, both of them - not at the same time, they will be coming in succession and will hold talks - but they have such an intention. It really emerged amid the crisis that is now unfolding around our proposals on security guarantees, and around the situation in Ukraine.
Q.: What are the expectations from the two visits? Does Russia expect that this could be a step towards improving relations? What issues does Moscow intend to raise before the British side?
A.: I have absolutely no impression at this point that it could become a step toward improving relations, and my opinion on this score is based on the statements being made by both Liz Truss and Ben Wallace. In their opinion, and it has now been published again, they want to once again deliver an ultimatum to Moscow, such a sanctions ultimatum, quite a tough one. But as I have already said, if it comes to that, we do not have much interest in such a conversation. As regards such a lengthy, serious discussion of our proposals, something that I do not see completely here is their readiness to discuss, to make their contribution to this cause, unlike other heads of state. This is what I do not see for now.
Q.: The UK's membership in the EU was officially terminated two years ago. In your opinion, has Brexit affected Russian-British relations? Has Moscow adjusted to Brexit in particular from the point of view of business and economic contacts?
A.: No, we have yet to establish business and economic contacts with the heads of their respective British ministries and agencies. Indeed, there has been some change following the country's withdrawal from the European Union - it has started to conclude bilateral agreements of the kind signed between the EU and third parties, for instance, Turkey and a whole range of close neighbors and allies. No such thing has happened in relations with Russia but certain tariff barriers have disappeared owing to Brexit and that's a positive thing. Nonetheless, I went to London and planned to have substantive talks on how we should live in the new reality, considering that Russia views the UK as a new market, a large, and interesting market, and we could become good partners, but have not done so yet.
Q.: So, you cannot say that Brexit was an advantage for Russian-British relations and that the UK's policy towards Russia underwent any changes? Nothing has changed, or maybe have things got worse?
A.: There has been practically no change. Things did not get worse. Business is developing on its own, irrespective of the British establishment. Business is working in Russia normally, and new plants are opening near Moscow. Recently, the JCB firm opened a plant assembling road construction vehicles. This is a big and a very important enterprise. AstraZeneca has launched a new line, it produces medicines. It's not the first enterprise in Moscow. There is a large number of firms that work in the hi-tech sphere on our market, and they work well, no one hinders them, they are showing good results. We also have rather large cumulative mutual investments.
Q.: You've mentioned AstraZeneca. It was reported that joint trials of AstraZeneca and Sputnik Light vaccines are possible. Is it possible that the Britons, just as Australia has done recently, will be flexible about the recognition of the Russian vaccine given that they no longer directly depend on the EU?
A.: This issue is gradually going away after quarantine for Russians was cancelled here starting on February 11 and reduced the required tests to the minimum. Now just one test upon arrival, not three, will need to be made. That is why the issue of recognizing certificates is taking the back seat somewhat. The issue of recognizing the vaccine is different. It goes through the World Health Organization and the European Medicines Agency. We communicated with the Foreign Office and were clearly told that after the EMA and the WHO recognizes [Russian vaccines], the UK will also follow.
Q.: Is there still a gap between political and economic relations between Russia and the UK? Bilateral trade has been seeing record highs for a long time despite the negative political background of our relations.
A.: I believe so, yes. Our trade turnover currently stands at $27 billion; it has grown by approximately $5 billion over the past 24-30 months; that is large, impressive growth, and accumulated investments roughly stand at $30 billion; all that is happening. Of course, the economy goes ahead of politics, and political relations are in bad shape, while the economy is developing on its own, as I have said before. Still, we have lost all those structures that used to coordinate economic contacts, i.e., the Joint Committee Science and Technology Cooperation, the Intergovernmental Commission, and the Energy Committee. We should start working on their reinstatement.
Q.: Am I right in understanding that the sanctions that London is threatening could spoil such a positive situation in economic relations?
A.: They have been quite vague; sanctions are being discussed. This is a matter of amendments to the law adopted several years ago, the Russia Sanctions Regulations, and I cannot tell you what the amendments would be. Still, if it applies to the Russians who live in the UK and are wanted by the Russian Prosecutor General's Office for crimes and fraud they committed on Russian territory, I do not see how this is new or bad. But if they target Russian businessmen, the reasons and criteria would be absolutely unclear in this case.
That would cause numerous questions and, of course, we would take countermeasures.
Q.: After the Skripal incident and the expulsion of Russian diplomats from the UK, much was said about the disproportion of more than 50 people to London's advantage in the number of personnel. Has diplomatic personnel of both countries come to parity, or is there personnel shortage?
A.: The expulsion of our diplomats from London was followed by similar measures taken in regard to British diplomats stationed in Moscow proportionately to ours. It was a tit-for-tat response, and we have approximately the same staff sizes. The only difference is that we bring administrative and technical staff from Russia, and the Britons hire many administrative and technical workers locally, in Moscow. Yet we have approximate parity.