24 Nov 2021
German Ambassador to Russia Geza Andreas von Geyr: I don't expect major changes in policy on Russia, but there could be new accents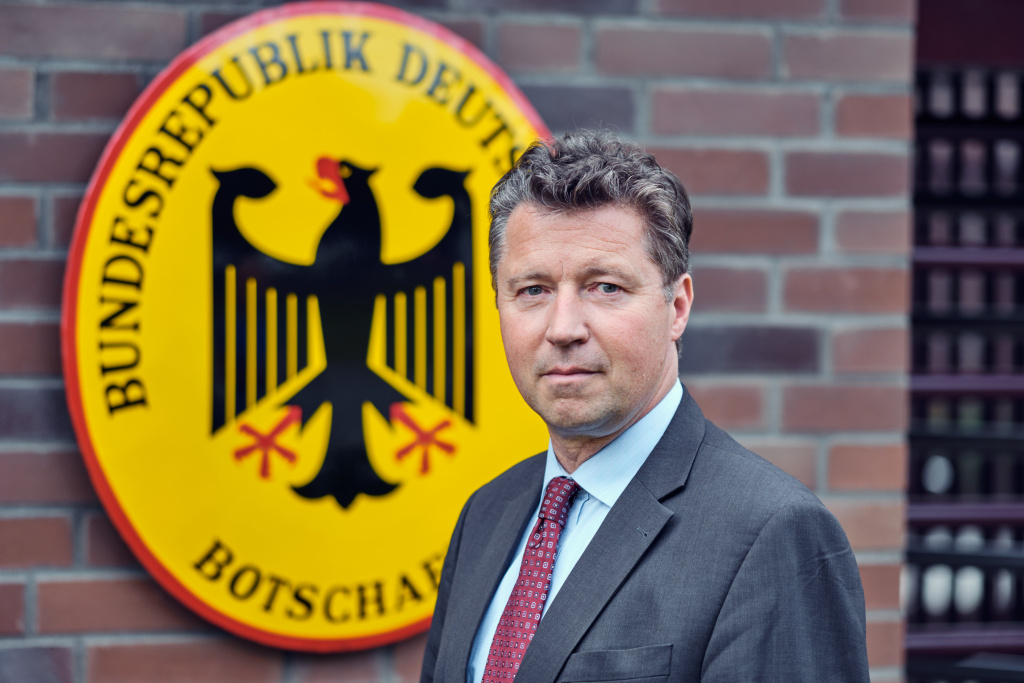 Geza Andreas von Geyr
Photo: Press-service of the Embassy of the Federal Republic of Germany in Moscow

German Ambassador to Russia Geza Andreas von Geyr has given an interview to Interfax. He speaks about the future of German-Russian relations under the new German government, the situation surrounding the certification of the Nord Stream 2 gas pipeline, Berlin's position on the recognition of Russian vaccines and vaccination certificates, and comments on the Polish-Belarusian border crisis.

Question: The Social Democratic Party of Germany won the September 26 parliamentary elections with 25.7% of the vote. The social democrats, the 'greens,' and the liberals are in talks on forming a new ruling coalition. If the talks are successful, Olaf Scholz from the Social Democratic party is likely to be the next chancellor. How could Russian-German relations change under the new government? Could the resignation of Angela Merkel, who had personal relations with Vladimir Putin, lead to their deterioration?
Answer: One of the hallmarks of German foreign policy is its continuity, even through changes of government. What is more, Germany's Federal Foreign Office has had Social Democrats at the helm in recent years. I therefore expect a shift in the elements that are accentuated and focused on, rather than any major, serious changes of direction. No doubt interpersonal ties will then also develop rapidly. That is in our mutual interest.
Q.: During her last visit to Moscow in the summer, Merkel called for the removal of three German NGOs from the list of undesirable organizations in Russia. Has there been any progress on this issue? Could the Petersburg Dialogue continue to work while these NGOs remain undesirable?
A.: Intensive exchange at the civil-society level is part of modern diplomacy between two countries like Germany and Russia, which have numerous ties through history, geography and culture, and in our globalized world, where people are and want to be interconnected. Germany is always making offers of dialogue and exchange, such as the current Germany Year and the German-Russian Year of Economy and Sustainable Development. The intensity of that engagement and of people's interest should be a source of pleasure, not concern. At any rate, I consider it an enrichment that organizations within civil society reflect the full breadth of opinions, without omitting critical noises – on both sides, by the way! The question of progress in relation to the Petersburg Dialogue now needs to be raised first and foremost with those in positions of responsibility there, because three German organizations have been listed as "undesirable" in those circles. The German Government has stated clearly that this categorization should not be upheld.
Q.: What is Germany's position on the lawsuits of the Russian Prosecutor's General Office and Moscow prosecutor's office seeking to liquidate the Memorial Human Rights Center?
A.: The German Government, like many others in the world, has been very vocal on the subject. And the idea of closing Memorial seems to be of great concern to many Russians, too. Minister Maas called the mere idea of closing down Memorial "shocking." Memorial is not only one of the oldest Russian NGOs, co-founded by Andrei Sakharov, it has also gained an impressive national and international reputation due to its decades of important work for human rights and its work on the history of political repression. In our understanding, dealing with the past in a professional and independent manner is also an important element of relations between Germany and Russia. We very much hope that its work can continue and that the right of committed citizens to join together freely in organizations can be protected.
Q.: Italy recently announced that it is ready to give 'green passports' to Russians vaccinated with Sputnik V and those who will take a booster shot upon arrival in Italy. Is Germany ready to consider such an option? To what extent is Germany interested in accelerating the process of mutual recognition of Covid-19 certificates with Russia?
A.: Germany supported the process for approving Sputnik V in the EU very early on, offering and supplying expert consultation. And we welcome the talks initiated by the European Commission in the context of the equivalence procedure in pursuit of a digital passport for Sputnik V alongside other vaccines in Europe. For both the approval and the equivalence procedures, one ineluctable condition is for all the necessary information about the vaccine to be provided by the manufacturers. That – although claims to the contrary are made periodically – has regrettably not yet happened. In any event, we support an EU-wide approach.
The introduction of QR codes in Russia is a complex topic. Those responsible are doubtless considering what this would mean for visits by businesspeople, families, diplomats. One way might be to issue QR codes to those who have received a vaccine approved by the WHO, or to make antibodies a criterion.
At any rate, medical issues have to be decided by clear medical criteria, not political reciprocity. I have certainly not yet heard the criticism levelled in Russia that not enough is known about the vaccines approved in the EU.
Q.: When does Germany plan to resume issuing all types of visas to Russians? What does this depend on?
A.: Because of the Covid-19 pandemic, the recommendations on restricting travel from non-EU countries like Russia, put in place by the Council of the EU in 2020, remain in force. It is not currently possible to predict when it will again be possible to issue visas for all purposes and irrespective of travelers' vaccination status. Besides, travel to Russia is not yet back to the way it was for Germans either.
Q.: Could Germany, against the backdrop of the virtual cessation of contacts between Russia and NATO, become a link between Moscow and the alliance?
A.: Germany has always advocated for NATO-Russia dialogue to be as intensive as possible. This is particularly important in difficult and tense times.
The Russian Federation's decision to suspend contact to NATO completely is one we regret prodigiously. An absence of communication will not enable us to dispel the tensions – tensions which President Putin acknowledged on 18 November. We have to speak to one another far more. In the first half of 2021, NATO made Russia a concrete proposal for a meeting of the NATO-Russia Council. Since then, NATO has been pushing for a meeting in the near future, as have we bilaterally.
Q.: What is your opinion of prospects for reanimating Germany's idea of holding an EU-Russia summit in order to discuss the whole range of problems and relaunch the dialogue? Is such a summit realistic?
A.: Germany is also keen for there to be constructive interaction and sensible cooperation between the EU and Russia, for without cooperation we will be unable to resolve the major issues affecting the future of both Russia and the EU, such as the climate situation or questions of cross-border health policy.
At the same time, however, we cannot nor do we wish to simply gloss over important political subjects on which we currently have fundamental differences. But it is important to address things so that both sides have clarity about what is possible and what is not. That purpose could be served by a summit, as the Chancellor has suggested. Besides this, communication between Russia and the United States at summit level is also proper and important, especially in difficult times. A revival of the dialogue process is therefore desirable. But that is not a decision for Germany or the EU alone; Russia has to be willing too.
Q.: Is it possible to say that the issue of cyberattacks on the Bundestag in 2015 has now been settled? Has Germany received the necessary explanations from Russia? Is there a risk of new cybersanctions against Russia? Were cyberattacks registered during the past elections in Germany?
A.: The cyberattack on the Bundestag was clearly attributed by the judicial authorities. It was thus the EU, not Germany, which decided the relevant response. In recent times too, there have been renewed attacks on parliamentary representatives which the Bundestag has attributed to Russia. Sanctions are not governed by an automatic system, but they are part of the EU toolkit for responding to attacks on our digital infrastructure.
Q.: What is your assessment of Poland's threats to contest the certification of the Nord Stream 2 gas pipeline? Do you think that it is justified to use the mechanism of energy solidarity in the case of Russian gas pipelines?
A.: The certification process for Nord Stream 2 is being conducted by the independent German regulator, the Bundesnetzagentur, in strict accordance with the provisions of the European Gas Directive. Interested parties can raise their views within that legal framework and have their voices heard. Politically, we have made a commitment that this pipeline must not be used to exert pressure on Ukraine. That is why we are campaigning to see reliable, long-term, contractually agreed gas supplies and transit agreements for Ukraine.
Q.: Does Germany consider it necessary to urgently launch Nord Stream 2 given the situation on the European energy market, or should all formalities be observed as much as possible, including the minimization of possible legal risks?
A.: The conclusion of the certification process is required for the pipeline to begin commercial operations, irrespective of the situation on the European energy market. We expect Gazprom to continue to fulfil all contractual obligations towards Europe, particularly in relation to gas transit through Ukraine.
Q.: The current energy crisis shows the importance of multilateral economic relations and the implementation of large transborder projects despite political differences. One can see that in fact there are no new Russian-German projects of this scale. Should one expect such projects in current conditions?
A.: Germany is modernizing its energy supply architecture from the bottom up – moving away from nuclear power and fossil fuels towards renewable energy sources and better energy efficiency. However, this does not mean that the energy relationship between Russia and Germany, which has stood for decades and has been reliable on both sides, is over. It, too, will be transformed in the foreseeable future. Hydrogen, for example is a key building block in the pursuit of climate targets in Germany and worldwide. It is indispensable to the decarbonization of key sectors of the German economy, like the steel and chemicals industries or the transport sector, and thus to Germany's climate targets, and to much more beyond. Hydrogen technologies are becoming an important line of business for German exporters. Simultaneously, the Russian hydrogen strategy intends Russia to become a world leader in the production and export of hydrogen, aiming for a 20% global market share by 2030. There is surely great potential there for new Russian-German energy projects. Indeed, that has already begun, with a number of initiatives including the imminent inauguration of a German Hydrogen Office in Moscow. So in spite of all the current political differences, we are working on a long-term project between our two countries – and our economies – which is considerably strategic in nature.
Q.: What is your assessment of the current situation on the Polish-Belarussian border?
A.: We, together with our European partners and many others, are convinced that the situation on the Belarusian borders with Poland and the Baltic states is the doing of Minsk, which is facilitating the flow of refugees and migrants to the border under false pretences and thereby putting peoples' lives at risk. Responsibility for those people at the border, who are suffering, therefore lies with Minsk. There should be no doubt about full solidarity among the European partners. And we will continue to work closely with people's countries of origin and transit to put an end to the activities of those responsible in Minsk. Chancellor Merkel has talked about the issue with President Putin. All influence that can be brought to bear on Minsk to deescalate and resolve this conflict is welcome and necessary.