18 Nov 2021
Italian Ambassador to Russia Giorgio Starace: We fully support idea of EU-Russia summit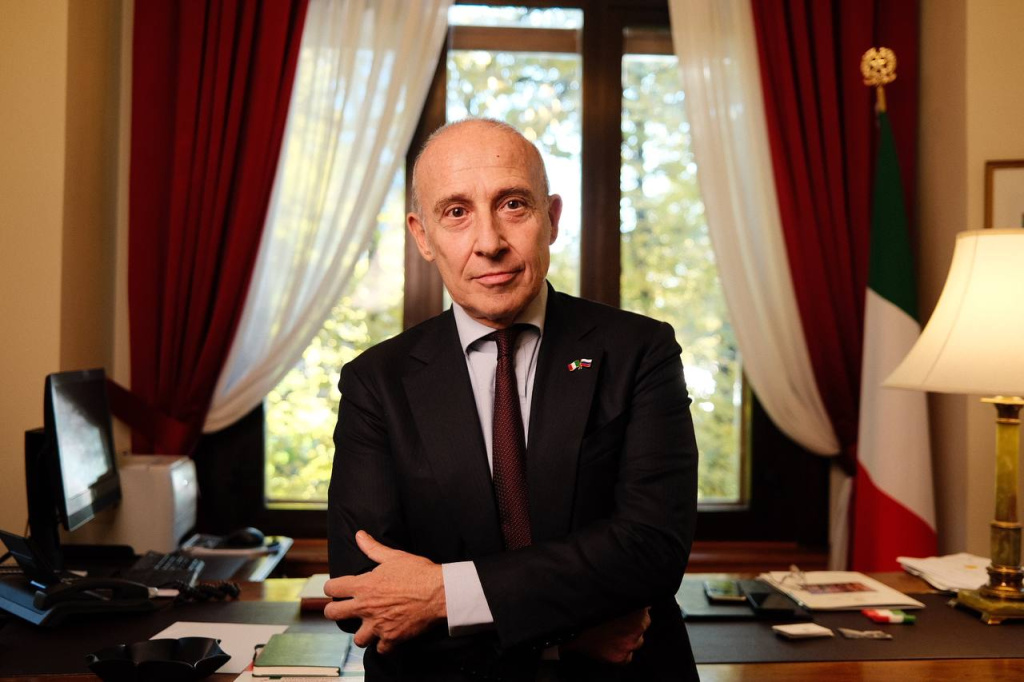 Giorgio Starace
Photo: Press-service of the Embassy of Italy in Moscow

Italy's new ambassador to Russia, Giorgio Starace, has given an interview to Interfax in which he discusses the prospects for EU-Russian relations and Italian-Russian economic cooperation, as well as the procedure for people inoculated with vaccines not approved in the EU to enter Italy.
Question: What is Italy's attitude towards an EU-Russia summit? In your opinion, might one be held in the near future?
Answer: Italy has always believed in the power of dialogue. Our entire foreign policy is based on that conviction. Dialogue isn't a reward; it is the only way to identify common problems, even if opinions and starting conditions differ. Therefore, we fully support the idea of an EU-Russia summit, hoping that it might help restore the dialogue that has been on hold for too long and find topics of interest to both sides that we could work on together. For example, this could be topics of energy transition and climate change, but clearly, there are so many of them.
What's more, a U.S.-Russia summit has already taken place, and the idea of an EU-Russia summit has been put forward by such influential members of the European Union as Germany and France; the latter will preside in the Council of the European Union in 2022. As for the possibility of holding the meeting offline, we naturally will have to take into account difficulties caused by the pandemic.
Q.: What role do businesses and economic ties play now and what role might they play in the future in stabilizing relations between the EU and Russia?
A.: First of all I would like to stress that the current complicated stage in relations between the European Union and the Russian Federation should not be viewed as or become the norm. For that reason, Italy has invariably called for constructive dialogue with Russia that could help us get through this stage and give fresh impetus to bilateral relations. From this point of view I think it is extremely important to focus on topics which could be fruitful for cooperation between Russia and European countries and in which businesses could play a greater role.
I mean for example such global issues as countering climatic change and energy transition - industrial cooperation could combine the high technologies and innovations of European countries, above all Italy, and the vast natural resources of Russia to launch new joint projects that will have a small environmental footprint and contribute to sustainable economic development. I am convinced that in this sphere, just as in many others, focusing on the establishment of such partnerships and cooperation between our countries' entrepreneurs would give a positive impetus that extends from the economic to other spheres of our relations.
As for Italy, I'm satisfied to note that our economic and trade relations have proved extremely strong. Italian companies have a long-standing presence in Russia, sustained on the one hand by the trust in this market, which they have never lost, and on the other hand by the love that Russians have for our country, its culture and Made in Italy.
Q.: How would you assess the so-called energy solidarity, which was at the heart of the recent litigation between Germany and the EU? Does the very precedent of decisions with this principle pose a threat to the EU's energy security? Will it create real threats this winter?
A.: I believe this concerns the launch of the new gas pipeline, Nord Stream 2, which requires the authorization of the German authorities, as well as approval by the European Commission.
This is a complex legal process and all of these bodies will have to assess whether the necessary conditions are in place to grant approval in line with current rules. This is an important decision that will have an impact on fuel supplies to the EU and, probably, on gas prices. But I would not talk about a threat to European energy security, let alone possible threats this winter. EU countries are capable of meeting demand for energy in the near future, regardless of the outcome of the certification process.
Q.: Does the current energy crisis in the EU have political causes, or are purely commercial reasons behind it? What is Italy's opinion?
A.: The increase in gas prices in recent months is due to various factors: the reduction of wind power generation due to light winds in several European countries; the sharp increase in demand for energy in Europe as a result of the economic upturn after the first phase of the pandemic; the re-routing of LNG supplies from the United States and Qatar previously destined for Europe but now exported to Asian markets with higher prices; and the decrease in gas production in various countries due to large-scale repairs at factories. Essentially, the balance between demand and supply was upset due to a combination of factors that caused a perfect storm, which was also facilitated by speculation related to a lack of confidence in the outcome of Nord Stream 2's certification and how long it will take.
Q: Russian energy companies used to make big investments in Italy, for example Lukoil's ISAB and Rosneft's Saras and Pirelli investments. But there have been no projects on such a scale for a long time. Once again, is this a business issue, or are there political reasons?
A: Of course, there are no political reasons. Italy is very positive about attracting new foreign investment, including, of course, from Russian businesses. Obviously, the economic situation of the past two years has complicated a number of basic aspects underlying economic relations, in particular closed borders have for a long time suspended business trips in particular. However, eventually companies that are guided by their own economic strategies make decisions themselves about where to invest.
Q.: The head of Russia's Novatek has recently said that European partners support the new large-scale project, Arctic LNG 2, at the corporate level, while there is no support at the governmental level in EU member states. Is Italy ready to use state guarantees and SACE loans to take part in the project?
A.: I can confirm to you that Italy will continue to be one of the leading partners participating in Novatek's Arctic LNG 2, both on the business level and on the level of credit and insurance organizations. Our companies, including Saipem, have contracts worth billions of euros in this project and as it happens SACE recently confirmed its insurance coverage for financing of the project by Banca Intesa and Cassa Depositi e Prestiti.
Q.: Do large Italian companies face any serious problems in Russia? There is the example of Enel, which actively invests not only in traditional but also in renewable energy in Russia. But at the same time there are rumors that Enel is selling its assets in Russia... And so far there are no new Italian players on the same scale in Russia.
A.: I believe that it is important to remember that no large Italian company has left the Russian market over the past few years, even in the most complicated moments related to the economic crisis. On contrary, we have witnessed a significant expansion of the presence of our large companies which concluded very high-value contracts, especially on large energy projects in Russia. To name a few of the most important ones, I would mention the success stories of Maire Tecnimont, Saipem, Danieli and Enel.
As for the last company, Enel, which you mentioned as well, it has been successfully implementing a project to create a number of new generation wind farms. The first of them was built in the Rostov region went into service this June; the second one, in the Murmansk region, will hopefully be ready by 2022.
Q.: Is recognition of Russian coronavirus vaccines linked to the position of the WHO? If the WHO authorizes Sputnik V for emergency use could this speed up the EMA's recognition of the vaccine?
A.: This is a strictly technical issue, and as I have said before, science, rather than politics, should have the final say. Therefore, I believe that, obviously, if the WHO approves Sputnik V, this in itself would be good news, as it would mean that humanity would be able to count on yet another certified vaccine. Irrespective of how that may influence the ongoing procedure in the EMA.
Nevertheless I would like to recall that it was in confirmation of the importance that Italy attaches to this aspect and in order to protect the many Italians vaccinated with Sputnik V that a directive of the Italian Health Ministry establishes that, starting from November 4, persons inoculated abroad with vaccines not certified by the EMA can get a booster shot of an m-RNA vaccine between the 28th day after vaccination and the end of a six-month period (180 days) since the completion of the initial vaccination cycle. The completion of the expanded vaccination cycle would be recognized as an equivalent of the vaccination cycle conducted in Italy. In my opinion, that's an important step toward Green Pass issuance to persons who have received vaccines uncertified by the EMA.