11 Nov 2021
Diageo General Manager for Eastern Europe: People have started to consume more alcohol at home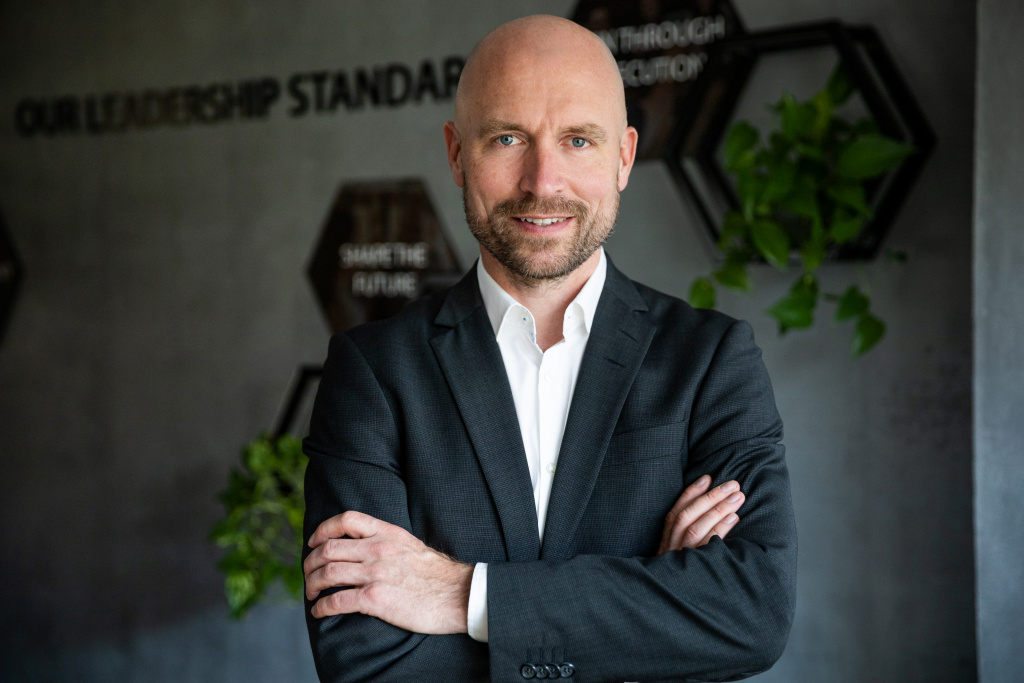 Michael Holm
Photo: Diageo press-service

Diageo, one of the world's biggest alcoholic beverage makers, saw its revenue grow in the financial year ended June 30, 2021, after this fell in the 2020 FY due to the Covid-19 restrictions that led to a drop in sales at restaurants, bars and duty free shops. The Russian market was a key driver of revenue growth for the company in the East European region. Michael Holm, its General Manager for Eastern Europe, told Interfax in an interview about what distinguishes consumers in Russia and about its plans to increase investment in the country.
Question: What are the Russian alcohol market trends in 2020-2021? Which categories have seen the fastest growth? Which segments have declined, given that consumer purchasing power in Russia has fallen in recent years?
Answer: The Russian spirits market is a very big one and it has always been dominated by vodka but in more recent years we have also seen very strong growth in whisky, rum and gin. Both in 2020 and in 2021 they are the segments that are growing the fastest, they are growing in double digits, while the vodka and brandy segments are declining.
We have seen for quite a number of years that consumers are moving out of vodka and brandy and into whiskey, gin and rum. And it's quite interesting because consumers seem to be moving into relatively cheap whiskey and then from whiskey they are moving into even more premium products. And generally spirits is seeing very strong growth in Russia, we see double digit growth in value which is a very strong and much faster than what we see in other parts of Europe.
In terms of price the market is polarizing a little so we do see quite lot of consumers choosing the cheaper, value segment but we also see quite a lot of consumers going for super premium products, so the fastest growing segments are at both poles of the spectrum and the products in the middle are getting squeezed.
Q: What distinguishes the Russian alcohol market and its consumers?
A: Let me start by talking about what Russian consumers have in common with consumers in other Eastern European countries. Firstly Russian consumers like to buy brands, and that's the same across almost every country. But they are also very price conscious - consumers in Russia want value for money as they are often looking for great value for money products. Thirdly consumers in Russia and most of Eastern Europe prefer consumption at home and there are a lot of occasions that take place at home with alcoholic drinks when you meet friends, birthdays.
Some of the things that make the Russian consumer stand out perhaps are that first of all their affinity for vodka which is very outspoken in Russia. Another thing that is a little bit different in Russia and some East European countries is that here most consumers drink spirits neat, without any mixers while in Western Europe enjoyed with a mixer, as a cocktail.
Also Russia is what we call a dark market, there are a lot of regulations in terms of what you can do and cannot do when it comes to advertising alcohol. There are quite a lot of marketing restrictions: we are not allowed to advertise products on TV for instance and there are a lot of regulations on how to advertise products. We do support a balanced approach when it comes to alcohol policy and we do believe that if there are further restrictions on the way we advertise our brands it will be difficult for us to communicate effectively with consumers.
Q: Do you see any risks in terms of tougher rules for alcohol sales and imports?
A: There are risks. The environment in Russia can sometimes be a bit volatile, and right now, there are big discussions around additional tariffs or regulations, yes.
Q: To what extent will higher duties affect the company?
A: Diageo is a strong, big company, so it's not going to significantly impact our business, but, of course, we would prefer to have a really good and stable business in Russia and to have some stability in terms of tariffs and regulations. It just makes it easier for us to operate if the external context is stable and predictable.
Q: What results does the company see in Russia? How important is the Russian market for Diageo?
A: Russia is definitely an important country for Diageo. It's the biggest country in Eastern Europe, and it's also one of the world's biggest spirits markets, so, as a business, we are definitely going to prioritize this market and we will continue to invest. We have recorded very strong growth over the last few years. Besides the strong financial growth, we've also managed to expand the number of brands on the Russian market, to increase our distribution. We want to start to win more market share.
Q: Local players like Beluga Group, Roust and others have a sizeable share of the alcohol market in Russia? How do you assess the competition?
A: We have a number of strong competitors in the Russian market. It's quite a fragmented market, so there are a lot of competitors. We need to do very good work to be able to win on the Russian market. There is Roust, Beluga, but there are also many other international players, so, as I said, we will be investing for growth and our ambition is to win market share in Russia.
Q: Last year, Diageo started to bottle two of its brands, Bell's and White Horse whiskeys, at the bottling plant in St. Petersburg. Does the company plan to localize production in Russia and develop bottling by partners?
A: That's true, we bottle two of our whiskey brands locally in Russia in order to improve their profitability and make the supply chain more efficient. We have brought those two brands into the country, and we will continue to look for opportunities, because we are investing in Russia, and we will also look for further opportunities to develop more brands locally. But yes, we will see over the next few years. I can't get into the specifics of what brands we might localize further, but, as I mentioned, our priorities and our focus is within the whiskey, gin, rum, liqueurs sectors.
Q: Is the company thinking of acquiring any production sites or will it be a partnership scheme, as in the case of the St. Petersburg bottling plant?
A: Again, I can't share too much detail, but we would be looking to develop our capabilities in Russia. It would most likely be through a partnership of some sort, but this would be reviewed on a case-to-case basis.
Q: How does the company establish relationships with retail? Who are your main partners?
A: We work with most of the big customers and retail partners in Russia, and we have a principle to make sure that we create added value both for us and our customers, and hopefully for the consumers as well, because we want to build strong relationships and a sustainable business on the Russian market. Every year, the retailers in Russia will rate their suppliers and a report is issued called the Advantage report, and in the latest report, Diageo was the No. 1 across spirits and most of the categories. Overall, we came second among all of the consumer goods companies in Russia.
The biggest customers for us are, of course, in the retail sector, among them X5, Magnit, Red&White, Lenta, We also have very strong partners in HoReCa or on-trade, although it's a much smaller channel for us.
Q: Do you plan to launch new brands and categories in Russia?
A: We definitely plan to launch new innovations on our existing brands. That's a very important growth driver for us. We may even launch new brands, yes. We are definitely planning to increase our investment and focus on Russia, which could mean new products on the market.
Q: How has the Covid-19 pandemic affected the alcohol market? Does the popularity of drinking at home in Russia mean the Russian market is coping with the crisis more easily?
A: It was less problematic in Russia, yes it was. Because the retail sector is so big, and the on-trade is relatively small it had a smaller impact on the category and the industry with Covid. In southern European countries, for instance, the on-trade is half of the category, where here in Russia on-trade is more like 10%. We have focused a lot on emerging stronger from the pandemic and we have done a lot to support customers and wholesalers in the on-trade channel because they have really suffered a lot.
Q: In general, could we say that the pandemic drove market growth in Russia?
A: It's difficult to say. I don't think Covid as such led people to consume more. The Russian consumer seemed to be consuming more or less what they were consuming before the pandemic, but because Covid also led to a lockdown and travel restrictions, it also meant that Russian consumers stayed at home, and we've seen an increase in domestic tourism and that has driven some growth for us on top of what we would have otherwise expected.
Q: Can we expect this trend towards higher home consumption to go global? Is it possible that there will be a reallocation from on-trade to home consumption?
A: Yes, I think so. There are a couple of trends that will stick with us after the pandemic. One of them, I think, is that home consumption will increase. Another one is that consumers are enjoying alcohol earlier in the evening, so there are fewer occasions and late nights and many more early evenings in the restaurant with food. The final trend that we are seeing in most countries but not so much in Russia is digital commerce or e-commerce, which has really accelerated with the pandemic and think that will continue to grow in the countries where it is allowed.
Q: Is it possible that alcohol e-commerce will be legalized in Russia? Will this affect the alcohol market in a certain way? Can you give an example of other countries with big growth of alcohol e-commerce?
A: We don't know if it will be legalized in Russia, but we hope it will. We definitely support the idea. In fact, we have been part of a group of experts and companies who have been discussing this and advising the government for quite a while. So there is a good understanding among many stakeholders in Russia on how we could approach this. There are a few interesting countries where e-commerce has really growth a lot. China is very big on e-commerce, North America, and Germany as well. It's now more than 10% of the category in China, for instance. It's quite interesting to see that consumers who move online generally tend to buy more premium products. We believe that with online sales, that's also going to happen in alcohol, and more premium products often means less volume, so we are not afraid that this would lead to increased consumption.
Q: You've said a number of times that you plan to increase investment in Russia. What is the basis for this decision? Why now?
A: Because Russia is a big market, and we see big opportunities. Our share of total spirits is still very small. Generally, the category for premium international spirits is only about 10% of the total in Russia. We see a big opportunity for products like ours. While we have some brands that are well established in Russia, such as Johnny Walker, Captain Morgan and Bailey's, there are many more brands in our portfolio that we would really like to bring to Russian consumers.
Q: The world is currently seeing a new trend towards healthy lifestyles, reduction in alcohol consumption. How does the company intend to adapt to this? Do you plan to develop alcohol-free drinks?
A: Yes, that is one of our plans. We have already launched an alcohol-free Guinness in the U.K. and Ireland and we are also looking into alcohol-free spirits.
Q: Do you plan to launch alcohol-free products like Guinness in Russia?
A: Most likely. We still need to work out whether it is possible, but it's definitely our ambition to be bringing some of these products to Russia as well.
Q: Is it possible that alcohol-free products will take up a significant part of your portfolio, or can we rest assured that alcohol will always find its consumer, giving us no cause for doubt regarding its future?
A: I think you will have both. I think non-alcoholic products could make up a decent share of total alcoholic drinks, but how big it will be I don't know. In any case, we want our brands to be enjoyed responsibly and we want to enable our consumers to celebrate life with or without alcohol.