2 Nov 2021
Russian Health Ministry's chief infectious diseases specialist, Vladimir Chulanov: Delta variant poses 132% higher risk of death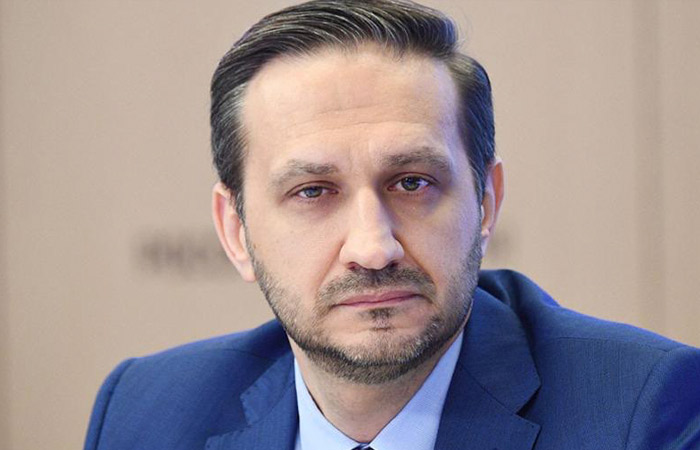 Vladimir Chulanov
Photo: Health Ministry press-service
Russia has been breaking new records for new Covid-19 cases and related deaths over the past few months. The Russian Health Ministry's chief infectious diseases specialist, Vladimir Chulanov, has given an interview to Interfax in which he speaks about the reasons for such a high number of deaths despite a growing number of vaccinated people, about the autumn coronavirus peaks in Russia and whether tougher measures are needed to get people vaccinated.
Question: Has the fourth coronavirus wave peaked or does it continue to grow? When might we reach the plateau?
Answer: There are no grounds to believe at this point that the Covid-19 morbidity curve has reached its peak in the Russian Federation. The further development of the epidemiological situation in the country will largely depend on observance of preventive and epidemic control measures in Russian regions. A key factor of Covid-19 morbidity is the level of vaccination against the novel coronavirus.
Q.: Covid-19 cases and deaths have been reaching all-time highs over the past few weeks. They have been growing despite an increasing number of vaccinated people and herd immunity. Why is this? In your opinion, what is the reason for such a growth in illness and morbidity compared to the previous year when they were much lower, yet no one was vaccinated?
A.: First of all, we should explain what influences the growing morbidity levels. And it is influenced by a large number of factors all at once, for example non-compliance with epidemic control measures. This is breach of the mask mandate in public places and breach of the stay-at-home order when there are signs of a respiratory disease or when a member of your family living in the same apartment as you is diagnosed with Covid-19. It is necessary to continue to take precautions after vaccination. In this case, vaccination can be compared to the seat belt in your car: you still need to drive according to the rules, even if you have buckled up.
Coronavirus variants also influence growing morbidity levels. We see the Delta variant of SARS-Cov-2 dominating now, and it is more contagious and more pathogenic. We saw last year that most children endured the disease with mild or no symptoms, but now, the situation has changed dramatically: not only do children get sick, but they also suffer severe forms of it, and hospitalizations of children and adolescents have increased exponentially.
And last but not least is the vaccination rate. Only vaccinating at least 80% of the adult population will make this factor significant for the epidemiological process. The only way to stop the spread of the virus is to create herd immunity. When we had no vaccines, herd immunity was formed thanks to those who recovered from diseases – the whole history of infectious diseases proves this. However, this case of creating herd immunity makes us pay a very high price due to the risk of the complicated course of the disease - its consequences do not disappear in one day but they last for months – and due to the risk of excess deaths.
Q.: Many specialists link the severity of this wave with the Delta variant. This emerged at the beginning of this year but doctors for some reason have not yet learned to cope with it. Why is it so treacherous?
A.: The Delta SARS-CoV-2 variant, which became widespread only in summer 2021, is more contagious and pathogenic (it causes more severe forms of the disease and poses a higher risk of hospitalization and death) compared to the initial (Wuhan) variant of the coronavirus and the Alpha variant.
Q.: Is the Delta variant really more contagious? To what extent?
A.: Patients infected with the Delta variant see a 108% higher risk of hospitalization, a 234% higher risk of transfer to the ICU, and a 132% higher risk of death compared to the original variant of SARS-CoV-2. This information was provided by a Canadian survey published in July 2021.
Q.: According to Health Ministry data, the Delta variant accounts for almost 100% of cases. Is there a new potentially dangerous coronavirus variant that can beat the Delta variant?
A.: The whole international community led by the World Health Organization is now monitoring new virus variants. Health Ministry scientific centers are doing this in Russia. All virus variants being monitored are divided into three groups – those that need monitoring, those that are of interest and those that are of the utmost concern. At present, a large number of new coronavirus variants have been singled out. Covid-19 vaccination must grow rapidly in order to reduce the risk of new SARS-CoV-2 variants emerging and spreading.
Q.: Are there any prospects for creating a really effective coronavirus drug? If yes, when could it be developed, or should we be pinning our hopes solely on vaccines?
A.: Prevention is the most effective weapon against any disease. It is extremely important to prevent a disease, and the most effective means of Covid-19 prevention is vaccination. We have not invented anything more secure and safe than vaccination. Of course, etiotropic drugs are being developed as well.
The updated version of the provisional methodological recommendations gives information about new highly effective antiviral drugs, which are monoclonal antibodies. Their use for patients running a risk of severe course of the disease will make it possible to neutralize the virus at an early stage and stop the adverse development of the disease. The patterns of drug therapy at the outpatient stage making it possible to prevent excessive inflammation have also been updated.
Q.: Are tough measures needed to speed up vaccination in Russia? For example, mandatory vaccination of 60+ people, keeping in mind that, as Moscow authorities say, 86% of all deaths are among people over 60?
A.: Every region decides for itself, bearing in mind the epidemiological situation. Regional authorities might decide to restrict access for unvaccinated people to public places regardless of their age. At the same time people older than 60 are still listed among those at the highest risk for complications and an unfavorable outcome in the event of contracting the novel coronavirus infection, as well as those who, for example, cannot be vaccinated for objective medical reasons. And all those who make the right decision to get vaccinated protect not only themselves, but also their loved ones and those around them.