19 Oct 2021
Russian Deputy Foreign Minister Alexander Pankin: Claims Russia a beneficiary of gas crisis in Europe are an exaggeration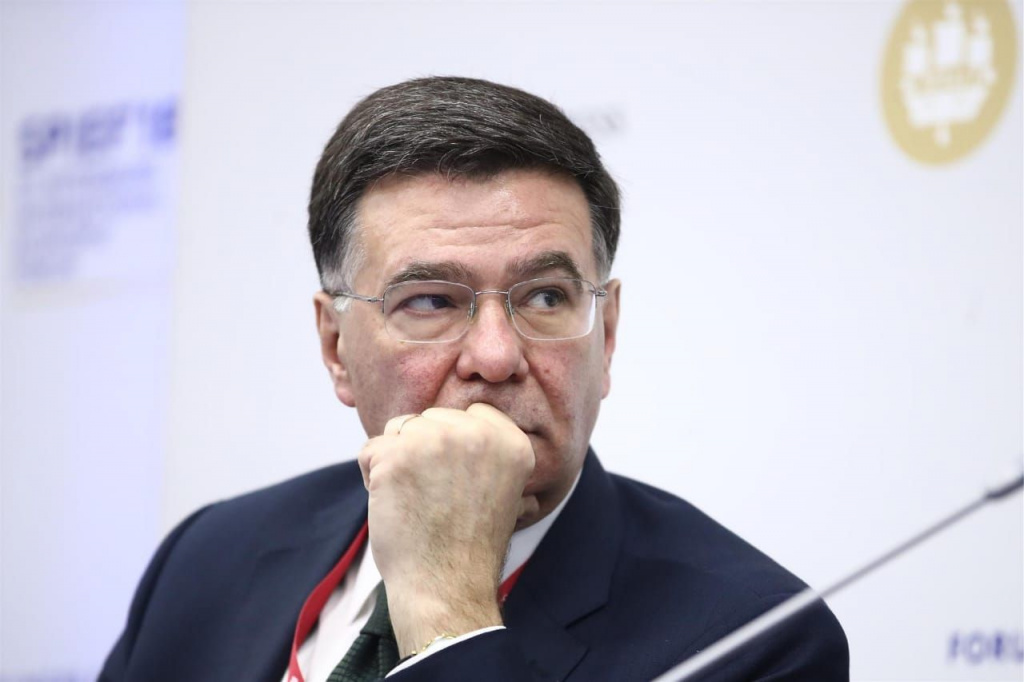 Alexander Pankin
Photo courtesy of the Russian Foreign Ministry
Alexander Pankin, Russia's deputy foreign minister responsible for international economic cooperation, has given an interview to Interfax in which he speaks about the current gas situation in Europe and its possible consequences for Russia, Moscow's attitude to possible U.S. sanctions on the secondary domestic public debt market, as well as Russia's inevitable course towards de-dollarization.
Question: Europe is expected to face an acute energy shortage this winter, which may result in a severe crisis that could deliver a serious blow to various industries on a global scale and disrupt global manufacturing networks. The bare figures make Russia look like a beneficiary of this situation. Does Moscow fear that this crisis will backfire on Russia's economy and large businesses dealing with imports from Europe? Is the Russian economy ready to act unilaterally to mitigate such risks or go through universal mechanisms similar to OPEC, such as the Gas Exporting Countries Forum (GECF)?
Answer: An oil market collapse was prevented last year thanks to coordinated actions by all large oil producers, but most of the credit naturally goes to the states interacting in the OPEC+ format. Its mechanism of balancing oil production proved effective.
The gas market is still fragmented, unlike the global oil market. That is why mechanisms used in the oil market to maintain a price level acceptable for both producers and consumers cannot be applied to gas trade. Moreover, the GECF Charter does not provide for an opportunity to influence the market through supply quotas.
Claims that Russia is a beneficiary of the current European gas market situation are exaggerated, to put it mildly. The thing is that Russian pipeline gas is supplied to Europe mainly under long-term contracts with a price formula ensuring stable prices. European companies that did not give up such long-term contracts under pressure from politicians continue to receive gas at predictable prices that ensure the competitiveness of the economies of these countries.
Amid calls to stop using hydrocarbons that we have heard increasingly of late, many countries ought to brace themselves for an increase in prices both for electricity and for all related goods and services. From this point of view today's rise in gas prices will largely become a 'test of strength' for European consumers who have already begun paying for politicians' miscalculations out of their own pockets. On the whole, Russia is interested in stable prices. Energy price fluctuations will inevitably lead to higher inflation in the EU, which will impact Russia's economy as well. I would like to highlight that high energy prices are unprofitable for producers as they undermine both demand for gas and trust in it as an accessible and rather cheap energy source.
Q.: Many politicians in the West, especially in the United States, are trying to portray Russia as a country that uses energy to promote its geopolitical interests, primarily in Europe. Such claims are being made in a number of Western countries in the context of the current European energy crisis. Could you comment on this?
A.: This question always arises, and every time we have to say that such accusations are unfounded. As the Russian president said at the plenary session of the Russian Energy Week on October 13, even in Cold War times our country met its contractual obligations to supply gas to Europe in full. Interestingly, the U.S. has tried to hinder the implementation of our export pipeline projects, both then and now, accusing Moscow of creating a situation in which European partners are allegedly overly dependent on our supplies.
In my opinion, the current energy crisis has vividly highlighted the need to search for a sound balance between the spot market, which by the way the Americans themselves use to export liquefied gas, and traditional pipelines through which supplies are carried out under long-term and predictable contracts. And the choice here should depend on economic calculations rather than the geopolitical wishes of certain Western capitals under the veil of populist blather about 'energy wars.' Unlike the U.S. redirecting its LNG to Asia, we have increased gas exports to Europe by 15% rather than reduce them against the backdrop of the current price hike.
Q.: The draft U.S. defense budget for the next financial year provides for a new package of anti-Russian sanctions, including tougher restrictions on U.S. investors buying Russian domestic government bonds. How painful could these restrictions be for the Russian economy, if they are imposed? Or is it possible to say now that Russia and its economy have fully adapted to a new paradigm of relations with the world, of which U.S. and Western sanctions are an integral part?
A.: Indeed, we constantly have to keep a close eye on Washington's new sanctions initiatives. However, their fact they are constantly being 'generated' actually proves that 99 'portions' of such absolutely illegal, unilateral and pointless measures that the U.S. has imposed since 2011 have been ineffective.
As regards specific possible restrictions on investors' participation in Russian bond tranches, Congress members have been discussing them for a very long time. And it seems to me that the market has already taken such risks into account. Especially as the real prospects of completely banning the Americans from buying [Russian] sovereign debt are not totally obvious. In any case, the U.S. Treasury has repeatedly opposed such a step, let alone financial companies themselves.
The introduction by the U.S. of unilateral sanctions under any pretext has already ceased even to be a covert instrument to deter Russia. Their goals are known: to influence our policy, to obstruct the economy's modernization and to weaken financial stability.
Russia in response is mitigating sanctions risks and the potential costs of them. Our response to restrictions has been calibrated and appropriate, in line with the objective of maintaining the sustainability of the Russian economy and the financial system and in line with the interests of domestic enterprises. Our focus is on de-dollarization, import substitution and on strengthening our technological independence. We have managed to adapt to external challenges, to reverse the situation to our advantage and to intensify the program of developing promising and competitive sectors.
Russia's economy has been aided by our retaliatory special measures such as an embargo on the import of food products from countries that impose sanctions. A legal framework has been prepared to counteract new unilateral steps by the U.S. and other states. Work is also in progress to develop mechanisms that help ensure our foreign economic activity is fully fledged and independent of any geopolitical challenges. We are continuing to keep in touch with foreign business circles and associations operating in Russia. We are doing our best to maintain their commitment to continuing pragmatic, de-politicized and mutually beneficial cooperation.
Q.: Has Russia's course towards de-dollarization somehow outweighed the negative implications of the U.S. sanctions policy against Russia? Is the possibility of using similar tactics with respect to the currencies of the countries sanctioning Russia, in particular the euro, being considered?
A.: Russia's targeted work to reduce the influence of the U.S. dollar on its economy and foreign trade operations naturally facilitates the greater reduction of sanction risks posed by the U.S. At the same time, we are mulling certain steps to a large extent as a preventive measure aimed at the creation of more predictable and stable conditions for the development rather than a tool to counter Washington's anti-Russian restrictions that are already in place. Clearly, this course of the Russian government is helping to preserve the country's financial sovereignty.
In fact, the decision to drop the dollar is linked to certain costs for business and state financial operations. However, when you face a choice between a slight growth in costs that ensures the reliability of transactions and the potential freezing of payments and its commercial consequences for all participants of a certain deal, you will obviously choose the first option.
We have to say that 'sanctions risks and challenges' posed by the U.S. persist. It is absolutely clear that in such conditions our settlements with the main trade partners need protection and stability in the context of the currency being used, because payments in U.S. dollars are in fact made through the U.S. banks and clearing system, which enables Washington to block any, in their view, suspicious transactions.
So, there is no doubt that it is feasible to continue working on the further reduction of the share of the dollar in our international reserves, as well as in settlements with foreign partners. It is, however, possible to replace the U.S. dollar with other currencies, both national and regional ones, and in the future probably with some digital assets. But this work requires making certain efforts in the bilateral, regional and multilateral formats, including the need to reformat the set cooperation patterns between states and commercial entities and to create appropriate mechanisms to support new settlement systems.
Russia has already achieved some progress here, in particular there are agreements with a number of key trade partners on the more active use of national currencies in bilateral settlements, but there is still a lot of work to be done.
It should also be remembered that the choice of a contract's currency is the prerogative of the deal's participants. In this connection, certain measures are taken to make the use of currencies other than the U.S. dollar in Russia's settlements with foreign partners profitable for businesses.
Naturally, the experience gained and the toolkit created could be applied to other currencies, if need be. However, replacing the dollar with any other currency is not a Russian policy goal in itself but rather a defensive reaction. We have no issues with the dollar as such, and we don't call for giving it up at any cost. However, we have considerable complaints about the financial policy of the state that issues it and that uses its national currency as an economic weapon on an international scale.
As for the euro, we are encountering no problems in settlements and transfers, and that is why we see no reason to use similar tactics either with regard to the single European currency or to any other national currency.
If the euro ensures acceptable reliability and level of costs in making payments and so on, it is economically unfeasible to replace such a currency solely for political considerations without having any specific examples of its discriminatory approaches against Russian businesses, indeed this could result in additional financial costs for businesses.
Moreover, as part of the discussion on increasing the international role of the euro and a possibility of using it for energy payments, we are engaging in such dialogue with the EU and are ready to increase the share of the euro in these transactions at the expense of reducing the dollar's share.
At the same time, if Brussels hypothetically resorts to restraint measures similar to the American ones and uses its currency as a tool of pressure and control, then naturally the whole stockpile of knowledge and mechanisms of de-dollarization will be engaged in relation to the single European currency.
Q.: Many experts believe that U.S. geopolitical decisions and sanction actions are pushing Russia and China towards even greater foreign political integration. Could such interaction spill over financially and economically in order to more effectively counter U.S. sanctions? Is there a potential for such interaction in regional organizations, such as the Shanghai Cooperation Organization (SCO)?
A.: First, it is important to note that economic cooperation between Russia and China, the two largest neighboring states with a high level of friendly relations and partnership, has been developing successfully and continuously for many decades, including in the financial sphere. Interaction between Moscow and Beijing rests on the national and practical interests of the two sides, is intrinsically valuable, it is not directed against other countries and it is resilient to external factors.
As for regional organizations, I would like to point out that the SCO, as an organization of a new type with a creative philosophy, rejects the idealized bloc paradigm of the development of international relations imposed by the West. Its member states promote an agenda based on the common desire to strengthening a multipolar world order based on universal principles of international law, primarily the UN Charter.
The convergence of the positions on the majority of key aspects on the global and regional agendas makes it possible, in a coordinated manner, to increase multifaceted interaction in the interests of ensuring reliable security and establishing broad, open, mutually beneficial and equal cooperation in Eurasia.
As for the economic dimension, the SCO consistently calls for a transparent, inclusive, and non-discriminatory multilateral trade system based on World Trade Organization principles. In this connection, it is invariably stressed in documents adopted at high and the highest levels that it is unacceptable to use unilateral protectionist measures that hinder the sustainable and balanced growth of the global economy.
Q.: This August, the U.S. Department of Commerce started probing Russia's market economy status. How big could potential losses for the Russian economy be if the U.S. makes such a decision? Are expert estimates that such losses could amount to billions of dollars true?
A.: Regrettably, an unhealthy situation has developed in Russian-U.S. relations over the past few years. The number of irritants is growing and this negative momentum has not been overcome. Washington is imposing more and more unilateral restrictions against Russia, unfounded accusations are being leveled against us and other hostile steps are being taken. The number and scope of investigations launched by U.S. regulators into our exports has been growing. The market economy status we received in 2002 has even been put in question, to the surprise of hundreds of U.S. companies operating in our country.
Washington's recognition in 2002 of Russia as a market economy, a status which the U.S. has yet to grant, for example, to nine former Soviet states, as well as Vietnam and China, reflects our country's comprehensive economic transformation. There have been no precedents of revising such decisions. It is obvious that domestic ammonium nitrate producers, who submitted this petition, decided to take advantage of the negative information environment around Russia and the rise in protectionist sentiments in Washington in order to try to squeeze our suppliers on the local market.
It is still too early to discuss the size of potential losses. At the same time, we together with colleagues from relevant agencies, are monitoring this probe closely. We hope that the U.S. Department of Commerce will be guided by an impartial technical and economic approach when reviewing the criteria for compliance with market economy status.
In general, as the global economy recovers gradually from crisis caused by the coronavirus pandemic, new steps to introduce groundless trade restrictions come as a negative signal to the entire business community, which today needs clear and stable global trade rules more than ever.
Q.: What advantages does Iran's full-fledged membership of the SCO bring to the organization? Could Iran be considered as a 'gateway' to Middle Eastern markets for other SCO member states? Could this decision become a driver of recovery for an economy that is still suffering serious damage from U.S. sanctions and serve as a form of insurance against any new sanctions offensives by Washington?
A.: We welcome the decision to start the procedure of Iran's accession to the organization as a full-fledged member made in the wake of the SCO summit in Dushanbe on September 16-17. It will boost the combined potential and international authority of the SCO and will contribute to the development of transport connectivity and the formation of a wide integration framework in Eurasia. Getting involved in cooperation within this organization may have a positive effect on the Iranian economy, including from the point of view of reducing the negative impact of U.S. sanctions, which we consider to be illegal and unacceptable.
I would also like to note that SCO values resonate loudly in the international community. The interest in the organization is growing, which is proved in particular by a solid portfolio of applications to join its activity in one capacity or another. The multi-tier interaction system created in the SCO which involves observers and dialogue partners gives good opportunities to seek, in a pan-regional format, collective responses to present-day challenges and threats.
Iran, which has effectively been involved in the SCO processes as an observer since 2005, is an integral part of the organization's space, primarily for political, geographical and historical factors. Therefore, the decision adopted at the SCO's September summit in Dushanbe to launch Iran's accession to the SCO is seen as a logical one, reflecting the interests of both the member states and of Iran itself. At the same time, we should bear in mind that before gaining full-fledged membership, the Iranian side will have to finalize a whole range of formalities, including joining the organization's regulatory framework.
Teheran's accession to the SCO should first of all be considered in the context of strengthening the organization's combined strategic potential, further increasing its role on the international arena, and expanding its foreign political coordination toolkit. The Iran factor is particularly important for deepening interaction in the SCO's priority and most advanced area of work which is linked to ensuring regional security, including in light of tasks to neutralize risks emanating from the territory of Afghanistan.
Beyond any doubt, Iran with its big market, its vast resources may give an additional impetus to the trade and economic vector of cooperation that is developing actively within the SCO. Iran's transit capacity opens up new prospects for transport connectivity in the region, for instance, through developing the North-South International Transport Corridor. In a broader sense, Iran could help promote the interlinking of the Eurasian Economic Union and China's One Belt One Road project and the Russian president's initiative to form the Greater Eurasian Partnership.
As for the SCO's work in the Middle East in general, you will recall that the Dushanbe summit decided to grant dialog partner status to Egypt, Saudi Arabia and Qatar. At the same time, a number of applications by countries of this region are being considered. So, here it would be better to talk about the interest of Middle Eastern countries in developing interaction which has yet to be converted into a specific result in common interests than about opening a 'gateway.'