11 Feb 2021
Russian Ambassador to North Korea Alexander Matsegora: Life is not easy in Pyongyang amid Covid-19, but we adapted to the new conditions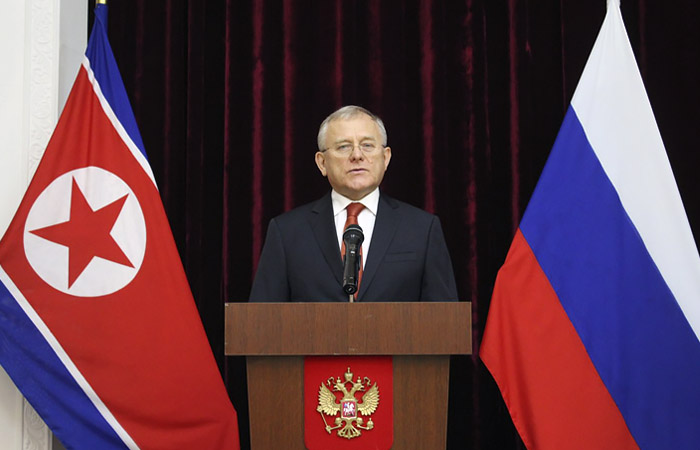 Alexander Matsegora
Photo: Press-office of the Embassy of Russia to DPRK
Russian Ambassador to North Korea Alexander Matsegora has given an interview to Interfax in which he speaks about the life of foreign diplomats in North Korea, where, thanks to tough restrictions, not one coronavirus case has been recorded. He also assesses the possibility of economic collapse given the country's complete isolation, and talks about plans for resuming direct contacts between Moscow and Pyongyang after restrictions are lifted.
Question: Mr. Matsegora, my first question will of course deal with the coronavirus. Is life easy for you in Pyongyang? Do measures to prevent the coronavirus from getting into the country affect its people? Is there any reason for Russian diplomats to get vaccinated and wear masks given the measures to contain Covid-19 that the North Korean authorities have taken?
Answer: To be frank, life hasn't been easy for us in Pyongyang, but where has life been easy for anybody these days? In fact, the situation in North Korea has its specific features. The country closed its borders in late January 2020. It's still possible to leave the country, although with certain difficulties, but everyone, including citizens of the country, is absolutely prohibited from entering North Korea.
At the same time, the Korean authorities have erected barriers to imports of goods. Commodities that are vital to the country got into the country by special decisions of the administration of the North Korean emergency anti-epidemic committee before the end of August, but imports stopped entirely after the September typhoons.
In general, the country lives in unique conditions. They assume that Covid-19 is a special virus and its properties haven't been fully studied yet. It's a wicked enemy that will get into the country sooner or later, one way or another, if vigilance decreases. The North Korean leader has openly admitted that there is no fully fledged medical infrastructure here that meets modern requirements and is capable of dealing with this problem. That's why the total restrictions imposed at the beginning of last year have not only stayed in place, but have even been tightened, including by installing extra cordons with armed security guards along the land borders of North Korea in order to prevent anyone and anything from entering here.
Such self-isolation has negatively impacted the economy and people's living conditions. Many enterprises have come to a standstill, and therefore people have lost their jobs, because there are no imported materials, resources, or parts. Children haven't gone to school and have stayed at home practically for a year now, which, naturally, isn't very good for their studies or for their health.
The restrictions fully apply to foreigners who live and work in North Korea. There was an exodus of diplomats and employees of international organizations in 2020. Most embassies have either suspended all activity or have one or two employees left in charge here. Some diplomats of the Russian embassy and their family members returned home at the end of their mission or for medical reasons, but no one has been able to come here to replace them. Naturally, no one has gone on vacation.
We have not been allowed to leave Pyongyang since last January. We are also not allowed to go to parks, museums, swimming pools, and use public transport. Our children were advised not to leave the embassy premises. Foreigners were presented with a list of approximately 300 shops in the city and one designated market which are ready to serve foreign guests. It looked like that would be enough.
However, over the months of self-isolation, the stock available on shelves has decreased to a minimum. It's a challenge to buy even such basic goods as pasta, flour, vegetable oil, and sugar, and there are no decent clothes or footwear. If something can be bought, it usually costs three or four times more than before the crisis. Of course, we aren't hungry, we don't complain, and we adapt. Over the past 12 to 18 months since their last visit home, children have grown a lot, so parents pass each other their cast-off clothing and footwear. However, due to the absence of medicine and the aforementioned unsatisfactory level of healthcare, the inability to urgently leave for home in the event of illness is truly a big problem.
No more than five people can gather at a time in cafes and restaurants and you have to leave before 9 p.m. You aren't allowed to stay outdoors during dust storms, and glasses and hats must be worn during snowfalls. Of course, masks must be worn at all times, hands must be disinfected, and temperatures are taken every time you enter somewhere.
We fully comply with the requirements which have been set, we have become accustomed to the new living conditions, and we have learned to accept them with understanding, especially as the coronavirus has taken hold of Russia and other countries, and people close to us have begun to get sick or even die at home. Thanks to the strictest bans and restrictions, North Korea has become the only country to keep this infection out. I have no doubt that if Pyongyang had seen even one case Covid-19, we would have been locked inside the embassy. They never stand on ceremony with diplomats here. So, we quite trust the authorities' statements affirming the absence of Covid-19 in the country. We're also looking forward to the chance to finally be vaccinated.
Q.: Kim Jong Un was elected to the post of secretary general of the Workers' Party of Korea (WPK) at the congress in early January. Thus, he got the title his father and grandfather had. However, many experts noted that despite expectations his sister, Kim Yo Jong, did not get into the 8th Politburo of the WPK. Do such appointments and titles send a message to the world, or should this be considered as purely North Korea's domestic affair?
A.: Of course, all these things are purely the internal affair of North Korea. I wouldn't regard the new titles and appointments that were reported after the congress as some signal to the outside world. Kim Il Sung, by the way, was general secretary of the Central Committee of the WPK. And Kim Jong Il really had the same position as his son has now, general secretary of the Central Committee of the WPK.
I think the new name of the top party post doesn't essentially change anything. Comrade Kim Jong Un was and still is the unconditional leader of the party and the state. As for his sister, Kim Yo Jong, she remains a member of the Central Committee, and she has been appointed deputy department head of the Central Committee of the WPK. After the congress, the North Korean leader's sister made an official statement, in which she criticized the South Korean military. So she is still a very influential and trusted person here.
Q.: North Korea and the situation in the Korean Peninsula in general is not actively discussed in the media and has even faded into the background somewhat. Is it possible to say that the situation on the Korean Peninsula has become less threatening? Are there signs that Pyongyang is bolstering its nuclear potential amid this information silence?
A.: We can say that the current situation on the Korean Peninsula is much calmer than it was before late 2017. That happened thanks to North Korea's moratorium on nuclear tests and launches of intercontinental missiles, as well as a certain decline in military activity. However, the potential for conflict remains. The United States and South Korea are continuing to hold joint exercises, although on a smaller scale, while North Korea - and this is clearly stated in the report delivered at the congress - hasn't stopped improving its missile and nuclear potential. This kind of situation could lead to an upsurge of tension and therefore serves as a source of serious concern.
Q.: And once again about the pandemic. Some experts fear that the course of complete isolation that the North Korean leadership took in countering Covid-19 could result in the country's economic collapse. Does Moscow share this opinion?
A.: North Korea has lived amid tough international and unilateral sanctions for many years. And they have grown universal since 2017. I can say that the republic has been enclosed in an impenetrable blockade outside of the epidemic restrictions. The country has largely grown accustomed to its isolated existence. One of the three main slogans proclaimed by Kim Jong Un at the congress was reliance on one's own strength.
A lot is being done here today to end dependence on imported materials and equipment. For instance, both of the country's metallurgical plants are installing equipment for coke-free iron smelting, as the country has no coking coal, and construction of C1 chemical plants has been expedited in order to make liquid fuel from the country's abundant brown coal reserves.
Of course, problems have got worse since the beginning of the pandemic, and it looks like things will be even more difficult in the near future. But I'm sure that the Koreans are capable of keeping their economy running and preventing it from grinding to a complete halt. So, I believe there is no threat of collapse. Especially as the borders will reopen for goods after some time: large disinfection facilities are being built at border checkpoints, including on the border with Russia, in order to ensure the safe import of commodities.
Q.: Does Russia plan to ship more humanitarian aid to North Korea amid the pandemic? How much grain and petroleum products were supplied last year? What could the volumes of supplies be in 2021?
A.: Russia delivered 50,000 tonnes of wheat to North Korea on a bilateral basis in 2020. Besides, $7 million were allocated via the World Food Program. The delivery of petroleum products, which strictly complies with the relevant sanctions resolutions of the UN Security Council, stood at only 16,900 tonnes in 2020. It will be difficult to enlarge humanitarian assistance to North Korea this year, at least before the country reopens its borders.
Q.: It was reported some time ago that the North Korean authorities asked for coronavirus vaccines despite official North Korean statements that there is no coronavirus there. Could Moscow confirm or deny this information? Are there talks between Moscow and Pyongyang on a vaccine?
A.: North Korea has actually applied to participate in the COVAX program of the global alliance for vaccination and immunization. There is no way this can cast any doubt over the statements by national authorities affirming the absence of coronavirus. What's more, this step could be viewed as an argument in favor of the authorities' intention to not fully isolate the country, but at least give citizens a chance for international travel. For example, we're ready to increase the number of North Korean students in our country. Before they come to us, naturally, they'll have to be vaccinated.
Q.: Starting from last spring the world has had to switch to online communication. How do Moscow and Pyongyang maintain contacts amid the pandemic? What is the level of such contacts? Are there now high- and top-level contacts between Russia and North Korea?
A.: Russian-Korean relations were no exception. They also switched to the online format. There was no delegation sent either to Russia or here for a year. All contacts were made through the embassies. We communicate with our colleagues from the North Korean Foreign Ministry and other agencies by phone, by exchanging notes, and regarding the most urgent and important issues by personal meetings observing all anti-epidemiological precautions.
Contacts at the high and the highest level are also maintained by correspondence – letters and messages are sent through the diplomatic missions. However, we and our Korean friends are on the starting blocks. We have agreed that as soon as restrictions are lifted, we will without delay start restoring direct contacts at all levels and in all areas that have been frozen for some time.