4 Feb 2021
EU foreign policy chief Josep Borrell: Putting aside negative rhetoric would be good starting point for frank EU-Russia dialogue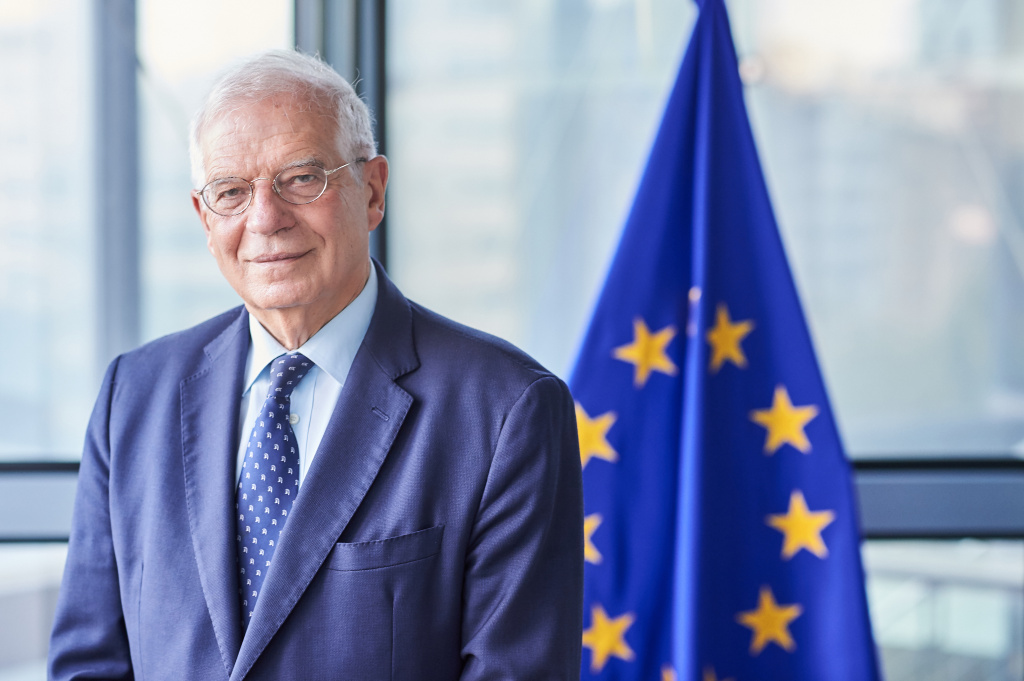 Josep Borrell
Photo: European Union
EU High Representative of the European Union for Foreign Affairs and Security Policy / Vice-President of the European Commission Josep Borrell, who makes his first visit to Russia on February 4, has given an interview to Interfax, in which he said the EU and Russia viewed each other as rivals rather than partners, and called for putting aside negative rhetoric and starting a frank exchange of opinions. He also spoke about the EU position on Russia's vaccines, about the future of the Iranian nuclear deal and about the Nord Stream 2 project, and stressed that the EU's criticism of Russia regarding the Navalny situation should not be considered interference in Russia's domestic affairs.
Question: It has been a long time since high-ranking EU officials last visited Russia. Your predecessor as European foreign policy chief Federica Mogherini, visited Moscow in 2017. You have never been to Moscow since taking office in December 2019. Why exactly did you decide to visit Russia right now? What are the main goals of your visit? And what meetings apart from negotiations with Russian Foreign Minister Sergei Lavrov are you planning to have in the Russian capital?
Answer: I had announced my intention to visit Moscow at the beginning of my mandate, fully aware that managing our relationship with Russia would continue to pose an important challenge. The main purpose of my visit is to raise the issues that are causing concern for us related to Russia's place and role within Europe and its broader international engagement.
Recent developments only serve to further the need to discuss all relevant issues in our relations, covering areas of disagreement as well as cooperation, both of which require our urgent attention.
The point of diplomacy is precisely to engage, to pass messages and try to find a common ground, especially when things are bad. Holding a direct exchange with my Russian counterpart will also inform the strategic debate on EU-Russia relations that the EU leaders will have at the European Council in March. During my visit, I will also meet with representatives of Russian civil society organizations and members of the academic community in Moscow. This is especially important to me, as these meetings cannot be done via videoconference.
Q.: It is clear that relations between the EU and Russia are experiencing a systemic crisis. Foreign Minister Lavrov made a statement that communication with EU leaders may be ceased if European colleagues are reluctant to have a mutually respectful dialogue with Russia. The Russian Foreign Ministry has recently said that Brussels's reaction to the Navalny situation jeopardizes the possibility of the further construction of interaction with the EU. How do you view the process of building relations and returning to an active political and economic partnership?
A.: Our relations have been deteriorating over the past decade and, especially since Russia's illegal annexation of Crimea and Sevastopol in 2014, they have been marked by a lack of trust. Today, we fundamentally see each other as rivals and competitors and not as partners.
We have strong disagreements when it comes to the conflicts in our immediate neighborhood, from Ukraine and Belarus to Libya and Syria, and when it comes to human rights and fundamental freedoms. We have made our position very clear on the poisoning of Alexei Navalny, his arrest and that of thousands of demonstrators over the past days, followed by his sentencing to two years and eight months of prison.
However, our channels of communication have remained and need to remain open. But they have not always been put to sufficient use. Instead, we have been talking more about each other or even past one another, which only perpetuates mistrust and does little to address the challenges in our relationship.
Putting aside negative rhetoric would be a good starting point for a frank and direct exchange of views between the EU and Russia, which is all the more needed when relations are far from satisfactory.
Q.: It was reported earlier that the EU is preparing new sanctions against Russia over the Navalny case. What sanctions are on the agenda? Are EU member states close to a consensus on this issue? Is it possible to avoid new restrictions?
A.: The EU's position on the case of Russian opposition politician Alexei Navalny is clear. The EU swiftly condemned the use of a chemical agent on Russian soil to poison him and imposed sanctions related to this assassination attempt. When he was arrested and detained upon his arrival back in Moscow, we called for his immediate release, along with the thousands of peaceful protestors and journalists since detained.
On Tuesday, we immediately condemned his sentencing to two years and eight months imprisonment. We believe that this decision is politically motivated. In 2017, the European Court of Human Rights had already determined that Mr. Navalny's conviction was unlawful and arbitrary.
Let us also recall, however, that the case of Mr. Navalny is not an isolated incident and unfortunately confirms a negative pattern of shrinking space, not only for the opposition, but also for civil society and independent voices in the Russian Federation.
This is not about meddling in internal affairs; this is about universal principles and international commitments also vis-à-vis its own citizens that Russia signed up to as member of the Council of Europe and participating State of the OSCE.
Q.: Does the EU consider it possible to open borders soon and resume people-to-people exchanges and tourist flows, including with Russia, after the beginning of vaccination against Covid-19? Or, on the contrary, is it now about maintaining and toughening anti-Covid-19 measures in Europe?
A.: A temporary restriction on non-essential travel to the EU is currently in place. It is the prerogative of EU Member States to regularly review and, where relevant, update the list of countries from where travel could be envisaged, based on the evaluation of the sanitary situation.
In light of the risks posed by new virus variants, EU leaders recently acknowledged the need to further revise these criteria, taking into account the latest scientific advice, and to introduce additional safeguards for essential travel to the EU. At this stage, vaccination has not been identified as a sufficiently reliable parameter. At this moment and in this context it is not possible to make any forecast as to when Member States will decide to reopen the EU's external borders for non-essential travel. Additional discussions will be needed, subject to the evolution of the pandemic.
One thing is for certain: we are all hopeful of and working towards a reopening of societies, economies and borders as swiftly and as safely as possible.
Q.: The Russian Foreign Ministry has said that there are forces in the EU that oppose Russia's Covid-19 vaccines. Is there any politics underlying this situation? Is there a possibility of cooperation between the EU and Russia in combating the coronavirus?
A.: From the start of the Covid-19 crisis, the EU has advocated a multilateral approach to ensure the provision of vaccines across the world. Global cooperation and solidarity will be our only chance to defeat the virus everywhere but also to start a sustainable global recovery. Cooperation is the only key to success, as the virus knows no borders.
The EU has to date mobilized 38.5 billion euro to help its partner countries across the world address immediate health emergency and humanitarian needs, strengthen health systems, and support economic recovery and social protection. In Russia, the EU has allocated 13 million euro so far to support vulnerable groups most affected by the pandemic.
While politics should have no place in the global fight against the pandemic, we have, however, witnessed that Russian state-controlled media have regrettably disseminated messages aimed at undermining the efforts of Western governments to combat the virus. A number of state-controlled and state-financed Russian media outlets have also spread unfounded accusations according to which the West seeks to sabotage the Sputnik V vaccine for political and economic reasons. This is nonsense. All companies need to respect the same rules in order to sell their vaccines in the EU. Covid-19 vaccines can only be approved and used if they comply with all the requirements of quality, safety and efficacy set out in the EU pharmaceutical legislation and are approved by the European Medical Authority, which carries out a scientific evaluation.
In the context of Covid-19, it is also particularly important to raise awareness of the threat posed by disinformation to public health.
Q.: Iran criticizes the EU for not ensuring its economic interests, including the Iranian oil imports as stipulated by the JCPOA. Is Brussels afraid of U.S. sanctions? Would a U.S. return to the deal give Brussels the green light for fully-fledged economic and investment cooperation with Tehran?
Will the implementation of Iran's threats to withdraw from the additional protocol to the IAEA safeguards agreement be the end of the JCPOA?
A.: The JCPOA is at a critical juncture, once again. As coordinator of the JCPOA, I am working hard to keep the JCPOA alive. Russia has been an important partner to this end. I am in contact with all participants as well as with our U.S. partners. There is no easy path.
The new U.S. administration has clearly indicated a new approach and all JCPOA participants are ready to engage.
The JCPOA is based on Iranian nuclear commitments in exchange for sanctions lifting. As the European Union, we continue to fulfil our commitments under the JCPOA.
U.S. withdrawal from the JCPOA and 'maximum pressure' policy, including secondary sanctions, had a negative impact. The JCPOA could not reach its full potential - including in the economic field.
We need to move from 'maximum pressure' to 'maximum diplomacy' through the JCPOA Joint Commission, to try and build a new positive momentum and to ensure once again full implementation of the agreement, including by Iran.
The end goal remains to go back to the full implementation of the agreement.
Q.: What is the EU's attitude to U.S. attempts to thwart the completion of the construction of the Nord Stream 2 gas pipeline, including through means of exterritorial sanctions? Could the EU hinder the construction and operation of the pipeline? Does Brussels view American LNG as an alternative to Russian gas?
A.: One thing is clear; the EU opposes the imposition of sanctions by third countries against EU companies conducting legitimate business. Nord Stream 2 is not a European project. It is for the EU Member States involved to decide whether to construct this pipeline. What we as the Commission insist is that the pipeline needs to comply with all applicable EU legislation.
The EU does not favor one type of gas over the other, and as a buyer is mostly interested in well-regulated and transparent markets, i.e.: both pipeline gas and LNG. The real competition to natural gas is a world without fossil fuel use, which is necessary for our global climate action and which should be our real goal. Hence, our focus of energy relations with Russia in the future should be centered on energy transition. Natural gas will play a key role in this transition.