12 Nov 2020
VTB First Deputy Vice President Yuri Soloviev: There is not enough face-to-face communication, though market could survive without it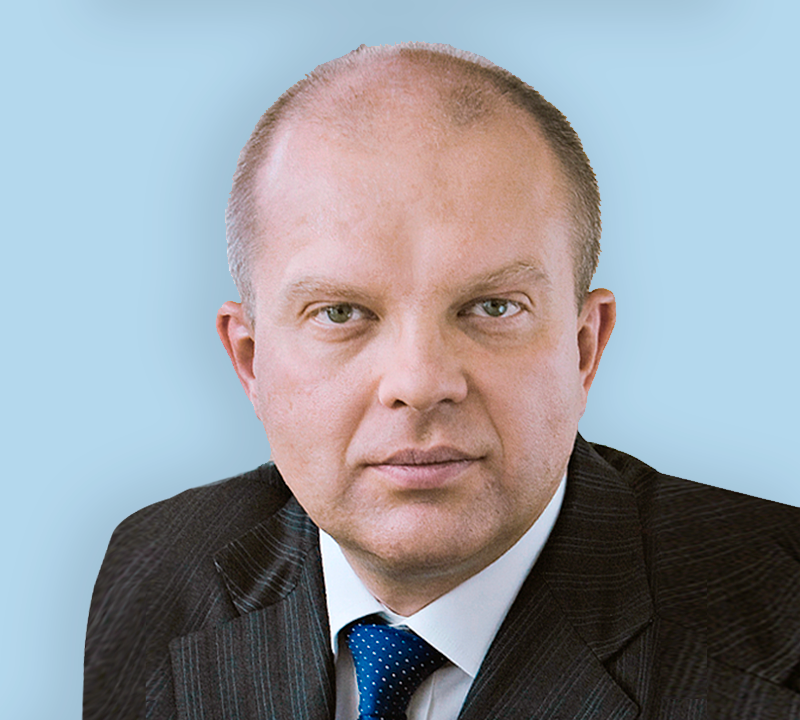 Yuri Soloviev
Photo: VTB press-office
The coronavirus pandemic this year has laid waste to many events familiar to the Russian business community, having left them in its wake, and just recently it seriously affected one of the main events on the country's business calendar: the VTB Capital "Russia Calling!" investment forum, which was forced to be held online this year.
However, Covid-19 did not markedly affect the contents of this year's forum, with Russian President Vladimir Putin having participated as usual, as well as the governor of the Central Bank of Russia and the relevant ministers having taken up their traditional positions on the panels dealing with macroeconomic issues.
VTB First Deputy President and Management Board Chairman Yuri Soloviev, who was at the origin of both the forum and the group's investment banking business, spoke about how to work with corporate clients and conduct transactions amid the new reality during an interview with Interfax.
Question: Even though the various restrictions because of the coronavirus pandemic may not have affected the corporate banking sector as severely as the consumer segments of the economy, they have forced corporate banking to adapt to the changes in the outside environment. Taking into account the new reality, how do you build communication with your corporate clients these days?
Answer: The coronavirus has unfortunately brought its own adjustments to everything, and the usual way of life has changed dramatically. Even the atmosphere of our "Russia Calling!" forum was different previously, when one would enter the room and actually be engulfed by the energy emanating from the large group of participants.
As always, however, there are positive as well as negative aspects to what is happening with this phenomenon. The positive aspects? We have foremost had to develop new digital solutions to the situation, just like in other areas of face-to-face contact and work.
For example, this year we have launched the first online issuance of mortgages on the market by completing the first mortgage with the PIK development and construction company that I have always praised very much. In my opinion, Sergei Gordeev has taken colossal steps that have affected the entire construction industry. Together we have accomplished some rather rapid changes. If you remember, apartment sales fell sharply in April, and there were several weeks when they were nearly in the single digits for even a large corporation like PIK. The quick response under pressure to the prevailing circumstances that coincided with the government's support measures, such as lower rates on preferential mortgages etc., and being able to conduct transactions online, really saved the construction sector and caused us to work in a new way.
Surprisingly, we have completed deals with clients who have bought apartments and flats from PIK directly from the United States, Turkey, and Israel, which would have been difficult to imagine previously. This would be one of those positive aspects that has happened.
Further, we have learned how to complete e-guarantees, as well as issue e-loans. All of these processes had existed previously; however, they were being used gradually, as people sometimes would rather not cannibalize their own products, which sometimes requires additional budgets, and sometimes requires additional effort, such as temporary and face-to-face, in order to shift and complete such a technological disruption. This is where we had to do everything in just a week, and this moved us forward considerably as a partner of all our large companies.
I must note that face-to-face communication cannot be completely replaced, so we continue to meet in person, although much has had to be transferred online. For example, we have a tradition that when a major deal or placement is completed, when much effort has been expended, for example, when it has been necessary to form a particular group of investors, or when some records have been broken in terms of the number of transactions, then we get together with clients to have a dinner in honor of the successful completion of work. Unfortunately, nearly all of them have had to be canceled this year. However, several times we have had dinner online, although, to be honest, the atmosphere is completely different.
We have reduced the number of meetings, but by my schedule, probably about 50% to 70% are still face-to-face. We even communicate without masks with those who have been ill. We hold meetings in masks, at a social distance. Nevertheless, client meetings all the same absolutely and definitely cannot be completely eliminated. The success of negotiations largely depends on how personal communication is built. Both the psychological factor and the level of trust play a role here. Sometimes there are rather complex issues that could only be discussed face-to-face. On the other hand, we can conduct business online with the help of a whole host of digital tools, taking the necessary precautions when a meeting is required.
Q.: Preparing transactions in capital markets has also gone online, with conference calls having replaced the traditional road shows for IPOs as well as for Eurobond issues. How comfortable are companies and investors with the new reality?
A.: There are people with established connections, with so-called track records, and this is a relative inconvenience for them. This is indeed a slightly more complex element for companies that have just entered the market, but work continues in this form. You see, this has been a record year in terms of issuances, one of the record years in Russia's history in terms of the number of debt instruments issued. This also applies to the Finance Ministry, the main government borrower, which has shown a colossal figure, and has been able to mobilize financial resources very quickly. We see both quasi-sovereign names and private companies on the market. A huge number of debt instruments have been issued, and there are new types, such as perpetual bonds for the corporate sector on the international market, and for international investors. Russian Railways' issue of perpetual ruble-denominated bonds, which we placed, also included foreign investors.
Therefore, one could not say that not being able to have face-to-face communication in any way actually limits the existence of the market. There is currently not enough face-to-face communication, though the market could survive without it.
Q.: One of the year's high-profile deals has been your partnership in Demetra Holding with the business structures of Alexander Vinokurov and Taimuraz Bolloev. Is the shareholder configuration on the foreseeable time horizon final? Or might new partners emerge and the stakes of the current partners alter? Given that this is a rather investment-intensive business, are your partners ready to invest in developing it along with VTB; or are the funds of shareholders not currently required?
A.: We have settled on this shareholder structure for now, and it will remain unchanged for the foreseeable future. The partners whom we have known for a long time in various investments have been sufficiently vetted and are fairly well known with investment experience in these sectors. If you look at their previous experience, you will see specific interactions, connections and developments; therefore, we are comfortable moving forward with these shareholders.
In terms of investment, this is indeed a capital-intensive sector; however, additional investment on the part of shareholders is not required as long as the debt capacity of the company itself, the very vertical structure that we have built, is sufficient to develop through its own resources.
We have rather major plans. Together with our strategic partners, we have identified priorities in the development of the holding, such as building a single trade and logistics chain and reaching synergy between all elements of the chain. It is important that we concluded the first deal the other day, which was the purchase of the first grain elevator, where we acquired 100% in Ipatovsky Bread Products Plant LLC. The grain elevator is located in Stavropol Territory, with a total storage capacity of 75,000 tonnes. This is the first grain elevator in our portfolio. We will continue to expand our storage capacity in the future.
In March this year, we acquired 50% in the deep-water terminal at the port of Taman. The terminal does not receive grain via railway cars owing to the lack of a railway line. Russian Railways and our holders of the second stake, and that is our western partner, are currently working together to complete the line, as well as increase or add grain deliveries received via railway cars.
The association of conscientious market participants has taken the initiative this year to prevent the travel of excess-weight vehicles, which has been an important event of the current season, the most important topic. This should have a very positive effect on the quality conditions of roads, on increasing the collection of taxes, as well as on the transparency of the entire business. All the companies of our holding have signed a memorandum on not using vehicles in excess of the permissible weight in their operations as of September 15. The road transport market is very scattered and unorganized, so overloading has led to the destruction of roads and dangerous driving situations. We fully support the transition to civilized operations, and we are adhering to this strictly.
Q.: Your participation in Magnit is another big story. The market seems to feel that it has become a sort of increasingly driving force in the company with Alexander Vinokurov's Marathon Group having increased its share in Magnit. How do you view the current situation?
A.: The board of directors governs the company and takes decisions on the hiring of management. The board is organized in such a way that the more shares you have, the more candidates you can nominate and, accordingly, vote for them. Two people are on the board from VTB, and they have been there since the beginning. In my opinion, we have not changed the number of board members. There is the board of directors, and there are shareholders' meetings where we vote according to the number of shares. Magnit has a huge free float, and a large number of shareholders vote through an association of investors. Accordingly, in my opinion, absolutely nothing has changed from this point of view. Magnit's CEO, Jan Dunning, heads the management board that runs the company in terms of operations. We are very pleased that, in our opinion, a very strong management team has developed. We can clearly see this from the results of Magnit.
Q.: Are you satisfied with the investment in the company?
A.: We are very satisfied. It took quite a long time to rebuild the process within the company. Dunning's management team has done much work to improve the assortment, to develop category management functions, and to improve the availability of goods on the shelves, and they have successfully and rather quickly implemented a unique, cross-format loyalty program that did not exist until recently. When we came to the company, there was not even the beginning of the project. To date, there are more than 34 million active users, and the share of sales using loyalty cards has reached 66%. The company places rather strong emphasis on developing its own brands, updating the system, and continues to do so. This is one of Magnit's areas for doing business at high margins. We have turned our focus from extensive growth to integration efficiency and reducing costs, and we shall continue to do so. As a result, in the first and second quarters, Magnit became the leader on the Russian market for the first time in several years.
The company has a new board of directors. After its formation, the board probed around to see how to move forward correctly. We are very pleased with the management team that is there now, as well as with the results that it is showing. If you take the five largest Russian players in this market, they control a combined share of 29%, whereas in Germany, the share is 74%, and it is 61% in Britain. Therefore, from our point of view, growth in such a civilized, concentrated retail business will be quite large. Naturally, digitalization is very important here, and the company is preparing many projects, with some of them having already been launched, and we shall see the results of these projects in the near future.
Q.: Do you currently have any plans to sell your stake in Magnit?
A.: We plan to remain a shareholder for now. We are very pleased with the investment, and believe that this is part of our strategy to take on risk in digitalization. This is not a month-to-month or day-to-day investment for us. When we bought the share in the company, we initially talked about holding the stake for three to five years, and perhaps it will be even longer. Therefore, pessimists or those looking for some kind of conspiracy are definitely incorrect today.
Q.: VTB's withdrawal from the capital of the Channel One TV station has recently become known. Why has the other side of the deal not been disclosed? VTB called its acquisition of a 20% stake in the channel "part of the group's successful private equity business." Did you manage to earn a profit from selling the stake?
A.: Since we have signed a confidentiality agreement, I cannot comment on the deal itself. However, I shall say that we have not lost anything on the deal.
Q.: VTB is the largest creditor of FESCO Transportation Group. How would you assess the current state of affairs in the company, and is it servicing its debt obligations on time?
A.: This is rather complex for me as a creditor, and I do not want to comment on managerial or shareholder conflicts and confrontations. We are of course concerned by what is happening, and we are following the news and trying to talk to both the shareholder and the company's management; however, I would prefer not to comment on this. From the point of view of a creditor, all debt obligations have thus far been fully and accurately repaid on time, including interest as well as amortization on the loan. Therefore, from this point of view, there are absolutely no claims against the company. The company has been developing rather dynamically since before the pandemic, and continues to do so today.
Q.: VTB's supervisory board in February approved the sale of a 10% share in Angola's Banco VTB Africa S.A. Where do these plans currently stand?
A.: Yes, we have approved the deal on our part, and we hope that it will be implemented in due course. However, it has unfortunately thus far slowed down rather considerably amid the coronavirus pandemic. It has not halted, but there has been a significant slowdown on the part of the partners in Angola.