23 Oct 2020
Armenian Prime Minister Nikol Pashinyan: Yerevan favors deployment of Russian peacekeepers to Nagorno-Karabakh conflict zone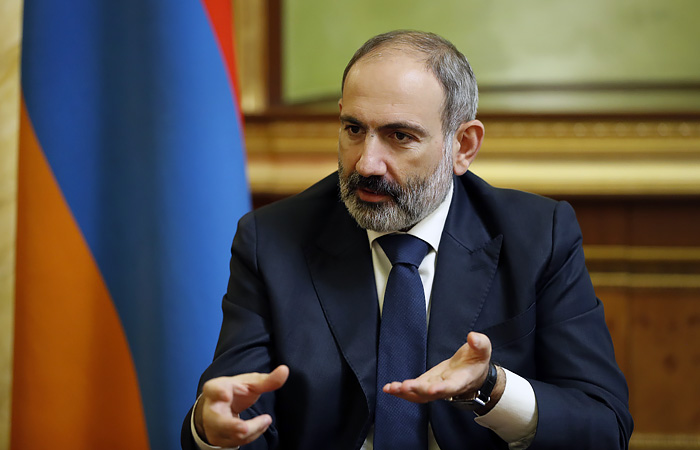 Nikol Pashinyan
Photo: Press-office of the Government of the Republic of Armenia
Armenian Prime Minister Nikol Pashinyan has given an interview to Interfax correspondent in Armenia Oganes Kosyan in which he speaks about diplomatic efforts to settle the Nagorno-Karabakh conflict, Russia's role and a possible deployment of Russian peacekeepers to the conflict zone.
Question: You said earlier that at least at the current stage the Karabakh problem has no diplomatic solution. What does this mean?
Answer: Ceasefire agreements have been thwarted in the conflict zone at least twice. Of course, Azerbaijan blames the Armenian side for this, saying that we allegedly breached the agreement. But we know where the truth is. A diplomatic solution means a compromise. The problem is that the history of this whole negotiating process, and in particular the history of the negotiating process in recent years shows that if Armenia says that a certain compromise is acceptable for it, and it earlier seemed to be acceptable to Azerbaijan too, then such a compromise is suddenly no longer acceptable for Azerbaijan. The minute Armenia expresses readiness for a compromise, Azerbaijan demands more. And this has been going on for a long time.
Until Azerbaijan's position changes, it is not realistic to speak about a diplomatic solution. But diplomatic work is needed in order to change this position of Azerbaijan. And I very much value the efforts that co-chairs of the OSCE Minsk Group, in particular Russia, are making.
Q.: So, is it possible to say at the current stage that diplomatic work has continued and will continue?
A.: Yes, of course. We have to reach some decisions quickly. But in this period, especially after the two thwarted agreements [reached] in Moscow and at the initiative of the French president [Emmanuel Macron], after it was thwarted when it seemed to have been absolutely agreed on, I don't think that a diplomatic solution is realistic. But this does not mean that I do not want it, that I am not ready to invest the necessary effort into it. This is my objective assessment of Azerbaijan's position. And this not quite Azerbaijan's position, this is the position of Turkey, which is just reflected through Azerbaijan's position.
Q.: Recently, Armenian Foreign Minister Zohrab Mnatsakanyan visited Moscow. Are there any new agreements in the wake of the visit? Mnatsakanyan is expected to meet with U.S. Secretary of State Mike Pompeo. What are the expectations from the meeting?
A.: There are no specific agreements. Diplomatic work is in progress and it will continue. Armenia is always ready, and it has always been ready, and it will always be ready for compromise solutions.
Q.: What concessions are you ready to make? Is it possible to speak about the transfer of seven districts to Azerbaijan or the withdrawal of Armenian troops from the security zone around the Nagorno-Karabakh?
A.: Now that hostilities are taking place it is very inappropriate to discuss such issues. Nagorno-Karabakh self-defense troops are in trenches, and right now terrorist groups that were brought to Azerbaijan from Turkey are attacking specifically the positions of Nagorno-Karabakh self-defense troops. Can you understand the situation of those people who are fighting there, when I say that we are ready for compromise with these terrorists? I said that we are ready for compromise with Azerbaijan.
The status of Nagorno-Karabakh is a very important and crucial issue for us. But now the whole process has gone beyond the context of the Nagorno-Karabakh problem. The first thing we must do is to return the process to the track of negotiations on Nagorno-Karabakh.
The presence of terrorists will entail certain consequences not only for our region, but also countries near our region. Regrettably, despite the fact that regional countries have officially recognized the presence of terrorist groups in the Nagorno-Karabakh conflict zone, they have not taken certain antiterrorist actions so far. This is the main thing, the main obstacle that hinders our way to a diplomatic solution.
First, it is necessary to address the issue of terrorists. Because, if they register successes here [in Nagorno-Karabakh], next they'll be going to the south and to the north. Because it is their job to terrorize, destabilize, and it makes no big difference for them where to do so.
Q.: You said "to address the issue of terrorists." How? Mere statements and reaction of various countries seem to have no crucial role.
A.: For example, by conducting a counterterrorist operation. That's one option.
Q.: By Armenian troops?
A.: No. The forces of Nagorno-Karabakh are doing it as far as possible. Right now, they are fighting on three fronts: against the army of Azerbaijan, against the army of Turkey, and against terrorists.
But I think that this question is not only for me, because we, of course, do support anti-terrorist efforts as much as possible. I think that countries, whose national security is specifically threatened by this situation, should step in.
Q.: Could Russia and Iran be among those countries? And have you discussed this with them?
A.: Of course, Russia's interests are being affected above all. I want to draw your attention to the fact that during the war in Nagorno-Karabakh, there were at least two cases where anti-terrorist operations were conducted in the North Caucasus and Russian officials said that they [the terrorists] had arrived from Syria. Before that, Russia's Foreign Intelligence Service stated that there were terrorists present in the conflict zone. And these two statements cannot be unrelated to one another. The question is, will Russian services be waiting for these terrorists to come or is it necessary to pursue a preemptive policy? If terrorists register a success in Nagorno-Karabakh, next they will be seeking new footholds and areas of operation.
The decision is up to the Russian Federation. But on these issues we had consultations with Russian colleagues and we expressed our point of view.
Q.: Am I right to understand that preventive measure could be taken both on the territory of Nagorno-Karabakh and Azerbaijan? Could this be considered as an invitation to a third party to get engaged in the conflict?
A.: We have to specify what a third party is. Russia is a co-chair of the OSCE Minsk Group. On the other hand, it is Armenia's strategic ally, and the Russian president said that Russia will be loyal to its obligations in the security sphere in relations with Armenia. This issue needs further consideration. There are many nuances here. I say that the Nagorno-Karabakh situation has left the framework of the Karabakh problem long time ago, and in fact very many foreign partners have recognized and said and stated this, and I think and hope that the further reaction will be in the same spirit.
Q.: The Azerbaijani president [Ilham Aliyev] has recently said that he does not oppose the deployment of peacekeepers in the region but will put forth his own conditions. What is your opinion on the possible deployment of peacekeepers? Units of what countries could compose peacekeeping forces and under whose aegis?
A.: An introduction of peacekeepers is acceptable for us. I can say that Azerbaijan's ideas about which peacekeepers will not be same as Armenia's in this matter. Speaking of compromises, a version of a compromise could be the presence of Russian peacekeepers. Russia is on good terms both with Azerbaijan and with Armenia. It is very important to consider the opinions of other regional countries, important for specific peacekeeping forces to stabilize the region, not vice versa.
Q.: President Aliyev also said that there can be no referendum in Nagorno-Karabakh, but he did not rule out the option of cultural autonomy. Your comment?
A.: There is nothing new in this situation. This position has been voiced for 15-20 years. It is unacceptable for us. The right of the people of Nagorno-Karabakh to self-determination must be protected and observed.
Q.: Are you ready for a meeting with the Azerbaijani president? Is such a meeting being prepared? Have you been invited?
A.: No official invitation was extended, but I understood that both Aliyev and I reaffirmed our readiness to meet and try to reach a diplomatic solution to this situation. Of course, I'm ready, but prerequisites are required for this meeting to be fruitful.
Q.: Where could the meeting take place?
A.: In Moscow.
Q.: On what conditions? What does substantive negotiations mean from Yerevan's point of view?
A.: This implies an ultimate settlement of the problem of Nagorno-Karabakh.
Q.: Is it the independence of Nagorno-Karabakh or integration into Armenia?
A.: This is the observance of the Nagorno-Karabakh people's right and the protection of the right to self-determination.
Q.: Do you think it is possible to change the format of negotiations? Is it possible to involve Turkey in the negotiations, which Baku has insisted on?
A.: This is a strange position, because a statement of the foreign ministers of Russia, Armenia and Azerbaijan was adopted in Moscow, and it clearly states that the format of co-chairs of the OSCE Minsk group will not change. The negotiations must continue in this format.
I am saying that Azerbaijan changes its position every time. This issue was agreed on in Moscow in the joint statement, but two days later Azerbaijan once again said that Turkey should be a co-chair. It seemed that the issue was solved, the statement was adopted, the issue is closed, but it is opening again. How can these efforts become productive in these conditions, if Azerbaijan changes positions and issues already agreed on?
Q.: Do you think that Armenian-Turkish reconciliation is possible, or has everything been lost?
A.: We have always said that Armenia is ready to establish diplomatic relations without preconditions. Of course, these events and the war add tensions to relations, but we are ready for any diplomatic discussions with Azerbaijan, just as with Turkey
Q.: Turkey is a NATO member and actively supports Azerbaijan. Could the proliferation of the conflict lead to confrontation between Russia and NATO?
A.: I don't think it is possible, because apparently Turkey is here not as a NATO representative, but as a country that plays a destabilizing role not only in the South Caucasus but also [in relations] with countries that are NATO members. For example, Greece. Greece is a NATO member, but Turkey is taking steps that add and create tensions in relations with Greece.
Q.: Do you think that Russia could convince Turkey not to interfere in the Nagorno-Karabakh conflict? Have you discussed this issue with Russian President Vladimir Putin?
A.: Russian representatives have many times voiced their position on this issue, and we agree with this position. How convincing Russia's steps or position will be is another matter. I have already said that this situation has gone beyond the framework of the Karabakh problem only. This is a bigger problem. And it deals with not only relations between Armenia and Russia, Azerbaijan and Turkey, it deals with relations of Russia and Turkey, in particular, in our region. Very much is being resolved here, and decisions and the situation that we reach will entail certain consequences not only for South Caucasus countries, but also others. These countries should perceive the situation exactly from this point of view. One should take into consideration potential consequences that will inevitably occur, and it is necessary to take certain steps that would hinder or prevent those negative consequences that seem inevitable, if processes develop according to negative scenarios.
Q.: If hostilities escalate and spill over the border Armenia and Azerbaijan, will you ask the CSTO and Russia for help?
A.: We have already informed our CSTO colleagues of the current situation. Russia said that Moscow will be faithful to its contractual obligations to Armenia in the sphere of security. If the situation develops further in this vein, Armenia will, of course, refer this issue to the CSTO or, perhaps, to Russia directly
Q.: Will the last step after which there will be no return to negotiations be the recognition of Nagorno-Karabakh's independence? When will there be the red line after which you will do this? Turkish Vice President Fuat Oktay has recently said that Turkey will send troops to Nagorno-Karabakh, if Azerbaijan asks for this.
A.: They have already sent their troops. It's a question of official or unofficial wording. And the statement by Fuat Oktay is Turkey's answer to the discussion of the presence of Russian peacekeepers in this region.
Armenia doesn't set out to be the only country that recognizes Nagorno-Karabakh's independence. Our goal is for the international community to recognize the independence of Nagorno-Karabakh.
Q.: The former presidents of Armenia and Nagorno-Karabakh have recently been holding numerous meetings on the Karabakh issue. Are you in any way involved in this process?
A.: I am informed about the meetings and their contents. The second and third presidents of Nagorno-Karabakh were in touch with me and informed me about the discussions and the goals.
Q.: Do you think these meetings are useful?
A.: I don't think they are harmful.
Q.: Very briefly. Where is the key to the Nagorno-Karabakh settlement?
A.: The key is a compromise and the active involvement of the OSCE Minsk Group co-chairs, in particular Russia, in the settlement process.
Q.: How has the war affected the economy?
A.: No war ever has a good effect on an economy. It has negative effect.
Q.: Starting from January 2021, Armenia will impose a six-month ban on the imports of Turkish products. There is a huge number of various goods on the published list. How negatively will this affect Armenia's economy?
A.: We hope this will have a positive effect. This is an important political decision. Our economy should react to Turkey's destructive policy.
Q.: Do you expect Russia's assistance, if not military then financial? Could Russia give some concessions, extend a loan or set beneficial prices for energy? Prior to the conflict the reduction of gas prices was discussed. Were these issues discussed with Russian Prime Minister Mikhail Mishustin during his visit to Yerevan?
A.: Of course, we discussed economic issues. We feel Russia's support now, and I'm sure we will feel it in the future, and Russia will support us where possible.