23 Sep 2020
Russian Deputy Foreign Minister Mikhail Bogdanov: Efforts should be made to promote intra-Libyan dialogue, not to dismember Libya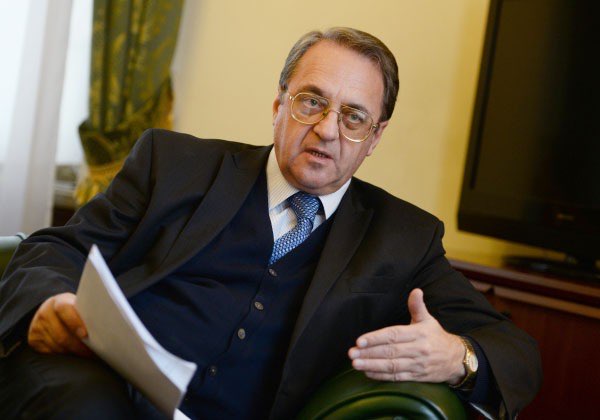 Mikhail Bogdanov
Photo: Department of Information and Press of the Russian Ministry of Foreign Affairs
Russian Presidential Special Representative for the Middle East and Africa, Russian Deputy Foreign Minister Mikhail Bogdanov has given an interview to Interfax correspondent Ksenia Baygarova in which he speaks about the need to preserve the status quo in Libya without attempts to dismember the country, about efforts to release Russians being held in Libya, about new mediation initiatives by the United States to build relationships between Israel and Persian Gulf countries, as well as cooperation between Moscow and Riyadh in stabilizing oil prices.
Question: Russia has been calling for an unconditional, indefinite, and immediate ceasefire in Libya. But in fact there are no hostilities there now. Is this a status quo that suits everyone?
Answer: I think this regrettably doesn't suit everyone. It's good that active contacts involving both the Libyan sides and regional and international players and, of course, the UN, have continued. There is a basis for such contacts. It was agreed on at the Berlin summit in January, while the decisions of this summit were enshrined in UN Security Council Resolution 2510. This is a comprehensive basis for a universal settlement. It seems to me that it would be right to call this settlement peaceful rather than political, meaning that this includes security, economic and humanitarian issues in addition to politics. Perhaps the right approach is to settle everything together. Of course, painstaking work on many levels is needed, and also take part in this, purposefully and consistently.
As regards the situation on the ground, we can say with satisfaction that Libya has not seen hostilities for several weeks. Both the prime minister of Libya's Government of National Accord, Fayez al-Sarraj, and the president of the Libyan House of Representatives, Aguila Saleh, said on August 21 that a cessation of hostilities was reached throughout Libya. Generally speaking such statements about a ceasefire certainly warrant support, and they were backed by acting Special Representative of the UN Secretary-General for Libya Stephanie Williams. Meanwhile, such declarations, as we see, have a positive influence on the situation on the ground. In this regard, it is extremely important that all members of the international community, as well as the Libyan sides themselves agreed with the principle that the Libyan crisis cannot have a military solution.
We in our contacts are focusing on this principle, on the understanding that there cannot be a military solution, and we are insisting that any hostilities most not be restarted. That would make no sense. Therefore, we are saying that the situation on the ground as it is should be 'frozen', because, otherwise, this is fraught with the resumption of armed clashes.
The situation in the country has changed many times in the past. For instance, there was one situation in January, now there is a different one, I mean the Libyan National Army's withdrawal from those positions they have occupied at the time. However, if someone is going to change this situation now, this might lead to a resumption of hostilities, casualties, all for an extended period with devastating consequences. Therefore, our position is as follows: as we keep on saying that there cannot be a military solution, it is necessary to stop hostilities right now, to consolidate this truce - not to dismember and divide Libya, but to put the conditions in place to forge a sustainable intra-Libyan inclusive political dialogue. As part of this dialogue, it is necessary to discuss the issues of Libya's state structure, seeking the main goal of ensuring its unity, territorial integrity, and sovereignty, and resolving, simultaneously of course, economic issues so that national wealth, oil, investment, and all of the country's resources could be used to the benefit of all Libyan people without encroaching on the legitimate rights and interests of all Libyan regions.
Q.: Is Russia discussing with Khalifa Haftar the issue of lifting the blockade of oil fields and terminals in Libya?
A.: We want the entire Libyan people to benefit from oil revenues. Libyans need to negotiate with each other on how to resume oil exports and how to share costs fairly. We are of course also discussing it with the Libyans and with the UN. This is a matter for the Libyans themselves. We cannot interfere in their affairs by telling them how they should distribute oil revenues. There should be some reciprocal guarantees between Libya's still conflicting parties. This is one of the most important problems which have been reflected in the decisions of the Berlin summit and in the UN Security Council Resolution 2510.
Q.: Arab media have reported that Russia and Turkey are negotiating demilitarization of Sirte and Al Jufra. Do you think that this could be a long-term basis for a ceasefire?
A.: Such issues are being discussed with Turkish, French, and Egyptian partners. While maintaining contact with all foreign parties, as affirmed at the Berlin summit and by Security Council Resolution 2510, we underline that the settlement process is in the hands of the Libyans and, of course, the Libyan sides have the final say.
Q.: But in your opinion could these agreements become a basis for lasting peace?
A.: These measures are being discussed and I think it would be reasonable to reinforce the ceasefire with certain elements of a controlling mechanism, which would naturally involve Libyan sides and may be assisted by foreign parties trusted by the Libyans. In this situation, we have good contacts with the Libyans, just like the Egyptians, the French, the Turks, and some other countries, such as Italy, Germany, and member states of the LAS and the African Union. Naturally, the UN has an important role. A coordinated mechanism already exists, this is the 5+5 Libyan Joint Military Commission that meets in Geneva. I mean these issues are being discussed, but I would like to underline that concrete steps towards the disengagement of conflicting sides, which aim to ensure a lasting ceasefire, are strictly temporary. No one should ever think about dividing Libya into zones of influence. That contravenes our fundamental position, according to which everything should be done so that the Libyans start negotiations and reach a mutually acceptable agreement on the issues of unity, territorial integrity, and sovereignty of Libya.
Q.: Recently, Fayez al-Sarraj has announced his resignation. How in your opinion will this influence negotiations regarding Libya?
A.: We've already heard about his plans to resign, and we know that he'll announce his resignation on television. But when exactly will he resign? He said he intends to do so at the end of October. Now, the possible creation of new administrative bodies, including a new Presidential Council and the joint government, is being discussed. The government, which calls itself 'interim' and meets in Tobruk, has also announced its resignation; however, Aguila Saleh hasn't accepted its resignation so far. Resignations of the kind must not create a vacuum in socioeconomic governance on the ground. After all, people need to be supplied with electricity and water, healthcare issues need to be addressed, etc. Many people resign, but serve as acting officials for a long period of time, because they have no replacements.
Q.: Do you think this is such a case?
A.: Despite political declarations about resigning, officials often continue to fulfill their duties in an interim capacity. It takes time to find an adequate replacement or, ideally, a replacement that is better than the former official.
Q.: Russian citizens are being held in Libya. Repeated ultimatums by the Russian Foreign Ministry haven't helped free them. What is the reason? Who is holding our citizens? Is it groups that no one has control of?
A.: This is exactly where the problem lies. We have raised this issue on no uncertain terms before Prime Minister of Libya's Government of National Accord Fayez al-Sarraj and Foreign Minister of this government Mohamed Siala. We demand the unconditional return of our citizens to the motherland at every meeting at every level.
Q.: Why has this so far failed?
A.: This is because people who seem to be formally representing the country are incapable of making and implementing decisions, in particular regarding our citizens, because in fact armed groups in Tripoli are controlling many issues, and there are groups that are reluctant to hear the position of the official authorities. This is the root of the problem. We, the Foreign Ministry, got letters and notes from the official authorities in Tripoli and from the Foreign Ministry of the Government of National Accord. They said, don't worry, the issue will soon be settled and the Russians are kept in relatively good conditions, they are eating normally and are healthy. But we say that they should be brought home as soon as possible. They have their families and friends here, and they are our citizens. We don't still understand why they were detained. Officially, we got no information regarding what they are charged with, what are the accusations, and why they were arrested. Frankly, this is just the illegitimate seizure of our citizens, and this borders on lawlessness. We have said repeatedly to the Foreign Ministry of the Government of National Accord that if they consider themselves to be a legitimate and responsible party, as representatives of the country, they should treat others with respect, fulfilling their international obligations, for example the Vienna conventions on diplomatic and consular relations.
Q.: But actually you have just talked about armed bandits who captured Russian citizens. Could the Vienna conventions be applied in this case?
A.: This is the question. The people who captured our citizens do not obey the official authorities that promise to solve the issue but have failed to do so for a long time. We are constantly demanding in contact with external players that can assist through their influence on Libyan groups that our people be returned to their homeland as soon as possible.
Q.: External players? Who are they?
A.: I refer to Turkish partners, who, like some others, promised to help.
Q.: So, it turns out that the group that is holding the Russians is controlled by Turkey, doesn't it?
A.: I do not know who controls it. Similar militias control several Libyan districts and neighborhoods in the capital. I flew to Tripoli, although it was some time ago. And the government met us halfway as far as the release of our sailors was concerned. The sailors returned home thanks to the efforts of the Foreign Ministry and other Russian agencies.
Q.: Could you confirm that Russia and Turkey are discussing the reduction in the number of Turkish troops in Idlib. And is Russia interested in reducing the number of Turkish troops in Idlib?
A.: We are in close contact with Turkish partners. Of course, there is a bilateral format of consultations, and there is a trilateral one as part of the Astana process between its guarantor countries, namely, Turkey, Iran, and Russia. Relevant issues are discussed in the framework of these formats, naturally, in coordination with the two Syrian sides that are engaged in the Astana process – these are representatives of the legitimate Syrian government and representatives of the opposition, and this is armed opposition, which has Turkey's support in northern Syria.
Q.: But is Russia interested in Turkey's withdrawal of, say, heavy weapons from Idlib and reduction of its troops there?
A.: It is a fundamental issue. The problem of eradicating the presence of the terrorists of ISIL was very serious at the height of the military and political crisis in Syria. Back then, four de-escalation zones were formed in the framework of the Astana negotiations with the active role of Russia, Turkey, and Iran with the participation of observers from the U.S., Jordan, and Israel. Thanks to patient, persistent, and purposeful work, terrorist hotspots were ultimately eradicated in three de-escalation zones. Sometimes that was done through negotiations and sometimes by force. Three such zones, in the south, in Homs, and in Eastern Ghouta, practically ceased to exist. Some militants from these extremist groups moved to the north, and that is why quite a lot of extremists, militants who were members of ISIL and Jabhat al-Nusra, have amassed in Idlib. They are still posing a major threat both to the Syrians and to our presence at the request of the legitimate Syrian government.
Q.: Does this mean that you support Turkey's very presence there?
A.: There are documents signed with the Turkish side, namely, memorandums and additional protocols, which are aimed at the ultimate defeat of terrorists in Syria.
Q.: But is it too early to say that the mission of eradicating the terrorist threat was accomplished in Idlib?
A.: Unfortunately, it's too early. The situation remains alarming there. The Turkish side assures us that they will consistently meet those commitments assumed under the agreements on ensuring security in the Idlib zone, around this zone by making the effort precisely toward eliminating the presence of terrorists and restoring Syria's sovereignty in full.
Q.: Does this mean that Russia and Turkey have no differences?
A.: We have agreements. We have discussions and we have rather active work aimed at negating the differences and implementing the agreements as effectively as possible.
Q.: U.S. President Donald Trump recently said on Twitter that he wanted to take out Bashar al-Assad in 2017. Could you comment on this? In general, how do you assess al-Assad now? Many experts believe that al-Assad has taken the stance of somebody with a grudge against everybody, which does not promote the Syrian settlement.
A.: Well, what can be said here? Is this politics? As for al-Assad, we haven't noticed any grudge against us. On the contrary, he is always thankful to Russia for responding to his request to help combat terrorism. We are actively assisting the Syrian settlement, just like the Iranian partners and some other countries that sincerely aspire to help the Syrian people restore normal life. And this naturally requires consolidating efforts.
You have just asked about Idlib and contacts with Turkey. Once again, the issue is not only about the presence of or reducing the number of foreign troops. The issue is about resolving the problem of terrorism. And the main thing is to ensure fundamental principles, which are agreed upon at all levels and in all formats, that Syria is a united, territorially integral and sovereign country and that legitimate authorities should secure this sovereignty all over Syrian territory, including at the borders with foreign states in line with the principles of the international law and UN Security Council Resolution 2254.
Q.: We are now witnessing a large number of agreements between Israel and Persian Gulf countries that are reached with the U.S. mediation. What is your attitude to this? Do you think this is a breakthrough achieved by the Trump administration?
A.: We need to ask the Americans why their mediation here is so active. If we are talking about normalization of bilateral relations between Israel and the Arab countries, this process started back in the late 1970s with Egypt. It is highly important that this process should not take place at the cost of the lawful interests of the Palestinian people, including the creation of the Palestinian state, and its good-neighborly relations with Israel.
Q.: Do you agree with the opinion that this is a domestic political affair ahead of the presidential election?
A.: The Americans themselves are not hiding that. Donald Trump is now trying to achieve what he calls 'historical breakthroughs' in the light of the presidential election to be held in the U.S. this coming November, probably hoping for the support of voters who sympathize with Israel.
Q.: Do you perceive these U.S. steps as an attempt to create some kind of an Arab coalition against Iran?
A.: Of course, it is necessary to look deeper into that. Some analysts don't rule out that Washington is thereby thinking about creating some broad anti-Iranian bloc involving Israel and some Arabs.
Q.: Are you inclined to believe this?
A.: It's difficult to get into the U.S. politicians' heads; I can't judge what ideas they have. The Arab countries that are in the Persian Gulf area are Iran's immediate neighbors, and a military-political escalation, a military conflict would be destructive to all countries of the region.
Moreover, relations between the Arab countries and Iran are quite developed, these are old ties, historical, centuries-old contacts. There are communities, human exchanges, and the Hajj – pilgrims from Iran go to Mecca and Medina as well.
I think this region has been very interested in the Russian concept of creating a collective security system in the Persian Gulf area involving Iran, the Arab neighbors, and not only the six countries of the Cooperation Council, but also Iraq, maybe Yemen. Plus the five permanent members of the UN Security Council and all those who are interested in ensuring security in this strategic region from the point of view of the global economy and from the point of view of security. We assume that security in this region is common and indivisible. It cannot be guaranteed at the expense of others. That is why we do hope that Arab capitals that made sovereign decisions on normalizing relations with Israel are guided by the understanding that such relations are important for participants of such bilateral agreements, but ultimately they will promote comprehensive security and neighborliness, including the Palestinian problem, which has a regional dimension and is on the agenda of the [League of Arab States] LAS.
Q.: When might Moscow host an intra-Palestinian meeting? Is Russia ready to interact again with the Islamic Jihad and Hamas, to the indignation of Israel?
A.: We stand ready to cooperate with all of the main Palestinian parties and movements. However, we're not of course talking about Palestinian forces being united on some radical basis. On the contrary, we are saying that Hamas and Islamic Jihad, as part of Palestinian society and representing its certain groups in the occupied territories, in the diaspora and the refugee camps due to deplorable historical events, should close their ranks based on a constructive political platform. Meanwhile, we are saying right away that the political platform is a program of the Palestine Liberation Organization. We are urging Hamas and Islamic Jihad, which have certain influence among Palestinians, to join the PLO activity, in particular, by holding a unification session of the Palestinian National Council, the supreme body of the PLO.
Let's not forget that the PLO led by Yasser Arafat and Israel led by Prime Minister Yitzhak Rabin exchanged formal notices of mutual recognition and engaged in direct peace talks in 1993.
Q.: Does this mean that you want to return to that point?
A.: The aforementioned mutual recognition of Israel and the PLO is the foundation for everything, considering that international law recognizes the PLO as the only legitimate representative of the Palestinian people. This is a political and legal fact
Q.: Do you believe that Hamas and the Islamic Jihad can join the PLO?
A.: We think this would be right, for example Fatah joined the PLO in 1969.
Q.: When might this happen? Is there a date?
A.: All Palestinians are showing an interest. A short time ago, on September 3, there was a virtual conference involving all Palestinian organizations, including Fatah, Hamas, the Democratic, People's, and other fronts. The leaders of all organizations simultaneously gathered in Ramallah and Beirut. As a result, the secretaries general of 14 Palestinian organizations held an inclusive videoconference under the chairmanship of Mahmoud Abbas. They agreed to continue the process of restoring national unity and indicated in the final document that they would create working mechanisms - committees and commissions - for that purpose, in order to continue to resolve all problems and to overcome the split between Fatah and Hamas. As soon as they're ready to present the fruit of their work and to fully coordinate a common approach, we will be ready to arrange a pan-Palestinian meeting in Moscow.
Q.: But there is no date so far?
A.: There is no date so far. Moreover, the coronavirus hinders this. Although this is not an insurmountable barrier, delegations are visiting us.
The time depends on the Palestinian side. We're ready to do that any time, as soon as they ask.
Q.: How do you assess cooperation between Russia and Saudi Arabia on stabilizing oil prices?
A.: We work together well in the OPEC+ format. Formally, we are not a member of OPEC but this format has been quite effective.
Q.: Is there an understanding between Moscow and Riyadh on these issues?
A.: Perhaps there is. Our Energy Ministry addresses these matters, contacts have been established, and consultations are underway. I think that, in the long run, all oil market participants should understand one another and build their approaches with due account of each other's lawful interests. Of course, Saudi Arabia has its own, national tasks of socioeconomic development of the country, as well as support for and implementation of major projects that require relevant funding. Oil is the main source of income for Saudi Arabia. The Saudis realize the importance of maintaining oil prices at the level sufficient to achieve the aforementioned tasks.
The same applies to our country and all other participants in the OPEC format. So, this cooperation and coordination mechanism should work for the benefit of all its participants.