4 Sep 2020
Armenian Foreign Minister Zohrab Mnatsakanyan: I am ready to meet with Azerbaijan counterpart even tomorrow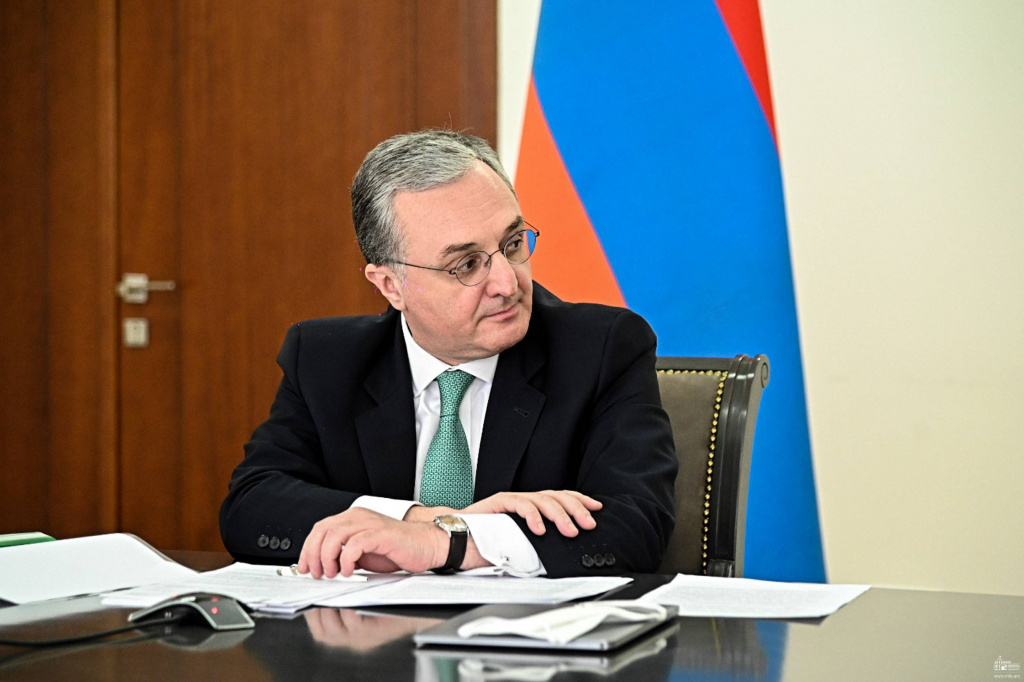 Zohrab Mnatsakanyan
Photo: Press-office of the Armenian Ministry of Foreign Affairs
Armenian Foreign Minister Zohrab Mnatsakanyan has given an interview to Interfax correspondent Ksenia Baygarova in which he speaks about ways to settle the Nagorno-Karabakh problem, about Armenian-Russian military-technical cooperation and about events in Belarus.
Question: The recent escalation along the Armenian-Azerbaijani border is not the first, but possibly the only one so far to be accompanied by ethnic clashes between Armenians and Azerbaijanis in various cities in other countries, including Moscow. How can you explain this? What can be done to avoid such incidents in the future?
Answer: It is sad to watch incitement to hatred not just in our region, but also the attempt to move it beyond the region. For Armenia, an important principle in the peace process is to apply maximum effort to create an atmosphere that fosters peace. It is impossible to conduct peace negotiations in an atmosphere of hatred, war rhetoric and the threat of force. There is no point expecting progress from talks where Azerbaijan is inciting hatred, on the one hand, and on the other, in words, wants peace. It is impossible to assume that we can have real progress in talks amid this Armenophobia and belligerent rhetoric.
Q.: So, what should be done to avoid such clashes in the future?
A.: Firstly, there needs to be an understanding of the need for a peace process. There has to be political will and concrete measures. We are holding talks, not least regarding various specific steps to dial down this rhetoric and escalation of hatred. There is real substance to all this: there is a whole range of proposals on our part, and on the part of the co-chairs of the OSCE Minsk Group. All these ideas must be carried out.
There is a good example. Last year we managed to hold an exchange of journalists from Baku, Yerevan and Stepanakert. The results may have been modest but they were very important. This is key aspect of the entire peace process.
Q.: But the recent escalation seems to have been the most acute over the past 30 years. In your opinion, why don't the Madrid Principles work? What is the real reason for the constant clashes?
A.: Events of July 12 were actually another attempt to use force after April 2016 and impose unilateral concessions on Armenia and Artsakh [the Armenian name for Nagorno-Karabakh] via hostilities. On July 12, our border posts in the Taush region, northeastern Armenia were attacked. A lot of arms and hardware was used. Civilians and civilian infrastructure came under fire in particular. Armenia resolutely rebuffed this aggression, reaffirming once again that there is no military solution to this conflict. Both Armenia and Nagorno-Karabakh have enough forces and resources to ensure their defense and security, and the crushing rebuff to Azerbaijan's aggression in July proved that once again.
Q.: There is an opinion that Armenia does not need to settle the Nagorno-Karabakh issue, since the land was taken and the status quo is beneficial. What is your comment on this?
A.: I don't agree with this opinion. Both Armenia and Nagorno-Karabakh are interested in a lasting peace in the region. This is possible by reaching a peace deal based on compromises. Unilateral concessions are ruled out, they cannot have any prospects. And we cannot be interested in a situation in which peace and security in the region have no long-term basis. From this point of view, peace negotiations have been and continue to be a top priority for resolving this conflict.
Q.: How do you assess the role of the OSCE Minsk Group? It was established long ago, but the conflict has been unresolved for 30 years. What do you think about the role of Russia as a co-chair of the OSCE Minsk Group? Do you agree that the negotiating format needs to be changed?
A.: The format of the OSCE Minsk Group, which brings together Russia, the United States and France, has been the only negotiating format since the mid-1990s. It has yielded certain results. This format is recognized by the international community and includes three permanent members of the UN Security Council. The three countries have strong enough political and diplomatic resources to act as mediators. Their commitment remains firm.
Over these years, an entire mechanism, an entire catalog of parameters and approaches to ensure a framework within which a compromise can be reached - a tangible and genuine compromise - have been worked out. In this sense, we continue and will continue to support this mediating format. The Russian Federation co-chairs the Minsk Group. The efforts of the Russian side have been very effective, and this was manifest both during and before the July events. I am sure that Russia's involvement at all levels stresses the seriousness with which Russia addresses this process and the vital contribution which Russia makes together with other co-chairs to the work on a peaceful settlement. We have no questions here; any attempts to call into question the work of the co-chairs, which, among other things, is an important deterrent from the point of view of escalation, as well as to put pressure on the current format, are unacceptable.
Q.: The Russian foreign minister said that the Minsk Group co-chairs are working on organizing a meeting between the Armenian and Azerbaijani foreign ministers. Are you ready to meet with the Azerbaijani foreign minister?
A.: The co-chairs have done quite a lot of work in various areas over the past period, including the past two years. This included the settlement itself, issues related to key parameters of reaching a compromise, as well as an atmosphere for promoting peace, in particular projects that can help the peoples prepare for peace. Reinforcing the ceasefire and introducing international permanent monitoring mechanisms remain highly important areas of this work. We remain committed to continuing the full range of work, and naturally, I, for my part, am ready to continue this work.
Q.: So, you are ready to meet with you Azerbaijani counterpart even tomorrow, without any preconditions?
A.: Of course, we're ready to meet, and of course, we're ready to continue this work. And I want to emphasize here once again that the importance of our work lies in the need to look for compromise, to ensure security, and renounce the use of force and maximalist approaches. There are certain and important priorities for Armenia. The status of Nagorno-Karabakh is an absolute priority for us. An important priority is to enable the people of Artsakh to exercise their right to self-determination without any limitations and to ensure real, tangible security for Artsakh. And we are ready to work both with the co-chairs and with Azerbaijan to determine formulas which will allow us to compare and measure the degree to which compromise is possible.
Another important issue regarding Nagorno-Karabakh: it has demonstrated its ability to organize its public life, to ensure its security, and to undertake international obligations over these 30 years. Artsakh's complete involvement in the negotiations is a very important issue, and this is a practical issue. That is why this will reinforce the sense of ownership as far as the negotiating process is concerned on behalf of the Nagorno-Karabakh leadership, which having been elected by the people of Nagorno-Karabakh, has the necessary mandate to represent its interests.
Q.: What is your attitude to the idea of holding a referendum in Nagorno-Karabakh?
A.: As for Armenia, the right of Artsakh, the people of Nagorno-Karabakh, to self-determination without any restrictions is one of Armenia's key approaches to a peaceful settlement.
Q.: Russia has been actively cooperating with both Armenia and Azerbaijan in the military-technical sphere. Don't you see any ambiguity here, keeping in mind the recent escalation of Armenian-Azerbaijani relations?
A.: Armenia and Russia are allies. Our relations are fairly wide-ranging. Our interview is too limited to describe the whole range of Armenian-Russian interaction in all spheres of life, including security interaction. Armenian-Russian military-technical cooperation is allied interaction. So, there can be no questions or limitations here.
Q.: Is it true that military-technical cooperation has begun to expand since the July escalation?
A.: Our military-technical interaction is based on mutual security interests, and we are pursuing it on the basis of existing agreements, understandings and working plans between Russia and Armenia. Russia is not upsetting the balance in the region. Armenia is a responsible contributor to regional security. And our military-technical cooperation is not directed against third countries in any way.
Q.: Do you have any problems with Russia's military-technical cooperation with Azerbaijan?
A.: Military-technical cooperation between Armenia and Russia has its logic of interaction and is based on solid allied foundations. As regards Azerbaijan and cooperation in this field, I'll mention that Azerbaijan has been building up its military capability any way it can, trying to persuade its own population and the global community that it has the necessary capability to resolve the Nagorno-Karabakh conflict militarily. And this was presented as if Azerbaijan was making a 'concession' to Armenia and Nagorno-Karabakh not starting military actions in expectation of 'unilateral concessions' by the Armenian sides in the negotiations. Azerbaijan's logic behind building up its military capabilities is aimed at a military resolution of the conflict, which poses a threat to the security of Armenia and Nagorno-Karabakh.
Q.: Are you discussing this with the Russian side?
A.: We have openly and sincerely discussed all issues with the Russian side: our relations are those of allies.
Q.: Do you agree with the opinion that Turkey's active position and unambiguous support of Baku is fanning the flames and delaying an opportunity to resolve the conflict?
A.: The international community has issued multiple calls to de-escalate and stop the violence after July 12. The only country that did not try to ease tensions but tried to bring more instability to the region was Turkey. The policy of destabilization and aggression on the part of Turkey is a threat to all of its neighboring countries, including in the Eastern Mediterranean, North Africa, and the Middle East. Today, Turkey is trying to export this policy of destabilization in the Southern Caucasus region. This causes serious concerns. Turkey is pursuing an unconstructive and dangerous policy. And Turkey's actions have continued to pose a threat to Armenia's security. In this regard, Armenia will work on the further strengthening of its border, including through cooperation with its partners.
Q.: Does Armenia plan to ask Russia for a new arms credit? When Armenia is ready to repay the earlier loan for the purchase of arms and hardware?
A.: We have appropriate formats and platforms for discussing military-technical cooperation between Armenia and Russia, where all issues related to our interaction are resolved. I won't go into detail. In general, this is an area that has an established platform.
Q.: But are you going to purchase new combat aircraft and helicopters?
A.: We are going to do everything in order to consistently bolster our defense capabilities. As I said, Armenia and Russia are allies.
Q.: Is Yerevan interested in Russia's military base in Gyumri?
A.: Armenia isn't a threat to anyone in the region. Armenia and Russia have common security interests, and it is on the basis of these mutual interests that we pursue the common goal of maintaining security. The military base also helps to this end.
Q.: Given the domestic political situation in Belarus, much is said about offering Minsk the assistance of the CSTO, of which Armenia is a part. Do you think such a scenario is possible or likely?
A.: As for the CSTO and allied assistance as part of the CSTO, there is a legal framework that provides for a clear order of interaction between the member states, including all security and mutual assistance. We are relying on the CSTO legal framework here.
Q.: Imagine the CSTO will hold a vote on assisting Belarus tomorrow. Will Armenia vote for or against?
A.: The main role in initiating this question is played by the country that raises the issue of mutual assistance. But no such issue has been raised by Belarus. Belarus and Armenia are allies in the CSTO framework and have a rather broad bilateral agenda. We work together in various multilateral formats. In particular, we are involved in integration processes in the framework of the Eurasian Economic Union. The peoples of Armenia and Belarus enjoy good friendship. This manifests itself in human relationships. And of course, we are not indifferent to what is happening in Belarus.
Q.: Prime Minister Nikol Pashinyan came to power after 'velvet,' bloodless revolution. Now it turns out that Armenia supports the Belarussian leader?
A.: There can be no doubt that the key to resolving this situation is in the hands of the people of Belarus. Armenia has gone its own way and it is not quite right to draw parallels on this basis. Yes, there may be some things in common, but these are generally different situations. The most important thing is to accept it and to admit that the solution to the issue is the prerogative of the people of Belarus. We do hope that this situation will be resolved peacefully.
Q.: Does Armenia officially recognize Lukashenko as Belarus's legitimate leader?
A.: Prime Minister Pashinyan congratulated the Belarusian president. We will see how the people of Belarus can resolve this problem. We intend to continue working with Belarus in all areas, both in the framework of bilateral relations and in international formats.
Q.: Armenia has asked Russia to reduce the gas price. Do you think that the gas issue could spoil allied relations between Armenia and Russia?
A.: The energy issues, gas delivery issues are crucial to the bilateral alliance between our states, which has a fairly broad agenda. We have a common agenda on security and on economic development, and we are working together on this. We have good potential to negotiate and reach agreement. The main thing is to reach an agreement!
Q.: So is there mutual understanding today? What have the negotiations resulted in?
A.: We're working on it. I am absolutely certain we will be able to reach an agreement. This is happening at the level of our intergovernmental commissions, and I think it's highly likely that we will be able to agree.
Q.: In June, the Russian ambassador to Armenia said that Moscow and Yerevan have continued to discuss the possible extension of the loans for modernizing the Metsamor NPP. Are such discussions underway now? Do you think they are successful?
A.: We intend to modernize the NPP from our own budget. In this regard, possible new loans are being considered bearing in mind we are doing this at our own expense.
The discussions are underway. Our two states have certain interests and deep relations. We have the potential to reach agreement.