31 Aug 2020
Russian Economic Development Minister Maxim Reshetnikov: There's no strategic alternative to the WTO, trade wars are nearly always politics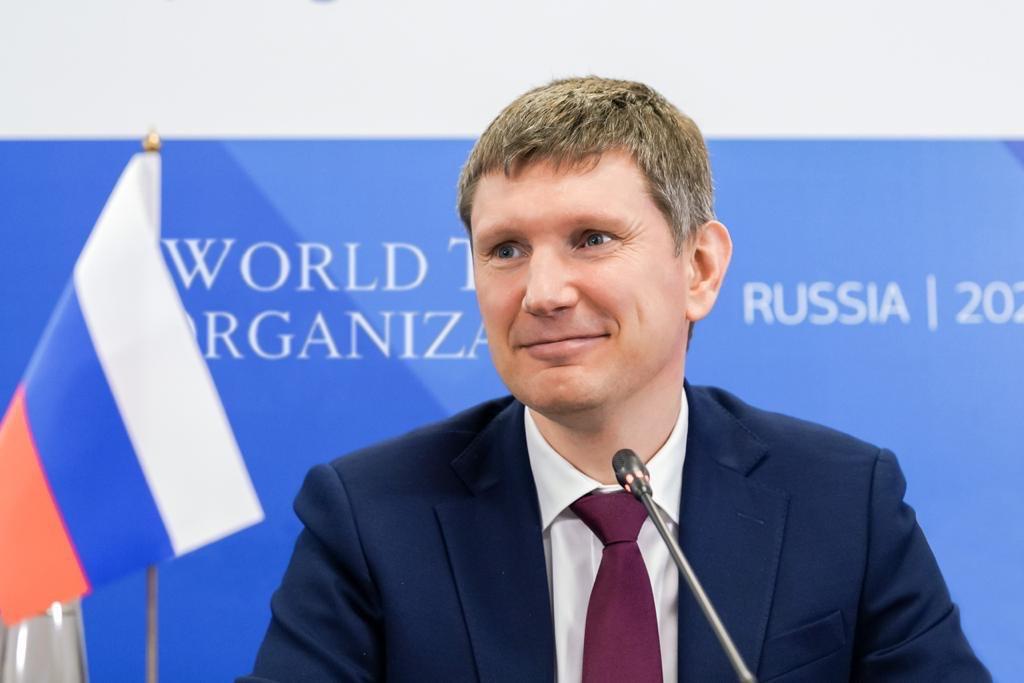 Maxim Reshetnikov
Photo: Russian Economic Development Ministry press-office
Russia became a member of the World Trade Organization on August 22, 2012. The longest transition periods for obligations related to Russia's accession ended this year, so the entry fee has now been paid in full.

The WTO is currently in a fairly lamentable state: its Appellate Body, the main body for the settlement of disputes, is not functioning; trade wars are raging all over the world; the WTO Director-General is leaving a year before his term is up; and reform of the WTO itself has clearly stalled.
Russian Economic Development Minister Maxim Reshetnikov discusses the current situation at the WTO, trade disputes involving Russia, the need to reform the organization, and Russia's position on this in an interview with Interfax.

Question: Russia joined the WTO eight years ago, on August 22, 2012, and it has already honored all the commitments it undertook upon accession. Is there not a feeling that Russia paid too dearly for admission only to jump on board a sinking Titanic, that the advantages of WTO membership do not outweigh the cost of joining?

Answer: Firstly, Russian joined the WTO at a time when everything at the organization was functioning and the United States, which is now blockading the Appellate Body, was an active and generally compliant member.

Secondly, the problems should not be blown out of proportion. There have always been trade wars and always will be. With or without the WTO, this is nearly always politics.
Thirdly, WTO members have found a way to circumvent the Appellate Body, while the Director-General has been in office for a long time, since 2013, and he is leaving for personal reasons.
Events in Geneva are still on a tight schedule, but this is due to the coronavirus. So things are not that bad.

I think that we need to continue to strive not only to keep the WTO afloat but also to try to return it to its necessary efficiency and self-sufficiency. The situation on international markets is not easy, but no one has removed from us the task of developing exports. In the competition for access to technology, one needs to agree to the rules. The same applies to e-commerce, where there are also no rules, which means that any country could think up one rule for our goods and services and another for its own.

Therefore, there seems to be no strategic alternative to the WTO. Thus far, only it retains the basic framework of rules that keeps international trade from complete chaos and establishment of the law of the jungle where the largest participants impose the rules of the game on countries with a less significant share in global trade by means of economic blackmail.

Q.: Even so, the Appellate Body as a means for settling trade disputes has not been functioning since December 2019. Much has been said about the expediency of Russia signing provisional bilateral agreements to resolve disputes with other countries like the EU has, for example, but there have not been any yet. Will Russia be signing such provisional agreements and with which countries?

A.: All WTO members have been put in a very difficult situation. A multilateral solution to the problem of the Appellate Body has yet to be found, and frankly speaking, we do not see the conditions in which the issue might be settled as of yet. Therefore, members of the WTO are trying to find temporary means of settling disputes that are suitable for them.
There are two basic options. Some come to an agreement that there will only be one stage - consideration of the dispute by an arbitration panel, the settlement of which is binding for the parties to the dispute and cannot be challenged. For example, Taiwan, Vietnam, and Indonesia took this path in disputes over steel.
The second option is to keep the two-stage system of settling disputes, replacing the WTO Appellate Body with temporary arbitration. For example, on the initiative of the EU, 23 members of the WTO, including China, Brazil, Argentina, and Canada, reached a temporary arbitration agreement, agreeing on the possibility of appeal within the framework of a specially created mechanism for their disputes. Four appeals have already been filed under this agreement.
We are now assessing which option will be the most suitable and expedient for us from the practical point of view.

Q.: This summer, Russia won a major dispute with the EU over so-called energy adjustments. But the EU could suspend the settlement of the dispute by filing an appeal with a non-functioning appellate mechanism and essentially freezing the arbitration panel's ruling. What would Russia be able to do about this? If the EU does not file an appeal – it is criticizing others for what boils down to cheating in current conditions – then how quickly will the EU be able to revise anti-dumping tariffs and to what levels?
A.: Yes indeed, this victory is very important for us. We hope that it will put an end to the illegal practice of discrimination against Russian manufacturers during anti-dumping investigations. The basis for such discrimination is our natural advantages, in fact, specifically access to resources that results in their comparatively lower cost. This unfair and biased practice has been used by the EU for more than 15 years, and it affects annual exports worth about $200 million.
We have already requested the approval of the panel's report by the WTO Dispute Settlement Body. This issue is on the agenda for its meeting at the end of August [August 28]. For the EU, this is a test of adherence to principles. By "appealing into the void", the EU will cease to differ from those WTO members that it itself would penalize for wrongdoing and hindering the dispute resolution process.
Such a step, if it is nevertheless taken, is hardly compatible with the declared desire of the EU to preserve the stability of the multilateral trading system; therefore, we still hope for the conscientious and immediate fulfillment by the EU of its international obligations in full as required by WTO rules.

Q.: Decisions on what other disputes involving Russia are expected this year?
A.: Due to the pandemic, work on disputes in the framework of the WTO has seriously slowed down due to the impossibility of holding a full-fledged meeting. In terms of our disputes, we have continued preparing arguments and exchanging written documents. However, a hearing has yet to be held. Unlike the negotiations and regular meetings of WTO bodies, which it has sometimes been possible to hold virtually, the WTO member nevertheless prefer to work face to face on disputes. Because of the pandemic, we are not expecting any new decisions on disputes with our participation this year.

Q.: At what stage is our litigation against the United States regarding the additional tariffs on steel and aluminum?
A.: Regrettably, the pandemic had a negative effect on the pace of our work on this dispute too. In the case of the U.S. this is a particular nuisance, because a dispute is the only way of fighting against American protectionism.
As the experience of Canada has shown, you shouldn't rely on bilateral agreements with the United States. Canada refused to participate in a similar dispute with the States, apparently having reached an agreement with them, and now the U.S. is introducing duties on metallurgical products from Canada, regardless of any bilateral 'deals'.
This situation, by the way, wonderfully illustrates the reliability of 'manually operated' international trade, non-systemic, without general rules of play.

Q.: Is Russia preparing to file any new complaints with the WTO regarding restrictions on Russian goods, or would there be no real point in current conditions given the fairly hefty cost of these disputes?
A.: From the point of view of costs, it has to be said that our situation does not look very bad at all. From the outset, we have been geared towards a policy import substitution, so to speak, where representing Russia's interests in disputes at the WTO is concerned. Over our eight years of membership and fairly extensive practice of litigation, we have been able to train some very competitive experts to support us in most disputes involving Russia.
Today, in the overwhelming majority of cases, we are relying mainly on the expertise of the Economic Development Ministry and profile agencies, and on legal support from the WTO Expertise Center, which counts our ministry among its founders.
As for possible new disputes, I can say that as of today, there are no cases in an advanced state of readiness. But there are legislative initiatives and there is also the practice of some of our trade partners which are a cause of serious concern to us and which we suspect of not complying with WTO rules.
One example is the EU's intention to impose carbon border regulation under the aegis of "maintaining its resilience to climate change." This would potentially make European goods more competitive than goods from countries with less stringent environmental requirements. We are following this closely to make sure it is not another form of covert protectionism that impedes our access to the EU market.
Another example is the amendment to EU anti-dumping regulation, adopted in December 2017. This allows methods essentially similar to the energy adjustments to be used. We are campaigning for the EU to heed the arbitration panel's ruling and abandon such methods altogether, instead of continuing with their veiled application.

Q.: Can any patterns be observed in how countries strengthen protection for their internal markets against the backdrop of the coronavirus?
A.: Indeed, after the outbreak of the pandemic, measures were taken by most countries to restrict exports: bans, quantitative restrictions, export licensing, and so on. The restrictions mainly extended to medical supplies, agricultural products, and foodstuffs.
However, it should be noted that countries have already begun gradually easing these restrictions. In May, the G20 trade ministers agreed on the temporary nature of the restrictive measures taken in connection with the pandemic. Russia is keeping its promise; this summer, we canceled the corresponding export restrictions.
Apart from restrictions on certain categories of goods, nearly all countries are taking steps to simplify trade. They all understand that in times of globalization, they need to do all they can to ensure that supply chains and manufacturing processes are not disrupted.
Many measures have been taken in the sphere of customs regulation and simplifying trade procedures, including by Russia. Partial cancelation of VAT, easing of import procedures, reduction or cancellation of customs duties for certain goods, introduction of deferral for payment of these duties, and other measures for reducing costs for economic operators. In the services sphere, the situation is more or less balanced as well. The restrictive measure in some sectors are compensated for by measures that simplify trade.
In the sphere of investment, the tendencies are somewhat different. Many G20 members have become more cautious about foreign investment, fearing that during the pandemic, foreigners will buy up important technology and depreciated assets. A number of countries have already introduced additional inspection measures - so-called screening - of foreign investors and investments. There is a global trend of growing protectionism in relation to FDI.
Q.: The current WTO Director-General, Roberto Azevêdo, is stepping down ahead of time on August 31, a year before his second term ends. Officially, as you have said, for personal reasons. There are eight candidates for the post. How does the selection process work? When will we know the next Director-General?
A.: It's a very intriguing procedure, spread over five rounds. The second round, the "campaigning" in the form of presentations to the WTO and bilateral contacts, comes to an end early September. The General Council Chair [Ambassador David Walker] will at the third stage hold an anonymous poll among WTO members and ask each of them to name up to four preferred candidates for the next round. The field will be narrowed down to five candidates who receive the most support in this peculiar vote.
Right now, it is impossible to guess who will become the news Director-General. Three candidates will be eliminated after the next round and members will choose between the two that remain.

Q.: When will the next WTO Ministerial Conference take place and where? What key issues will be discussed?
A.: There's no official decision on the date and venue yet. A few options are being discussed – June or December 2021 or June 22 – depending on how the pandemic situation unfolds. The key issues will certainly include those that had been due to be discussed this summer. They are the results of negotiations on fishing subsidies plus plurilateral agreements on e-commerce, SME, investment facilitation, internal services regulation, the Appellate Body crisis. Russia is an active participant in all these areas.

Q.: When can the WTO be expected to emerge from crisis and on what terms? After all there are no alternatives to the WTO, as you have said.
A.: During the entire existence of the WTO, not a single participant has left, including the country [United States] that has voiced the loudest statements of intentions. Moreover, non-WTO members are striving to join the organization, with 23 countries currently at the accession stage. This is clear proof that everyone understands that the WTO platform is still uncontested.
Efforts are under way to enhance the organization, as part of its reform. You could call it WTO 2.0. There'll be no need to leave the old WTO to become a member of the new-look one.

Q.: The G20 have said the WTO needs reforming and many of its members, including the EU, U.S. and China, have submitted proposals on selected elements of that reform. What is Russia doing in this respect? Do we have any proposals of our own, and what are they?
A.: All G20 members demonstrating enviable unanimity: 'Yes, we need to reform the WTO!' However, what is concealed behind the word 'reform' each G20 participant understands in their own way. More often than not, views on issues of reform are diametrically opposed. For example, participants with the status of developing countries in the WTO - headed by India, South Africa, and China - see in it the opportunity to retain - and in places to add on as well - the benefits and preferences that are due to developing and less developed countries. The United States and other developed countries, on the contrary, believe that as a result of a reform such exemptions should be removed from some developing countries that have reached high indicators of economic development. The EU-U.S.-Japan troika is jointly promoting a proposal to tighten regulations in the field of industrial subsidies. Many of the G20 members are categorical regarding these proposals, and so on.
We are taking part in each of the areas of work on the reform. We are also developing our own proposals. We believe that tactics of small steps could be useful - reaching agreements on issues and initiatives that don't cause severe allergies among all WTO members and that are practical for business as a whole. For example, in the sphere of intensifying transparency of the tariff policy of WTO members, which is particularly relevant amid more frequent changes in tariff rates due to the pandemic.

A.: Regional integration alliances like the EU and MERCOSUR act in the WTO from a single or coordinated stance. Does the EAEU also plan to work with the organization along these lines?
Q.: Only the EU, which has achieved an unprecedented degree of integration, has so far managed to achieve a unity of position at the WTO. Members of other integration alliances align themselves at the WTO on an ad hoc basis. On issues of common interest they dovetail with whoever is to their advantage. This is the natural mode of operation for an organization with 164 participants. Coalitions often form on a regional principle. We have established good dialog with EAEU partners both in Geneva and on the Eurasian Economic Commission platform.