24 Aug 2020
Rosoboronexport Director General Alexander Mikheyev: We expect to make $7 bln on Su-35 deliveries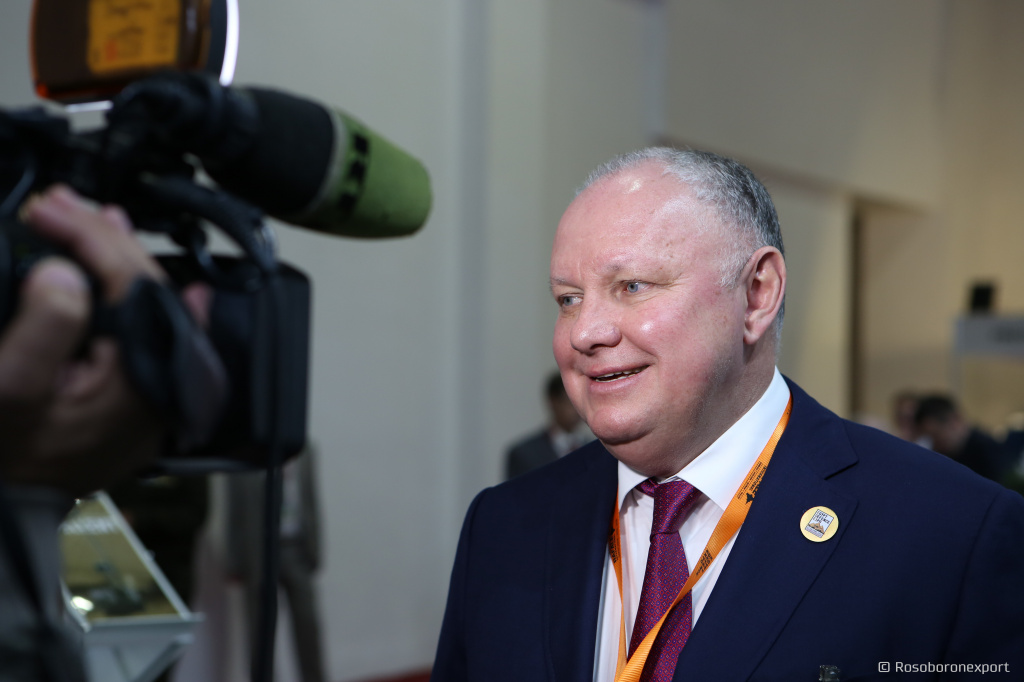 Alexander Mikheyev
Photo courtesy of Rosoboronexport website
Rosoboronexport Director General Alexander Mikheyev has given an interview to Interfax special correspondents Alexander Belov and Pavel Koryashkin in which he speaks about Russia's arms market prospects, the company's operations amid the Covid-19 pandemic and new partners in Africa.
Question: The world has been 'shut down' since February due to the pandemic. How has Covid-19 affected Rosoboronexport? How have obligations to customers been met? How has hardware been shipped?
Answer: Of course, the first half of the year was complicated, but we kept up with the schedule. At this point, there are no delays. All efforts have been made to prevent the pandemic and related large-scale restrictions from affecting relations with partners in more than 100 countries.
This is extensive, well-coordinated work carried out in close collaboration with Rostec and the state corporation's offices abroad, which continued to work as usual and offered all necessary assistance. Of course, we acted taking into account the epidemiological situation and quarantine measures and rules imposed by the authorities of the host countries. Working remotely was organized where necessary and presentations, meetings and negotiations were also held online. Thanks to this work no contracts were cancelled.
Currently, we are doing all we can to get back to a normal work routine. Restrictions are being lifted. Business trips and talks in person have resumed. Our specialists have come back to a number of countries to transfer and maintain equipment and arms.
Q.: What financial results did Rosoboronexport have last year? Are you happy with the company's economic situation?
A.: Rosoboronexport completed 2019 with an order book that exceeded $50 billion, and as far as the volume of deliveries which topped the $13 billion mark is concerned, we overshot our plan slightly.
The company is developing soundly. We are maintaining excellent business relations with traditional partners, and we are tapping new markets both in terms of geography and by military product segments. Naturally, this is largely thanks to the state system of supporting military-technical cooperation. We can feel it in all spheres of our activity. The topic of arms and military hardware deliveries is often raised at negotiations at the highest level, including by the president, foreign minister, defense minister, and the head of the Federal Service for Military-Technical Cooperation. The country's financial institutions help us to pay loans and work out the best systems for settlements with foreign partners.
Q.: What is the arms export forecast this year?
A.: Regarding this year's forecast, we expect to fulfill the plan that remains at the level of the past three-five years. It's not news that the Covid-19 pandemic has made certain adjustments to international business processes this year. Nevertheless we have continued to fulfill our obligations.
Q.: Do you think that Russia will be able to remain second on the list of arms and military hardware exporters in the next few years?
A.: One of our strategic goals is to ensure Russia's leading positions in the global arms market. Today, we are a firm second, and we are not going to yield this place to competitors.
Rosoboronexport, as Russia's main military-technical cooperation agent, has been actively expanding the geography of deliveries of products of Russian defense companies worldwide, as well as the variety of these products. Today, our book of orders includes signed contracts with 68 countries and the company's catalogue is growing by dozens of arms and military hardware samples annually.
Q.: Is Rosoboronexport working on new contracts for the delivery of S-400 air defense systems and Sukhoi Su-35 fighter jets? Has the demand for them been maintained?
A.: Demand for Su-35 and S-400 has been growing steadily. Today, these are the best examples in their niches on the global market, and they are top of the Rosoboronexport order book. It is unlikely that the situation will change drastically in the near future and that equipment will appear with similar capabilities that can be produced serially, that has been tested in real combat and that has a good background in terms of our successful fulfilment of contractual obligations.
Naturally, we always think of concluding new contracts for this and other promoted hardware with foreign customers. We expect to make more than $7 billion on the deliveries of Su-35 in the medium term. This supermaneuverable aircraft has every feature needed to secure a leading place on the market. It has high-performance flight characteristics and high combat survivability and can carry large combat payload that includes a wide range of state-of-the-art guided aviation weapons.
As for the S-400 Triumf, this system has unique features that no competitor has. As for the maximum striking range, this is practically double that of its counterparts, just for the minimum range. It is capable of hitting targets flying at an altitude upwards of 10 meters. Nothing can fly lower. The closest competitors lag 2.5 times behind in terms of this characteristic. At the same time, the S-400 is universal in terms of types of targets it can hit. This includes air targets, such as aircraft, helicopters, cruise missiles, unmanned aerial vehicles and others, at a distance of almost 400 kilometers and at an altitude of up to 30 kilometers, and ballistic missiles of various types with a range of up to 3,000-3,500 kilometers. Of course, since our catalogue has such a gem, demand is high for it.
Q.: It was announced after the Russia-Africa summit last year that Russia signed contracts with new partners in this region. Has this trend persisted? Are there new customers for Russian arms and hardware in that region?
A.: Military-technical cooperation with African countries has become significantly more active. And if a sufficiently high level of contacts with North African countries has been maintained for a long time and is showing a sustained positive trend, we can now speak about a dramatic increase of interest in Russian products in sub-Saharan Africa. Today, almost all countries of that region are Russia's partners. There is no doubt that the Russia-Africa forum that took place in Sochi under the president's auspices was a major stimulus for those relations. In the wake of the summit we signed a contract for the delivery of BK-10 high-speed patrol boats to a country in the sub-Saharan region, and that was the first contract for the delivery of naval products to the region over the past 20 years.
Moreover, new contracts for the delivery of transport-combat and combat helicopters, army weapons, air defense systems, small arms, including 100 series Kalashnikov rifles, and upgraded Kalashnikov machineguns for anti-terrorist, anti-poaching and anti-drug units are being fulfilled and drafted.
Q.: The Army forum is on. What new products can you name? The Armata tank will be presented to partners. Is its export possible in the near future?
A.: The new products presented at the forum include the fifth-generation Sukhoi Su-57 supermaneuverable fighter jet, the MiG-35 multirole frontline fighter jet, the Ilyushin Il-76MD-90A military transport aircraft, the version of the Mil Mi-171Sh military transport helicopter for special operations, the Mil Mi-26T2V heavy military transport helicopter, the Antey-4000 missile system, the Viking and the Tor-E2 air defense missile systems, the T-90MS tank, the Tornado-S multiple launch rocket system, the new assembly of the Sprut-SDM1 light floating tank, wheeled armored vehicles on the Bumerang chassis, and the Rubezh-ME tactical coastal missile system. These are products of companies which are part of the Rostec state corporation and other Russian arms makers. Some of the new products presented at the forum took part in the Victory Parade dedicated to the 75th anniversary of the Great Patriotic War Victory on Red Square in June.
The Armata tank will be presented at the stand for promising weapons and special equipment and at the stand of its producer, which is the Rostec state corporation's Uralvagonzavod. We will discuss its export prospects with our partners at the Army 2020 forum.