10 Aug 2020
Head of Council for Civil Society and Human Rights Valery Fadeyev: Journalists should be careful, considering intelligence is still at work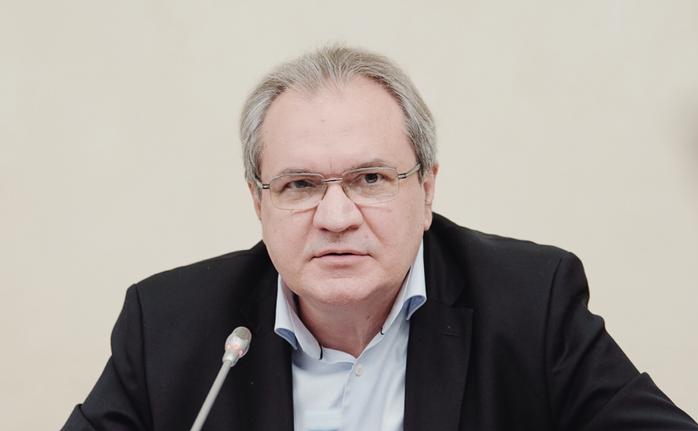 Valery Fadeyev
Photo courtesy of the Council for Civil Society and Human Rights press-office
Head of Council for Civil Society and Human Rights Valery Fadeyev has given an interview to Interfax, in which he speaks about the future of online education, the human rights situation amid coronavirus restrictions, the supremacy of the national law over international law and journalists' work after the Ivan Safronov case.
Question: Some education experts forecast that in the future, expensive offline education will be available to 'tens of thousands of select people' while the others will go for cheap online education. Do you share this opinion? Do you think that the coronavirus has influenced the future of education, human rights, and free and equal access to quality education?
Answer: The Russian president opposes such an approach. He has clearly said that online education cannot become the main form of education in Russia. We are guided by this opinion. Advocates of online education and keen intellectuals believe that this is a global trend, that just a small percentage of young people will get 'real' education. Since we are governed by the Constitution and our traditions that every young person can get higher education at any of the country's best universities if they have the right skills, we believe that the degradation of Russian education must be prevented, especially this kind of segregation. I would even call this social apartheid – under no circumstances should this be allowed. We are not such a poor country that we have to drive the majority of young people into a zone of no education.
Q.: And could online education remain a part of a broader process?
A.: Of course, why not? But it is very hard even to learn to make soup online, there are a lot of nuances there. And if we talk about more complicated things, naturally, a teacher is needed. The Moscow Institute of Physics and Technology of which I was a student had a Cambridge system with tutors, copied by Pyotr Kapitsa. A tutor supervised and followed almost every student. Senior students were dispatched to academic and defense enterprises, where they were engaged not only in educational but also practical work that was introduced for production. This scheme proved efficient and many universities maintain a high quality of education today. Some think that creators and personalities are not needed. I resolutely oppose this. Maybe we don't need so many outstanding administrators, but we do need personalities.
Q.: Don't you think that the future lies in online education?
A.: No. Of course, there are electronic journals and teachers, parents, and students use social media chats. This is probably needed. We live in a digital environment, but it is very dangerous to substitute 'live' education with online. The environment, especially at universities, may sometimes be even more important than the courses. When you are surrounded by outstanding people and teachers, you incorporate this wisdom, these patterns biologically and chemically, and this is needed to educate a personality, a real scientist or an engineer.
Q.: The coronavirus has naturally become the topic of the year. Russians have faced major restrictions and Moscow even introduced electronic passes. How do you assess the actions of the Moscow authorities from the point of view of human rights? Some claimed that the authorities introduced restrictions illegally. Do you think that special rules should be worked out for such situations?
A.: There are such rules. They are in place under the law on emergency situations. If a region imposes an emergency situation, restrictions, including on rights and freedoms, take effect by default. But in this case the authorities acted on the premise that such restrictions should be minimal. The imposition of the emergency situation would have restricted rights and freedoms even more. That is why the majority of regions, in particular Moscow, imposed the so-called 'high readiness' regime." It could be imposed by the decision of the chief state sanitary doctor, and that's what was done. Of course, there were minor flaws and my colleagues and I paid attention to them. But I am against the imposition of an emergency situation unless there is complete disaster. The pandemic situation was very tense in Moscow, but thankfully this was far from being a war, far from a plague. The situation is less severe. I think the authorities acted appropriately.
Q.: But if an emergency situation is declared, then there should be handouts, and, in this case, many people did not get them.
A.: Who would they get them from?
Q.: The state.
A.: This is also a big question, whether the budget has enough money. If there had not been enough money – but thankfullythere are reserves – then additional laws would have been quickly adopted to avoid having to issue handouts, and this would lead to even greater chaos. I was at first very much concerned when it turned out that millions of people were left without salaries. But ultimately many of them got the money. All families with children got handouts twice.
As for businesses, the situation is more complicated here. It seems to me that assistance did not reach all targets, especially when it depended on the banking system. It turned out that the banking system does not want to help Russian businesses. Decisions implemented by the state turned out to be effective, but decisions implemented by banks were less effective. But we can see that there was no social tension. There were concerns because tens of millions people stayed at home and didn't go anywhere. But not so many people considered themselves abandoned by the state. There is not such a large-scale effect. Today, almost all companies are operating; the unemployment rate went up, but not disastrously.
Q.: Restrictions imposed in Moscow resulted in a huge number of fines. There are almost 100,000 of them now. Many people say they were fined by mistake. You have already favored administrative amnesty. Have the Moscow authorities listened to you? Maybe it would be worth coming up with an initiative to adopt a law on administrative amnesty?
A.: Lawyers are discussing the issue. There has never been such an amnesty before, so it needs to be considered from the legal angle. I have discussed the issue with a number of leading lawyers and they have told me this can be done. However, the State Duma is currently in recess and I think we will raise this issue again in September. We need such a tool.
We have never faced a problem on such a scale – nearly 100,000 fines and a vast number of complaints. We need an understanding of how to overcome this situation. My position is that the system of fines has to be all but perfect. As many flaws as there were in the Social Monitoring system cannot be tolerated. It was simply incomplete. Sometimes the geolocation was inaccurate, or photographs could not be taken. Sometimes a request for a photograph was sent late at night, and what if a person was sleeping, or ill, or had high temperature? These details were not taken into account. As for the administrative amnesty there should a law on the possibility and means for carrying it out, because current legislation does not provide this option.
Q.: Russia has recently introduced the supremacy of the national law over the international law into its Constitution. What is your attitude to this?
A.: This constitutional provision does not reject Russia's participation in various international organizations and does not cancel earlier signed agreements. This will be applied only when decisions of international organizations contradict the Russian Constitution and Russian laws.
There are concerns that we will not now fulfill the rulings of the European Court of Human Rights. We will, why would we not? But if a ruling of the European Court of Human rights contradicts Russian laws, it is unlikely to be fulfilled. This is the technical side. Now the political side. We are a big, sovereign and independent country. They tell us, look at Europe. Yes, things are different in Europe, but Europe is a more integrated union. In Europe, every country has given a significant portion of its sovereignty to the European Union and has given it concordantly. They are trying to live as a single organism, although the epidemics showed that they sometimes do not succeed. They have a coordinated stance on such things as the supremacy of the international law. This is their law. They created this law for themselves, and they are governed by it. But we are on the sidelines. We tried to get closer to them, even as far as joining NATO in 1990s – there were such discussions, but it didn't work out.
Q.: There is an opinion that first Russia's judicial system must the fine-tuned, be made more independent, just, and effective and only then can the supremacy of the national law be introduced.
A.: I'm afraid this will take too much time. Not because we are stupid, but because the fine-tuning of the judicial system is a complicated long-term process that takes decades. This is true everywhere, these are very subtle issues. The judicial system has shifted and transformed several times over the past years. Saying let's fine-tune and then come back, well, we will come back to this issue say in 30 years, but what's the point? We shouldn't be afraid of it.
Q.: The head of the Karelian branch of the Memorial human rights society, Yury Dmitriyev, was recently sentenced to 3.5 years in prison. The sentence handed down is lower than the minimum term for such charges. This proves that the judge may have realized that the evidence of his guilt was far from obvious. Dmitriyev is expected to walk free in November, which means he will still be sent to a penal colony. It is very hard to survive in Russian prisons with the charges he has, and he is not young. Do you plan to ask the relevant agencies to allow Dmitriyev to stay in the pre-trial detention center until the end of his prison term?
A.: I am making a certain effort so that this risk doesn't materialize.
Q.: Much has recently been said about the case of our colleague Ivan Safronov. The general public and journalists have unfolded a campaign in his support, but there is very little information, which is easy to explain when the Federal Security Service is involved in the case. Do you think it is possible to ensure transparency of information and that it is publicly available in such cases in order to avoid abuses? Have you asked law enforcement agencies for explanations to figure out the extent to which claims against Safronov are justified?
A.: Frankly speaking I don't know what to do in this case. I am taking advice as well. When I was editor-in-chief of the Expert journal, we were warned about divulging state secrets, we paid a fine. We didn't manage to find out what state secrets we had divulged, the trial was behind closed doors, we were not allowed to attend, but we still paid the fine. There is no solution as far as such cases are concerned.
Of course, judges should try to prove convincingly to people, despite the secrecy, that a person is guilty. Several years ago there was a situation involving a spy rock, an English agent was convicted. No one believed in the spy rock, but British intelligence later confirmed it. Then there was the Sutyagin case, people laughed out loud and condemned the authorities, but there was an exchange and Sutyagin turned out to be on a list of CIA agents. If he hadn't been an agent, he would not probably have been exchanged.
In the Safronov case it would also be important to me if the FSB were to submit evidence to explain his guilt. This is also about trust. A lot of journalists have no trust in this case. Hence the protests, the pickets, and the indignation. How you do this without divulging state secrets and exposing your own agents is a difficult matter. I think the FSB realizes the need to somehow convince the public.
There is another problem – however, I don't have fresh information and it may have already been resolved – the lawyersrefused to sign the nondisclosure document. Since they refused, they cannot study the key elements of this case. Are they going to declassify secret documents? The Federal Security Service will never do that. I think that if they really want to protect him instead of using the case for PR purposes, they should sign the nondisclosure document and get into the core of this case.
I have no solution here, this is a complicated story. I cannot see big flaws in the activity of the Federal Security Service in the past 10-20 years. I don't fully understand the concerns of journalists to this end.
Q.: It is said that a journalist can't have an access to state secrets.
A.: So what? Ninety percent of intelligence information comes from analysis and deep understanding of the environment rather than through state secrets. A journalist addressing military issues has many friends, he heard something here, something there, made a comparison. Some officials of another state cannot interact with the most important people who know state secrets as well as a journalist can.
Q.: So, it turns out that it is dangerous to be a journalist...
A.: Yes. Once again, the Expert journal was fined, there was just an analytical article, and part of it was likely considered a state secret. No one tried to divulge a state secret. This is a subtle issue. You can divulge a state secret without having access to it.
Q.: Then what should journalists do?
A.: They should be careful. There was a story. One journalist was asked to write an article for western media, he was paid. Then he was asked to write another article. He asked if the first one had been published. They said no, but it would be published, write the second one in the meantime. He realized that it was intelligence and refused to write it. If there is such an agreement, tell the relevant agencies about it and seek advice, considering that intelligence is still at work. This is a delicate area and this is how it should be addressed. I sympathize with Safronov and I do not know whether he messed up or was actually working. It is important to push for the details of the case to be revealed as much as possible.
Q.: The pandemic has made adjustments to other spheres as well. The police view solitary pickets that have been taking place in Moscow recently as mass actions. Participants of the pickets, including journalists with press cards, are being detained. Have the authorities replied to the request to explain the legal status of 'mass solitary pickets?'
A.: I have been saying that this confusion should be gotten rid of. If a person stands alone observing the picketing rules, why are they detained and fined? I think this is wrong. A video showing a woman reading the poem "And where autocracy lies, broken, our names shall yet be graven deep" near the monument to Pushkin has recently been circulating. Sometimes the authorities make interpretations regarding whether a person should be silent or whether they be allowed to cry out something. Lawyers say better keep silence, you have a slogan on your placard. This should all be written down, picketing rules should be specified - is it allowed to speak, and who it is allowed to speak with. I often talk with pickets – am I breakingthe picketing rules, or are the pickets? There is no answer.