7 Aug 2020
Russian Deputy Industry and Trade Minister Ivanov: Buying Russian equipment should become rule of good form for state energy cos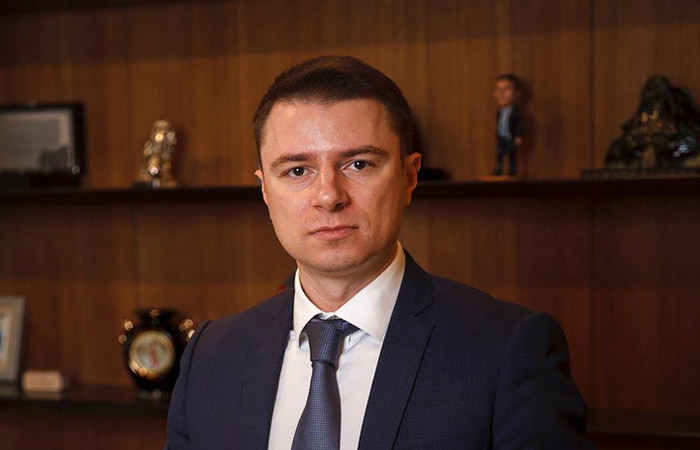 Mikhail Ivanov
Photo courtesy of the Industry and Trade Ministry press-office
The problem of manufacturing domestic equipment for the oil and gas sector that Russia faces due to sanctions worsened at the beginning of this year, as almost all countries closed their borders due to the coronavirus pandemic. This made it more difficult for foreign specialists to enter Russia to service and install foreign equipment and nearly jeopardized the implementation of major investment projects.
Deputy Industry and Trade Minister Mikhail Ivanov spoke with Interfax about how the crisis affected the oil and gas engineering industry, what is being done to reduce the Russian fuel and energy sector's dependence on imports, how chemical companies reconfigured their operations during the pandemic and whether Russia faces a shortage of feedstock for antiseptic.
Question: The beginning of 2020 was marked by a crisis due to the coronavirus pandemic and the drop in oil prices. How has it affected the Russian oil and gas industry, including manufactures of equipment for the industry? How is the sector handling the crisis now?
Answer: Indeed, Russia's oil and gas industry faced challenges in the first half of the year related both to the spread of the coronavirus and the drop in oil prices and strengthening of the dollar. However, according to our statists for previous years, the oil and gas engineering sector has grown by about 2-3% per year and export shipments showed growth of around 7%.
Now fuel and energy companies plan to adjust their investment programs. In a number of cases we might be talking about a fairly substantial reduction, by about 20-30%. This situation could lead to a decrease in production capacity utilization and staff cuts, given that more than 150,000 people currently work at oil and gas equipment enterprises. Therefore, we designated the preservation of the dynamic of production and order portfolios, increasing the sales of our companies by expanding the share of Russian equipment on the domestic market as the main priorities for the sector's development. Among other things, we're talking about onshore equipment systems for hydraulic fracturing, well drilling systems, cryogenic pumps for pumping LNG, seismic survey equipment and underwater extraction systems.
Any crisis is a test of a sector for stability, an opportunity to assess work done and make sure systems are efficient and flexible. Right now, one in every two pieces of oil and gas equipment on the Russian market is domestically made, and the sector has potential in terms of exports. Few know this, but Russia actively ships oil and gas equipment abroad. For example, we ship products to India, the United States, Germany, China and the UK.
In a situation where countries shut down production and transport links due to the quarantine, international production chains are disrupted. Due to this, Russian consumers who use foreign equipment face delivery delays and, consequently, rescheduling of the implementation of investment projects. After consultations with industry representatives, we identified key components purchased abroad at the moment and began to adjust import substitution programs.
Q.: Are medium- and large-scale LNG production, the creation of a fracking fleet, rotary steerable systems, and equipment for offshore production and geological exploration still the main problematic areas for the sector?
A.: Our attention recently has been focused specifically on the areas you mentioned. The ministry supports the development of prototypes of equipment for offshore exploration and now we are already wrapping up work on the creation of serial models.
As part of a bilateral agreement between the Industry and Trade Ministry and Gazprom, equipment was localized for an underwater production system involving more than 60 engineering enterprises. The joint work helped determine priority technological areas and begin implementing them in 2017. Now the creation of prototypes and their testing have been completed. We are working on their serial introduction together with the EPC licensor of the development of the Kirinskoye and Yuzhno-Kirinskoye fields.
For medium- and large-scale LNG production, a roadmap has been drawn up for priority measures to localize critically important equipment. It includes the creation of prototypes and corresponding standards, and the signing of letters of intent between customers and manufacturers for the use of equipment. For example, Novatek has already signed such agreements with Atomenergomash (AEM), HMS Group, Severgroup and Tyazhmash. Gazprom, in turn, has signed agreements with Rosatom, Roscosmos, Rostec and Severgroup.
In addition, two investment projects are being implemented to develop a Russian fracking fleet. According to companies' plans, by 2023 we will get full-scale fracking fleets built according to the specifications agreed by the main oil and gas and oilfield services companies working on the Russian market.
In addition, the Industry Development Fund supported the development of Concern CSRI Elektropribor and NPP Burintekh, which are now fine-tuning prototypes of rotary steerable systems for the next pilot tests at the fields of Gazprom Neft.
Q.: What other problems is Russia's oil and gas sector having with technology and availability of equipment? Is it clear how they can be solved? How have companies revised their key objectives and plans in this area due to the coronavirus and oil prices?
A.: Oil and gas sector companies felt the impact of the pandemic in the spring. We began to get receive signals from them about the risks of suspension of current repairs and new construction projects owing to delays in foreign equipment supplies.
It is obvious that, given the deterioration of the economic situation, fuel and energy companies have begun to pay more attention to manufacturers of domestic equipment. Moreover, I believe that working with Russian oil and gas equipment should become a 'rule of good form' in the industry going forward, especially for companies with state participation.
By the way, we have done serious work with Gazprom, and already in June signed a plan to ensure the reliability of manufacturing and shipments of products, and provision of services in the interests of the company. The planned measures will help ensure Gazprom's uninterrupted operations when implementing investment projects, and will make it possible to localize the most import-dependent products for the needs of the industry.
Besides the economic difficulties, companies in the industry have faced problems with entry into Russia for foreign specialists involved in pre-commissioning and maintenance of foreign equipment. With the assistance of the Industry and Trade Ministry, a special procedure was quickly approved for the entry of such specialists in order to prevent disrupting schedules for the implementation of investment projects. The mechanism turned out to be very popular.
Q.: What was the share of imported oil and gas equipment in 2019? Will Russia be able to achieve the goal of reducing imports to 43% in 2020 amid the new economic environment? Will the import substitution plan for oil and gas equipment be revised due to the pandemic?
A.: Last year, the share of imports was 45%, this year we are striving to reach 43%.
Q.: How have the priorities for the development of the sector changed because of the crisis? Are we now more focused on 'saving and supporting' than on growing and developing?
A.: Both one and the other. For day-to-day control over the situation in the sector, we updated the list of systemic organizations and established regular monitoring of their financial and economic condition. Today the list includes 26 organizations that can receive support, for example, in the form of a loan for current operations at a reduced interest rate. Nine organizations have already taken advantage of this measure - they received loans at rates of 1% to 5% annually totaling 4.4 billion rubles, and half of the loans were issued specifically at a rate of 1%.
Systemic companies, among other things, can apply for targeted measures of support - deferment of tax payments, as well as state guarantees of the Russian Federation for loans and bonds.
All these measures are for stabilization. But if we're talking about development, it is necessary to increase demand for Russian equipment on the domestic market. The Industry and Trade Ministry supports manufacturers through subsidizing expenses on the development of pilot batches of high-tech products. The selection of such applications is planned for July 27 to August 3.
We're also working on strengthening the presence of Russian products on international markets. The ministry made inquiries at all Russian oil and gas companies in order to obtain information about their implementation of projects abroad and the possibility of using Russian equipment in them. We are now getting responses and are planning to work out the possibility of supplying Russian products for each project.
Since in most countries projects are implemented by EPC licensors, we are working with them within the context of an expert group of the Industry and Trade Ministry's Scientific and Technical Council for the Development of Oil and Gas Equipment to include our manufacturers in vendor lists. Work is also being done with foreign companies regarding the use of Russian industry standards in the implementation of international projects.
Q.: The Industry and Trade Ministry said earlier that Russia has great potential for supplying oil and gas equipment to the United Arab Emirates. Is work being done in this direction?
A.: Yes, of course. In November 2019, the Russia-Emirates Intergovernmental Commission for Trade, Economic and Technical Cooperation approved a subgroup for certification and standardization of oil and gas equipment. This is a necessary step for allowing Russian products into tenders in the UAE.
Now, as a result of reached agreements, the Emirates side is comparing half a dozen Russian standards in the area of pump equipment, oil and oil product quantity and quality measuring systems and electric drives with the standards applied by Abu Dhabi National Oil Company (ADNOC). We, in turn, are putting together an additional list of Russian standards, as well as a list of labs for certification of oil and gas equipment that will then be sent to the Emirates side.
Q.: Plans were announced a year ago to develop a roadmap to support R&D in the oil and gas sector. Is work continuing on this document?
A.: We're not developing a roadmap as such. In our view, this is not a sufficiently effective instrument, as it stipulates the needs for technologies at a specific moment in time. But technologies develop very quickly, as we both know. Therefore, within the context of the Industry and Trade Ministry's Scientific and Technical Council for the Development of Oil and Gas Equipment, we are constantly working on compiling and updating areas of technology that require state support.
Based on such proposals, an updated plan of measures for import substitution in the oil and gas engineering industry of Russia has been drafted. Going by the plan, we want to reduce import dependence to 38% by 2024.
Q.: Where do you plan to create testing grounds for oil, gas and mining equipment for Arctic projects in Murmansk Region, Yakutia and the Yamalo-Nenets Autonomous District? Will this be a parallel or successive process? What is the estimated cost of these projects?
A.: A great deal of analytical work on the creation of a concept for the development of a network of industrial testing grounds for oil and gas equipment is being done within the context of an expert group of the Industry and Trade Ministry's Scientific and Technical Council for the Development of Oil and Gas Equipment. We plan to use the results in formulating government policy for the development of a network of industrial testing grounds to increase the competitiveness of Russia's fuel and energy sector.
As for mining equipment, right now we don't see projects for the creation of such testing grounds in the Arctic. However, the Industry and Trade Ministry is involved in the formation of a sectoral industrial cluster in Kemerovo Region, the Kuznetsk Basin, specializing in production of mining equipment. Under this measure, together with SDS Ugol, there are plans to create a testing ground for mining equipment for open-pit mining.
Q.: Has the issue of setting up construction of the highest ice class drilling platforms in Russia been worked out with the Energy Ministry? Has demand for such platforms been confirmed, and if yes on what scale? What is the necessary amount of financing, timeframe for construction and recoupment period?
A.: Indeed, after a series of meetings with the Energy Ministry we worked out the issue of building a promising range of drilling platforms at Russian plants. According to the information of resource developers of the Russian shelf, current and future demand for drilling equipment for prospecting and exploration could be met with our own fleet of drilling rigs and vessels, with possible use of leased equipment.
Russian companies' need for production/exploration platforms and ice-resistant drilling rigs amounts to 35 units to 2035.
I'd like to note that several Russian shipyards, for example in Severodvinsk, Astrakhan and Vyborg, already have practical experience building offshore platforms of various types for exploration and production drilling, or individual modules for such platforms, and Russian design bureaus have experience designing them.
Q.: The program to modernize Russia's electricity sector calls for the use of Russian power equipment, including new large-capacity turbines. The deadlines for delivering them are already tight, but this year a number of suppliers of components for the sector, such as for grid companies, suspended production due to the coronavirus pandemic lockdown. Has the virus affected the schedule for supplying equipment for modernization? Will suppliers meet their obligations to deliver equipment to power companies on time?
A.: There are indeed apprehensions about the disruption of equipment supplies, but they are coming from companies implementing the modernization program with imported equipment, the import of which was jeopardized due to the pandemic. Russian power engineering companies, however, have already launched the design and production of commercial products, purchased the necessary components. During the restrictions related to the spread of the coronavirus, our power engineering plants did not suspend production, so we don't see risks of missing deadlines for deliveries of domestic power equipment to modernization projects in connection with the pandemic.
Q.: The Industry and Trade Ministry is supposed to compile a list of technologies for entering into SPIC 2.0 special investment contracts. How are efforts going in this direction in sectors of industry you oversee?
A.: We are now compiling a list of technologies deemed modern for signing special investment contracts. Companies in the oil and gas, electricity, heavy engineering, machine-tool and chemical industries submitted a total of more than 400 applications through the State Information System for Industry. They will all be considered within the set period of time. Chemical industry organizations were most actively involved in the process, submitting more than 220 applications as of today.
Q.: At the Industry and Trade Ministry, you oversee the chemical sector, among other things. How has the coronavirus affected it? What segments are seeing an upturn and which ones are seeing a slump? How long do you think it will take hit companies to recover? What measures of support is the Industry and Trade Ministry providing?
A.: All conclusions about the pandemic's impact on sectors of the chemical industry overseen by the Industry and Trade Ministry can only be tentative at this point, but I can say with confidence that even during the maximum restrictions plants operated without interruption, naturally observing all sanitary and epidemiological requirements, and supplied the necessary products to all related sectors without delays.
Production growth in the first half of 2020 was seen for products such as dyes and pigments, ammonia, mineral fertilizer, and varnishes and paints. Production of methanol, soda ash, tires and synthetic fibers and threads fell.
Many chemical industry plants, as you know, switched their facilities to production of anti-covid products - hand sanitizers or chlorine and non-chlorine disinfectants that are supplied to healthcare organizations and the public. For example, production of hand sanitizers increased virtually eightfold in the period from March through June. Production of respirators, protective suits, glasses and gloves also increased significantly.
We are mostly supporting chemical industry businesses that suffered from the crisis and those companies that decided to ramp up production in order to prevent a shortage of necessary goods on the Russian market during the pandemic. Such organizations were able to take advantage of the Industry Development Fund's (IDF) soft loans.
During the pandemic, the IDF developed a new program to combat epidemic diseases aimed at manufacturing equipment for identifying, preventing and treating epidemic diseases, as well as personal protective equipment, drugs and medical products. In implementing this program, for which the government has allocated an additional 25 billion rubles, the IDF considers projects on a fast track and in simplified form. More than 80 projects have already been approved so far.
Q.: Demand for isopropyl alcohol in Russia has surged amid the pandemic. Representatives of the chemical industry complained that high demand for isopropanol for production of antiseptics could harm the pharmaceutical industry, where this alcohol is used in a number of products, including for cancer. How was the problem with feedstock solved?
A.: Yes, that's right. With the start of the pandemic, demand for isopropyl alcohol surged, as it was badly needed for production of antiseptics. Since March, Russian organizations have increased capacity to produce hand sanitizers by many times, from 45,700 liters per day in mid-March to 380,000 liters in June.
There were indeed complaints from companies about possible violations in supplies of socially important drugs needed for patients with cancer and multiple sclerosis, and we also provided assistance to organizations to solve this problem.
In order to meet Russian companies' demand for isopropyl alcohol as much as possible, a ban on its export from the customs territory of the Eurasian Economic Union (EAEU) was imposed in March until September 30, 2020, inclusively. The rate of the import customs duty on isopropyl alcohol was also reduced to zero given confirmation by the importer that the alcohol is being imported into the EAEU for production of disinfectants. The amount of imported product has exceeded 765 tonnes totalling more than $2 million from April 30 to today.
Q.: Do you think that a stockpile of isopropyl alcohol should always be kept in case of pandemics such as Covid-19?
A.: It probably makes more sense to talk about creating a stockpile of finished antiseptics and disinfectants. As you know, the government has already made a decision to create a reserve of anti-covid products. Work is now being done on establishing it.
Q.: JSC Omsky Kauchuk, a division of Titan Group, planned to launch production of isopropyl in June. Will Russia end up with a surplus of the alcohol due to the launch of new capacity?
A.: Only two plants produce isopropyl alcohol in Russia, and the launch of production capacity of up to 60,000 tonnes per year at Omsky Kauchuk is planned for early September. The Industry and Trade Ministry and IDF support this project. It will make it possible to fully meet Russian companies' demand for isopropyl alcohol and start exporting it as early as in the fall.
Q.: Won't these facilities fall idle after demand for isopropyl drops? How can isopropyl be used after the pandemic? Is there confidence that this product will find buyers abroad?
A.: Of course, sales of isopropyl alcohol have demonstrated rapid growth since March of this year and are being generated by the priority needs of the Russian market of producers of antiseptics and sanitizers, which was not typical for 2019 and previous years. At the same time, the alcohol is used as a raw material for production of drugs, as well as reagents for cancer diagnostics, test reagents for Covid-19 and other products.
Isopropyl alcohol producers will be able to export it after September 30, 2020, when the ban on its export from the EAEU expires. By the way, we've already received a request for its supply from Kazakhstan, for example.
Companies, in turn, are prepared to ship isopropyl alcohol for export. Businesses in Novocheboksarsk, Orsk and Dzerzhinsk have expressed such a desire.
Q.: Have major producers of disinfectants asked about confirmation for the possibility of exporting this product?
A.: We are actively assisting Russian producers of disinfectants and personal protective equipment in launching their products on foreign markets. Many major companies have indeed already appealed to us for help. The Industry and Trade Ministry has compiled corresponding lists of products, catalogues that it then sent to Russian trade missions abroad.
The geography of planned exports is extensive. In addition to the countries of the CIS and EAEU, Russian companies intend to export disinfectants to the United States, China, the Philippines, UK, Georgia, Iran, the UAE, Qatar and a number of other countries.
The amount of products already shipped for export since mid-June has totalled more than 2,000 tonnes worth over 40 million rubles.