16 Jul 2020
Russian Deputy Foreign Minister Alexander Grushko: Arms control sphere in Europe is in chaos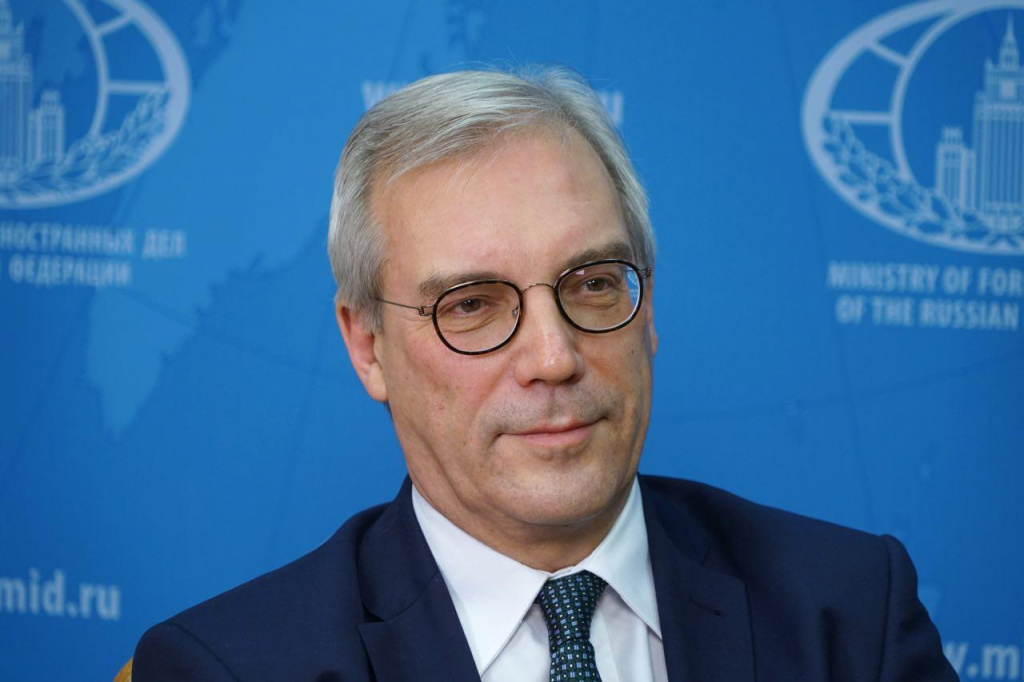 Alexander Grushko
Photo courtesy of the Russian Foreign Ministry
Russia Deputy Foreign Minister Alexander Grushko has given an interview to Interfax correspondent Ksenia Baygarova in which he speaks about prospects for Russian-EU relations after the EU leadership changed. He also spoke about Russia's reaction to the possible redeployment of tactical nuclear weapons from Germany to Poland. Grushko announced the upcoming visit of French President Emmanuel Macron to Russia and said that Russian-Turkish partnership has remained strong despite differences.
Question: The EU leadership changed half a year ago. Back then, many people in Moscow expressed cautious optimism and hope that Russian-EU relations would improve. Have these expectations proven true?
Answer: Nothing has changed so far. As a classic writer once said, the restive steed and timid deer must ne'er be harnessed to one cart. Let us wait and see how the thinking process develops in the European Union. For now, the European cart stands still, perhaps, because interests of various countries are colliding, including where Russia is concerned. There are certain politicians, in particular in the Baltic states and Poland, who are holding on literally by all means to the geopolitical position related to their idea of building relations with Russia as an adversary. Yet there are other countries whose representatives openly admit that, first of all, the sanctions have not brought the desired effect, in other words in the EU's language, they "have not changed Russia's behavior', and, secondly, these sanctions contravene the profound interests of the European Union itself.
Brussels has trapped itself by linking these sanctions to the fulfilment of the Minsk Agreements. Kyiv says it is not going to fulfill the Minsk Agreements and suggests various ways of interpreting them, in particular, claims that these are 'recommendations' of some sort although, as you know, the Minsk Package of Measures was endorsed by UN Security Council Resolution 2202 in 2015 and became part of international law. However, proponents of the sanctions could not care less about these legal details.

Q.: Obviously, no cancellation of sanctions can be expected in the near future. But given the interest of businesses, is it possible that some provisional measures will be taken until the Minsk Agreements are implemented, or some kind of partial easing of sanctions?
A.: We are still realistic about the prospects. I think, however, that strategic interests of the Europeans should prevail sooner or later. It is obvious to us that if Europe wants to develop in the new polycentric world and to be not just an economic center but also a political and military one, it should be interested in maintaining a normal and healthy relationship with Russia. Russia is also interested in normal, healthy relations with the EU that would be based on respect for each other's lawful interests and be equal.
As for the sanctions, they have a multiplying effect for some sectors of our economy. They have created fierce competition which is making businessmen and investors more efficient and competitive, both in terms of organizing production and in terms of improving the quality of products. We can see that businessmen have continued doing their own business despite the restrictions. If we look at the number of companies that now work in Russia - and I mean our main investors which are Italy, France and some others - it hasn't been falling. There was no drastic fall, let me put it this way. Yes, there were certain fluctuations, but nevertheless the general presence of European businesses has remained at about the same level as it was before.
Another case is that the economic situation has changed because of the coronavirus and general negative changes in global trade. It's no secret that according to some expert estimates, just 30% of the global economy is in the 'green zone,' which is governed by clear norms and rules. About 30% is in the 'red zone,' where various restrictions are used to a certain extent. And approximately 30% is the uncertainty zone. This uncertainty of course shackles businesses, since predictability and clear rules are the key elements of fully-fledged economic cooperation.
By the way, Kyiv's ambiguity regarding the Minsk Agreements is explained by the desire to prolong sanctions against Russia for as long as possible. This is how they perceive the interests of their own country. Western countries just turn a blind eye to this and in various ways encourage the Kyiv authorities. The majority of the EU countries are NATO members, and recently the alliance made a decision to increase the status of Ukraine to the level of a partner with 'enhanced opportunities.' This is the direct encouragement of nationalist forces and the party of war in Kyiv.
The ball is in the EU's court and, as I imagine, in the long-run, if we think about genuine interests of the Europeans, sooner or later they will have to abandon this failed policy on Russia. By the way, they have made some headway towards us. EU High Representative for Foreign Affairs and Security Policy Josep Borrell declared the beginning of a strategic review of relations with Russia. Let us wait and see how this ends.
Q.: Back in 2016 Russia came up with the initiative to take stock of relations with the European Union. The EU in turn put forth five principles of developing relations with Russia, linking them to the implementation of the Minsk Agreements. Moscow called this position shortsighted. Will Russia come up with new initiatives in relations with Europe under the new EU leadership?
A.: Those five principles were actually part of the sanctions package. They cannot be called a strategy. For example, they say that the EU will speak with Russia only on the issues that the EU is interested in. We took note of them. We also converse with the EU on topics that Russia is interested in.
There have been no new initiatives so far. Nevertheless we are one way or another in dialogue in many spheres despite the announced restrictions. This primarily includes the whole range of conflicts, in particular in Syria, Libya, as well as Ukraine since the EU's leading countries, which are France and Germany, are parties to the Normandy Format. Consultations on Balkan issues have become regular as well. We are interacting on the economy.
By the way, Russia and the EU have a new sphere of interest, namely, deriving lessons from the fight against coronavirus and taking post-pandemic measures. After all, the pandemic revealed shortcomings in the patterns of international cooperation. We've made proposals as to how we should combine our efforts in the healthcare sector. This also includes the development of vaccines, the exchange of know-how, and supplies of equipment and medications. This is important. If we draw the right conclusions that we should not shut ourselves off, but on the contrary, should combine our efforts, this would help generally improve the climate of relations between Russia and the EU. I would single out digitalization and 'green' economy among the promising new spheres for dialogue and probably even for interaction. This is fresh ground in terms of international interaction, and it is much better if we till it all together rather than plot by plot, thus preventing unnecessary dividing lines here.
At the same time, I cannot fail to recall how we were perplexed by the campaign launched in the West when we began providing assistance in opposing coronavirus to Italy, Serbia, Bosnia and Herzegovina, and other countries. We were reproached because it was said that Moscow was trying to take advantage of faults in cooperation between the European Union and NATO countries in order to gain some geopolitical advantages and disunite Europe. This was an absolutely unjust and blatant campaign.
In fact, we didn't advertise our efforts much and helped those who asked for our assistance. We gave what we were really able to give, keeping in mind our pressing need for example for ventilators, test kits, medicals masks, and medicines.
The line of my duty made me address issues related to Russian military humanitarian mission in Italy. My hair stood on end when I read European press. Allegedly, this was Russia's secret operation seeking military penetration into Italy and then securing a stronghold there. Horrible! It looked as if it was possible to get into Italy, one of the most open countries in the world, only under the disguise of a military doctor wearing a chemical protection suit, a mask and glasses. The Italians themselves were stigmatized in the EU and NATO for accepting Russia's aid. And the story was very simple. The Italian prime minister asked our president for help. It was given. And it was given in full interaction with the receiving party. When the tasks were fulfilled in an orchestrated manner, we left within two days.
Q.: Politicians in Europe have been speaking more often in favor of creating EU's own army, as the EU's own troops that are not affiliated with NATO would bolster Europe's independence and reduce Europe's dependence on the United States. Do you think these plans are realistic? And in general, does Moscow see anti-Russian attitudes in the EU's military activity?
A.: We understand that the Europeans need to be autonomous and independent in security issues. The bipolar structure of international relations is gone. It was one situation when Europe was part of the trans-Atlantic half of the bipolar standoff. But now, if the EU wants to be a center of political and economic influence, it will obviously seek to possess the relevant potential in the field of military security. We have said on many occasions that we understand the objective reasons that prompt Europeans to progress towards their defense 'identity' and independence in this area. Importantly, this progress should not follow the Cold War patterns and should not create new dividing lines. Such a risk exists. NATO is trying to take charge of the process and subjugate it for the purpose of defending against the 'threat coming from the East', in other words Russia.
Q.: Many Western politicians reproach Russia for attempts to drive a wedge between the EU and the U.S....
A.: It's the United States that is trying to drive a wedge into trans-Atlantic unity, as it views Europe as its colony and tells it which countries to trade with and not to trade with, and which to buy gas from and which not to. It not only threatens, but also imposes sanctions on its own allies. [The United States] either leaves or destroys arms control agreements, which have fundamental significance for its closest partners. Europeans are publicly complaining that the Trump administration has monetized Article 5 of the Washington Treaty, which, in their opinion, is 'sacrosanct'. It's not Russia that forces European countries to spend 2% of their GDP on military needs or to buy American weapons. So, let those alleging that Russia is attempting to drive a wedge look at themselves in the mirror.
Q.: But do geopolitical differences between Europe and the U.S. play into Russia's hands?
A.: What does it mean into Russia's hands? Russia for many reasons is interested in normal relations with the U.S. and Europe. Let me remind that in better times Russian-EU trade stood at $417 billion, and back then of course our share in the global GDP was less significant. For example, the figure stood at $500-$600 billion as far as China and the U.S. are concerned. And those are close figures. So, from the point of view of trade and economic ties, relations with Russia were of strategic importance for the EU. We are not going to give this up. Yes, indeed, we have been investing in the development of the [Eurasian Economic Union] EAEU lately and have been rapidly developing our foreign trade and economic relations in the East. But this is the objective reality and demand, because economic growth drivers are moving eastwards and this is the general trend. But this doesn't mean that we are turning our back on Europe, and not just because we are bound by railroads, gas and oil pipelines, but also because we are tied together by common history, culture and finally geography. We believe that the EU's real interest cannot be about cultivating hostile relations with Russia.
Q.: Many people fear today that after Russia passed the constitutional amendment on the priority of the national law over the international, it will cease to fulfil decisions of the European Court of Human Rights (ECHR). The Venice Commission has already expressed concerns to this end.
A.: This isn't about the fulfillment or non-fulfillment of judgements. Of course the ECHR will continue working and accepting claims from Russian citizens. However, we will be complying with these judgements as much as they comply with the Russian Constitution. There is nothing unusual about that. Such provisions exist in the legislation of many countries, among them Finland, Georgia, Albania, Serbia, Germany, the United Kingdom, Italy, and Austria.
Here is one of the latest examples. On May 20, the Federal Constitutional Court of Germany said that it was impossible to fulfill the decision of the EU Court of Justice on the legality of the public sector purchase program of the European Central Bank, citing 'considerable excess of competences' vested to the EU court. This situation is not linked to the ECHR but it serves as an example from the point of view of national and international law.
Recent years have shed light on the problem of Western countries exercising their majority to attribute to international organizations functions that go beyond their statutory documents. In particular, the [Organization for the Prohibition of Chemical Weapons] OPCW Technical Secretariat created an attribution mechanism. Should we take a legal path, such a mechanism could have been created only through amending the Chemical Weapons Convention and through ratification by all participating states if they agree. But in this case this is done through simple voting. And then, attribution mechanisms emerge, and these attribution mechanism are not provided in documents, they contradict the very nature of these international instruments, and they replace national competences in the sphere of assessing compliance or non-compliance with conventions or treaties, just as they replace the prerogatives of UN resolutions.
So, some kind of institutions created by unlawful means, some kind of experts will point at countries saying that they don't comply with something, and at the same time as part of some Western associations develop unlawful sanctions instruments, which can be immediately put to use on command from the mechanisms controlled by the West. How can we accept that?
Q.: But coming back to the ECHR. For example, a Russian citizen after being released from prison is awarded compensation from Russia in the ECHR. Will this keep on working after the Russian Constitution is amended?
A.: The fact that we have ratified the European Convention for the Protection of Human Rights and Fundamental Freedoms makes it part of our domestic legislation.

Q.: So, nothing will change?

A.: It will change by ruling out legal practice collisions between ECHR judgements and the norms of the Russian Constitution. There are loads of cases in which participating states declare their inability to fulfill judgements, either completely or partially, because they contravene particular constitutional provisions.
By the way, if we speak about the European Convention on Human Rights, the non-participation of the EU as a supranational organization in this convention is a considerable gap. The negotiations have been ongoing for several years, but the cart is still there. At the same time, joining other Council of Europe conventions, the EU insists on so-called 'disconnection clauses,' meaning that the convention's provisions are fulfilled only when they comply with EU laws, including their possible changes. In fact, this leads to the fragmentation of conventions of the Council of Europe, and EU institutions fall outside the scope of the European Convention on Human Rights.
Q.: The Netherlands has recently filed a lawsuit with the ECHR against Russia over the MH17 crash. At the same time, it expressed readiness for negotiations with Russia on this matter. Could you comment on this? Is Moscow in consultations on such issues with the Netherlands, Australia, and Belgium? Is Russia ready to pay compensation to the injured party? And in general, what is your assessment of the MH17 trial?
A.: We're following the trial, and unfortunately, the legal proceedings and now the stated intention to turn to the [European Court of Human Rights] ECHR show that The Hague is continuing to keep to the version [of events] initially chosen, according to which, Russia was appointed the guilty party before the 'evidence' was collected.
As for consultations with the Netherlands and Australia, we have had them on legal issues, but they have no relation to the direct work of the court.

Q.: Just recently Russia and NATO resumed discussions at the level of chiefs of general staff. Is it possible that political contacts at other levels of the NATO-Russia Council (NRC) will resume?
A.: We have made no decisions on rupturing relations with NATO. Political dialogue was and is upheld, be it even outside formal NRC meetings. For example, there are contacts between Chief of the General Staff of the Russian Armed Forces and the NATO Military Committee chairman. They had a telephone conversation recently. Occasionally, about once in six months the Russian chief of general staff meets NATO's Supreme Allied Commander Europe, who is also U.S. European Commander. The NRC has also met. But the thing is that there are no topics for discussions. The NRC was convened to overview the security horizon and to preemptively expose common threats and challenges. It also considered options and ways of cooperating in neutralizing these threats, keeping in mind the activity of other organizations, so as not to duplicate them. This means it sought the niches where all NRC members can have common vision of what should be done.
Q.: And there is no such common vision right now?
A.: There is no vision, but present-day threats have not gone away, they have just become more acute. For example, Afghanistan. We were cooperating well on stabilization there. Very significant projects were implemented. One of the largest is the fight against drugs. More than 3,000 officers for anti-narcotics services of Afghanistan, Pakistan and Central Asian countries were trained under NRC auspices. But now cooperation - the fight against piracy and fight against terrorism - has been wound down. The last thing that was addressed in the NRC was the launch of the NRC's first ever joint operation to ensure safety of scrapping chemical weapons taken from Syria. However, NATO decided that Russia must be 'punished' and gave up any cooperating. It shot itself in the foot.
Q.: But NATO and Russia have many questions for each other that arouse concerns. Are these issues addressed in the NRC?
A.: The main challenge in Russia-NATO relations in the practical sphere is preventing dangerous incidents and not misreading each other's intentions, which means de-escalation. Leaders of NATO member states constantly speak about it. Who would argue? We are ready for substantive dialogue, but it cannot be held without the military. NATO decided to rupture all military ties, except for the channel of the chiefs of general staff. With due respect to ambassadors, it's not for them to discuss what a safe distance between ships and aircraft should be and what frequencies pilots should use to communicate when approaching each other.
Moreover, NATO always insists that the Ukrainian issue must be discussed, which is nonsense, given the role of the OSCE and given that there is the Normandy Format, which brings together two NATO member states. So, we are ready for substantive work, but...
By the way, last year saw two NRC meeting, which discussed military security and a very serious problem, which is the fate of the INF Treaty, because it affects the security of NRC members. We assume that such discussions should move us along the right path, otherwise the dialogue will be impaired.
Q.: Do you see as real a possibility of redeploying nuclear weapons from Germany to Poland? What would Russia's actions be if this plan comes to fruition, keeping in mind that this would be a breach of the Russia-NATO Founding Act?
A.: We are following this very closely. The Russia-NATO Founding Act nails down the rigid obligation of the alliance's member states not to change the configuration and the geography of deploying nuclear weapons and relevant infrastructure. Of course, we would like to hope that this obligations will be observed. But actions of the U.S. administration, to put it mildly, somewhat broaden the understanding of the boundaries of the possible. So, there is no certainty. If we see any progress towards making concrete plans or relevant preparations, we will take every precaution, including military, necessary to ensure security.
Q.: So, Russia will quit the Founding Act?
A.: I think that would be a [death] sentence on this document.
Q.: It turns out that the Conventional Armed Forces in Europe (CFE) Treaty is ruined. There is no more the Intermediate-Range Nuclear Forces (INF) Treaty. The U.S. withdrew from the Open Skies Treaty. The New START Treaty is on its last legs. And now the Founding Act. Does this mean chaos in the arms control sphere? How should we overcome it?
A.: Yes, there is chaos. And chaos is where the United States is heading. If we talk about pillars on which the European military security system was based, just look at the American policy of the past few years. The U.S. disrupted the ratification of the Adapted CFE Treaty, the cornerstone of European security as its preamble goes. Then they quit the INF Treaty - after all it seemed that no one would lift a hand against it. Now spontaneous withdrawal from the Treaty on Open Skies. And if what you are talking about - the redeployment of tactical nuclear weapons - takes place, this might be the coup de grace.
So far, there are no detailed agreements to this end but hints that such scenarios may take place. Keeping in mind the shameless way the U.S. acts disregarding anyone interests, such a possibility cannot be ruled out.
Q.: Could Russia in this case redeploy tactical nuclear weapons closer to NATO borders?
A.: All necessary measures will be taken. As we have said before, there will be no deployment on our part if there are no U.S. intermediate- and shorter-range missiles in Europe. As soon as those missiles emerge, we will deploy ours. The countries that are practically fighting for any form of U.S. military presence and the status of 'frontline' states, I mean Poland and the Baltic states, should be aware of the cost of this choice for their own security and their allies.
Q.: Is Russia engaged in any discussions with NATO? Does it seek explanations over the reinforcement of the missile defense component in Poland?
A.: We had discussions previously. There even were initiatives to create joint missile defense. But what can be discussed here today? The plans are being implemented, and a missile base armed with MK-41 launchers is due to open in the territory of Poland in 2021. That will break the balance even further and will create a direct threat to the interests of the Russian Federation, especially as the Americans tested ground-launched cruise missiles just two weeks after their withdrawal from the INF Treaty.
The problem is just getting more acute. The system is already ready in Romania: MK-41 launchers have been installed there, these are universal launchers that could fire various types of missiles. The same MK-41 launchers are installed on board U.S. ships armed with the Aegis Ballistic Missile Defense System. They can also load Tomahawks, i.e. intermediate-range missiles. Naturally, all those factors are taken into account in the defense planning process.
Q.: How would you assess the implementation of the initiative to use transponders for military flights over the Baltic Sea?
A.: There has been one ray of light in the gloomy Russian-NATO relationship: it appeared when a Baltic Sea project team for air safety was set up under the NATO-Russia Council's auspices, involving Russia, NATO representatives, Finland, Sweden, and the Baltic countries. This resulted in an agreement on an international off-airway route between St. Petersburg and Kaliningrad, which was certified by all countries in the area of responsibility of which it lies. It has become an official route recognized by Eurocontrol. The use of this route by Russian government aircraft, primarily military ones, makes it possible to send out flight plans beforehand and use transponders.
Civil air traffic controllers can see aircraft that fly this route on their radars. This is a significant improvement of the situation in term of eradicating risks for commercial aircraft, as air traffic is very dense in this region. This shows clearly that, when experts are engaged and parties take a depoliticized approach, some tangible results can be attained, no matter how modest they may be. At the same time, we have questions for NATO member states. Even when our planes follow this route with their transponders on, NATO fighters keep intercepting them.
Q.: Is the idea of dispatching a UN mission to ensure the security of OSCE mission in Ukraine still relevant? In general, how would you assess the activity of the OSCE mission?
A.: No, this idea has stopped being relevant. It was put forward by Petro Poroshenko when he was Ukrainian president. We agreed because in contrast to the UN the OSCE does not have a 'weapon arm.' All of its missions are unarmed. This is a monitoring and assistance mission. At one point, Poroshenko said that the security of the mission's officers should be ensured. No one threatens them today. We support the activity of the [OSCE] mission and believe that it is exercising a very important function. But speaking of the essence of the problem, this is not about the mission and the way it operates but about Kyiv's unwillingness to make progress on the path of settlement and fulfillment of the Minsk Agreements in the political and security spheres.
Q.: Could you confirm that the visit of French President Emmanuel Macron to Russia is being prepared? When could it take place?
A.: Indeed, an agreement on Macron's visit to Russia has been reached in principle. The time has yet to be set. It can be assumed that, out of international affairs, the entire range of strategic stability issues, the arms control situation in the broadest sense of this word, European security and, of course, the situation in every existing hotbed, such as Libya and Syria, will be discussed. The relevance of these issues increases in the context of the recent events. The issues have become part of the fabric of the Russian-French dialogue at the highest and other levels.
Q.: There is an impression that despite all the positive moments, Russian-Turkish relations are an alliance of convenience rather than strategic partnership, primarily keeping in mind differences on the Middle East. Do you allow for a situation in which for example Ankara's actions in Libya or Syria would cause a black cat cross the path of bilateral relations?
A.: I'd rather not view Russia-Turkey relations outside the general context of international relations, which aren't in very good shape. As collective principles weaken, politics starts shifting to alliances of convenience.
There's a history of Russian-Turkish relations. It's well known and has its fair share of 'black cats.' On the other hand, much headway has been made in building a strategic partnership thanks to the efforts of the two presidents, [Vladimir] Putin and [Recep Tayyip] Erdogan. If you take a look at the content of bilateral relations, which embraces the economy, energy and humanitarian contacts, you can hardly miss the fact that they rest upon a solid foundation. Obviously, there are elements of positive interdependence. Such projects as, for instance, TurkStream and the construction of the Akkuyu nuclear power plant influence the very nature of relations.
Yes, we acknowledge that Russia and Turkey may pursue different interests, in particular, in the Middle East. But don't forget that it was Russia and Turkey that managed to create, with the assistance of Iran, the Astana format, which is currently laying down the key principles of the Syrian settlement process. Despite all nuances of the national stances, difficulties and different viewpoints, we maintain the strategic unity in the issue of Syria's future and believe that this should be a single, indivisible nation within the current borders and that the Syrians themselves should decide their future. This is very important. We manage to come to an understanding despite any disagreements.
If we speak about the fabric of the political dialogue, it's hard for me to tell what other countries have such close, practically daily contacts with us. These are not just unparalleled in terms of the intensity of contacts between the leaders, but also contacts 'on the ground:' our servicemen jointly run patrol missions in Idlib and near the Syrian-Turkish border. We've come a long way and have achieved much, and although we have disagreements, we're absolutely open to discussing them.
Q.: What actions will Russia take if the U.S. buys Russia's S-400 systems from Turkey?
A.: This is impossible. Any standard contract includes a clause on the end user. Such systems are never sold if there is an understanding that they might be resold.
Q.: Could you please comment on the decision of the Turkish authorities to change the status of Hagia Sophia in Istanbul?
A.: We regret it. There are just a few symbols of the modern world with the history running through centuries and the influence they had on our evolution. They all require the most careful and respectful attitude.
The cathedral is in Turkey, but without any exaggeration it is a common heritage. It is the historical, spiritual, interreligious and cultural significance that made Hagia Sophia a world heritage site protected by UNESCO.
We hope that all obligations regarding the status of this cathedral, its administration, preservation and access to it will be fully met.