29 Apr 2020
Russian Energy Minister Alexander Novak: It makes sense to move to targeting of market shares that OPEC+ countries hold after oil market recovers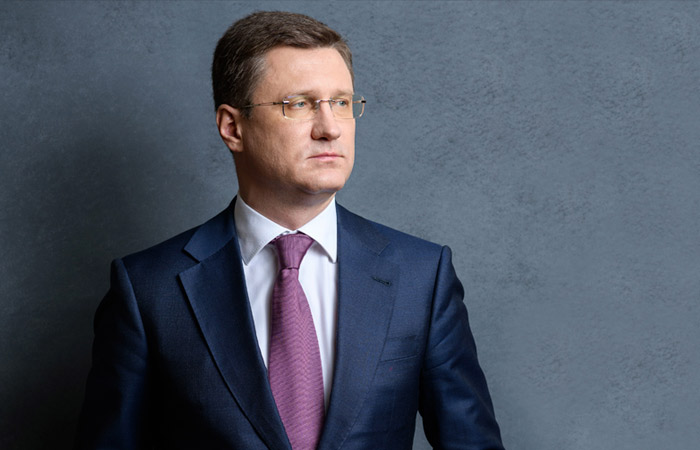 Alexander Novak
Photo courtesy of the Russian Energy Ministry press office
The world oil market is going through unprecedented trials. The situation was unique even before the negative price to which WTI plummeted, thanks to which the small town of Cushing gained global recognition. The coronavirus brought oil producers back to the table only a month after the OPEC+ deal had collapsed and opinion leaders Russia and Saudi Arabia had to welcome a third giant, the United States, into their fold.
But even now that the oil producing nations have agreed to cut output, nobody is venturing to forecast how events will unfold for the market going forward, says Russian Energy Minister Alexander Novak, who has been directly involved in all the most dramatic events concerning the oil industry in recent years. In an interview with Interfax, Novak sets down his own vision of the new oil deal and outlook for global coordination, including with the U.S.; of Russia's commitments in the OPEC+ framework; and the situation in the Russian fuel and energy complex amid signs of crisis in the global economy.
Question: There was much discussion ahead of the signing of the new OPEC+ deal about whether oil output should be reduced manually or by market methods. Why was the manual control strategy preferred to the market - after all there had been no written agreements on the part of the G20? Also, how will it be possible to regulate the market together with those countries if they start to raise output when prices rise?
Answer: We were indeed considering two scenarios. The first scenario, as you say, was manual control, meaning when countries agree among themselves on coordinated action. The second scenario is the market one, where when prices drop supply decreases automatically according to the laws of the market.
We decided that the world has never been in conditions of such a significant decrease in demand, so right now it is more effective and right for the market to act in coordination, in order to increase certainty and the predictability of the market.
If we go with the option of a simple market reduction in such conditions, we can face a chaotic reaction. We already saw this, by the way, a few days ago by the prices for WTI futures for May. Then, when this paper stopped trading on the market, the very nervous market reaction already moved on to June futures.
But, as we see today, in part thanks to coordinated decisions, the situation has more or less balanced out, although of course the next month will be volatile.
Q.: Regarding the involvement of G20 countries in the production cutbacks. When OPEC+ was reaching the decision to cut output, potential reductions of 5 million bpd by the G20 countries were mentioned, but when the decision had already been reached it was 3.7 million bpd. Why did the figures change? And what volumes are your expectations that they will cut output by 15-20 million board of directors in May based on?
A.: We need to look at the situation more broadly and not just at the countries that joined OPEC+ or those that are part of the G20. There are many countries in the world that produce oil. Overall global production in the world before the pandemic was about 100 million bpd.
Therefore, in any case, the share that OPEC+ countries now hold is only about 47 million barrels, meaning 46% of the total market supply. Remaining countries, which produce 53-54% of the oil in the world, also found themselves in conditions of a significant price drop, and this category includes G20 countries, as well as countries that are not in the G20
And the economic situation with such low prices in any case will lead to a decrease in production there. We're planning to monitor the situation, because this is still a common contribution to the reduction of supply amid reduced demand. After all, when we talk about the decrease in demand, we are counting the global decrease by 20 million-30 million barrels per day, and not just demand for oil from OPEC+ countries.
And if countries that account for 46% of production took on a reduction of 10 million bpd, then I'm confident that among the producers of 53% of oil there will also be a reduction of up to 10 million bpd by market means, just because of the economic situation and drop in prices.
Q.: Since these countries are cutting output organically, do you have any tacit understandings or mechanisms that guarantee they will not ramp up output if prices rise?
A.: No, there are no such understandings. We work on the basis that there will be the aftermath of ordinary market fluctuations. Investment activity is falling, this is all cyclical and fairly long-term. If you don't invest today that does not mean you can restore production tomorrow as soon as prices rise.
These are fairly lengthy periods so I think that production will not immediately be restored in many countries. It will all depend of course on the price level that emerges after the market has balanced. That level might not be the same as before, but again it will take some projects that were low-margin off the market.
Q.: And what might the oil price be in 2020?
A.: You'll not find people willing to make forecasts. If you can tell me when the spread of the virus can be stopped and what the demand will be then I'll tell you what the price of oil might be.
Q.: The second quarter price?
A.: Let's not fantasize.
Q.: The U.S. could restore production quite quickly. Even when they said they could reduce it by 300,000 bpd on Mexico's behalf they said they had already actually cut back by that amount. Are we making any attempt to negotiate with the Americans so they will not ramp up output when prices recover?
A.: In the U.S. they are producing around 12 million bpd, and around 7 million bpd of that is shale. Nobody else particularly produces shale, so work it out, this is around 7% of world output. They really do have the technologies that give them a quicker return from investment to get oil production back on track. But this does not mean there will be a quick recovery in all other countries. We need to look at the situation in the broader context and not just at one country.
Q.: The regulators in Texas say they are talking to you about possibly legislating for a drop in output. Are you discussing any other means to get them to cut output with the premise that in the event production rises OPEC+ might consider further action to balance the market?
A.: We're in good contact with the directors of the Texas Railroad Commission. We believe that the U.S. could not just verbally say that they are reducing production or will reduce production, but that they should formalize this given that there are such powers at the state level.
Our colleagues are now actively considering various mechanisms and possibilities. I think that this would be a good signal to the market, precisely in terms of increasing certainty in the future.
We understand that such instruments have not been used for a long time, they existed in the last century. We understand that legislation does not allow the U.S. to make such decisions at the federal level, but if certain regulators at the state level have such powers, we believe it would be good for the market in the current difficult situation to give their position more clearly by formalizing their reductions.
Q.: Are you only in contact with Texas and not with other states, for example Oklahoma?
A.: We're in contact with the U.S. energy secretary and the Texas regulator. But they're also working with other states.
Q.: Will the G20 monitoring committee have any additional powers to oversee the agreement? Has there been a decision what countries might join it and how often it might meet?
A.: A focus group that will be formed by G20 countries will monitor the current state of the market along the lines of the technical and ministerial monitoring committees of OPEC+, but only countries that are members of the G20 will be able to join it. According to the G20 countries' communique based on the results of the April 10 meeting, the participants are committing to take all necessary and immediate measures to ensure the stability of the energy market.
Q.: Why was the October 2018 level chosen as the baseline for the OPEC+ deal? Experts are saying the market needs to balance relative to the first quarter, in which case the reduction would be 7.5 million bpd not 9.7 million?
A.: This was decided in discussions during the OPEC+ ministers meeting, that the calculation baseline will be the level of production in October 2018, because then there were clear data and this indicator was accepted by everyone as the best.
Q.: Why was the level from which Russia and Saudi Arabia will cut back raised from 10.5 million to 11 million bpd?
A.: This is also a subject of the compromise, taking into account the potential that both Russia and Saudi Arabia have to increase production. This is why we agreed on this in the discussions.
Q.: Is another OPEC+ meeting on May 10 really being discussed?
A.: We have not yet received proposals regarding this.
Q.: Gazprom Neft CEO Alexander Dyukov proposed earlier to move away from monitoring the level of commercial stockpiles for assessing the effectiveness of the OPEC+ deal and switch to monitoring the market share that OPEC+ countries hold. What do you think about that proposal?
A.: We've repeatedly discussed this proposal, even voiced it at an OPEC+ ministerial meeting. The market will stabilize when demand recovers. In principle, we will need to monitor indicators such as stockpiles, the balance of demand and supply, then it also makes sense to move to targeting of the market shares that OPEC+ countries hold taking into account global growth of demand.
Q.: Are we correct in thinking Russian companies will have to lower output 18% in May compared with April?
A.: We're taking February 2020 as the baseline for our companies, and from it we are counting the reduction to 8.5 million barrels per day in accordance with how this is set for Russia under the agreement. The reduction there is about 2 million barrels or 19% from the level of February 2020.
Q.: Many companies have probably already sold their May volumes so perhaps we already have an understanding of the level of compliance with the deal in May?
A.: The level of compliance with the deal will be 100%, all companies have assumed obligations to fulfill the agreements.
Q.: That is, we'll be able to lower output as soon as May 1, although there's not much time left?
A.: This figure is the monthly average, so on average for the month these figures will be reached.
Q.: How are quotas distributed among companies? Are PSA operators and small companies included?
A.: Yes, we distributed evenly among all companies that produce in Russia. This is one of the principles of the distribution of quotas that we discussed and that we believe is right - everyone should carry the same burden, make the same contribution in order to ensure the balancing of the market and emergence from the crisis situation as soon as possible.
Q.: There is an opinion that the exclusion of condensate from the calculations - and it accounts for a different share in the output of different producers – makes the even distribution of quotas financially discriminatory and could cause discord among producers. Have companies raised this issue?
A.: No, this issue was not raised when discussing our participation in the deal. We discussed it back at the end of last year, when we made the decision to exclude gas condensate. But this was, among other things, also the position of our companies, so we believe that this is an absolutely reasonable decision, because gas condensate production is uneven, like a separate indicator of a separate sector.
Q.: And was there any discord among companies when quotas were distributed?
A.: No. Everyone agreed to count according to the same principle as at the end of last year.
Q.: How much might exports fall in May? Plans to export via ports in the first 10 days of May suggest there could be a 40% drop.
A.: I don't think that our oil exports will drop by 40%. These are preliminary statistics that don't fully take into account utilization of oil refineries, and exports via pipelines, as far as we expect, will remain more stable. Much will depend on the situation on the domestic market, on what the situation will be in oil refining. Maybe they'll refine more, there'll be more oil product exports. Or on the contrary, more oil exports. These are commercial matters. We need to proceed foremost from the reduction of production, and where this oil goes, companies will look at the situation based on the market environment.
Q.: What is the current oil production and export target for 2020?
A.: Based on the figures stipulated in the agreement to the end of 2020, what we produced in of the first quarter and what we expect in April, given 100% compliance with obligations the production level could amount to about 480 million-500 million tonnes.
Q.: With condensate?
A.: This is with condensate. We're talking about liquid hydrocarbons so as to compare with the total amount for 2019, which was 561.2 million tonnes.
Q.: Which wells and fields will be the first to shut down?
A.: Companies are doing this work based on the parameters stipulated by the deal. We'll be issuing no directives on the Energy Ministry's part as to which specific fields should be subject to restrictions. First and foremost this is the prerogative of the companies' technicians, it is for them to decide whether to lower output at mature fields and maintain investment in new ones or vice versa.
Q.: Will any companies need support and if so, which ones?
A.: Our companies have not applied for monetary support measures, there are proposals on their part to adjust a number of regulations, documentation related to the development of technological schemes, as they provide for company's production and investment obligations, so there are more and more requests of a technical nature.
Q.: Is any support being planned for service companies that will be affected by the cut in output?
A.: The situation with oilfield services companies is under special monitoring, and most of the principal ones are included in the list of systemically important organizations. They will be monitored, their financial and economic situation will be assessed, with state support measures envisaged for systemically important companies to be extended if necessary.
Q.: The national currency's devaluation has been helping to balance the financial results of oil companies during the period of low oil prices. Have there been any proposals to give this process a nudge to help the oil companies?
A.: Not yet. So far, no such decisions have been made.
Q.: Deferring dividend payments has been suggested as a means of support for government-related companies affected by the coronavirus pandemic. Does this just apply to state companies or might it extend to companies in general?
A.: I think that in each case the issue will be considered on an individual basis by the government for large companies, based on the financial and economic situation.
Q.: Have there been any decisions on particular companies yet?
A.: Not yet. So far, no such decisions have been made.
Q.: Do you and your fellow minsters form other countries not think it is time to agree to balance the gas market too? Gas costs next to nothing – transport costs are all that remains in the price.
A.: The gas market is becoming more and more global, and Russia continues to play a key role there as the biggest exporter. We are collaborating in this market via the Gas Exporting Countries Eastern Economic Forum.
Q.: Transneft looks like it will have less cargo due to the OPEC+ deal. Is a deferral of compensation for the Druzhba force-majeure being discussed?
A.: No, we don't know anything about such proposals.
Q.: Belarus has been taking its time over oil purchases. Our companies might already have delegated volumes but now they will be lowering output. What volume of supplies are we talking about? Will we be able to grant Belarus' requests?
A.: As you know, we have a signed indicative schedule with Belarus for the oil volumes that can be supplied duty-free in the course of the year. It is up to 24 million tonnes, an average of 2 million tonnes per month. In April, 2 million tonnes were not taken, since our Belarusian partners made the decision on signing contracts with our companies relatively late and some volumes were, as you said, distributed among other destinations. As for May, the current request of Belarusian oil refineries amounts to 1.13 million tonnes. However, since the export schedule allows, if our Belarusian partners have a need for additional oil refining, Russian companies are prepared to cover this in the full amount.
Q.: Belarus wants to review the price of gas. Do you think this is possible?
A.: We are proceeding from the agreements reached on gas prices for Belarusian consumers through the end of 2020. And this price is fixed in the relevant protocol between the Belarusian government and Gazprom, as well as in contracts between business entities, no revision is also expected there. Our companies are interacting in accordance with the signed documents - a price of $127 per thousand cubic meters.
Q.: The budget pledges spending on state facilities related to several fuel and energy projects, for example those being carried out by Novatek. Might that spending by adjusted in the current situation, and some construction be delayed?
A.: Thus far, no one has made such requests. Each company independently determines its policies and strategy, and among other things, takes into account measures aimed at curbing the coronavirus. We are proceeding from the assumption that all projects should continue being implemented as scheduled.