14 Apr 2020
German Ambassador to Russia Geza Andreas von Geyr: Lesson of fight against coronavirus is need to jointly approach global problems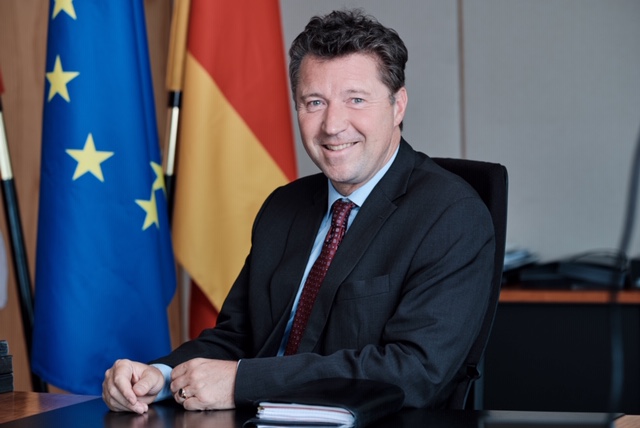 German Ambassador to Russia Geza Andreas von Geyr


Photo: Deutsche Botschaft Moskau / Nikita Markov
German Ambassador to Russia Geza Andreas von Geyr has given an exclusive interview to Interfax special correspondent Renat Abdullin in which he speaks about the prospects of combating the coronavirus, conflicts in Ukraine and the Middle East, Berlin's position on the Nord Stream 2 project and the future of the arms control process.
Question: The world is now preoccupied with the coronavirus pandemic. What is the situation in Germany? Do German and Russian authorities and experts interact in countering the pandemic and elaborating effective countermeasures?
Answer: Germany has recorded slower rates of coronavirus infection over the past several days. We're treating this as a reason for cautious optimism, but at the same time, it remains very important to continue observing the rules and restrictions imposed over the need to counter Covid-19.
The situation is developing in Germany slightly differently than in Russia. The mass spread of the infection had begun in Germany earlier. Currently, we are using instruments regarding which very active work had been done for a long time to convince the population of their necessity.
As for interaction between authorities and experts in this sphere, we of course need an exchange within the framework of international formats, primarily at the level of the WHO and G20. Both our countries are participating in such an exchange. Specific bilateral cooperation between Germany and Russia could take place within the framework of our scientific contacts, where we have a number of very close partner projects.
But in any case multilateral cooperation is of significant importance: as this challenge is global, a solution to it can only be global.
Q.: I believe that one of the main problems that you as an ambassador face is the return of German citizens fr om Russia to home after the international communication was suspended. How many German citizens now stay in Russia and how many of them are willing to leave? Do they stay mainly in Moscow and St. Petersburg or in other regions as well? How and when is it expected to organize their evacuation? Has cooperation with Russian authorities on this issue been established?
A.: German citizens who live in Russia are not obliged to register with the embassy. But we're using our so-called system Elefand [Electronic Register of Germans in Foreign Countries] for our fellow citizens, who wish to register and who found themselves in Russia at the moment the pandemic began, including those who are now expressing their desire to come home. Currently, the overall list includes about 2,500 people.
Those wishing to leave are mainly tourists or people who came to Russia for a short period of time. The majority of them are in Moscow or St. Petersburg, but there are German citizens in other Russian regions, as well.
At the same time, many Germans have already used the opportunity to leave Russia on regular flights in the past few weeks before restrictions on international passenger traffic were imposed. However, some of them were unable to do so, and we are trying to help them, we do so as in cooperation with our European partners, too. For example, many citizens of EU member states were able to leave Russia on special flights organized by France and Austria, which is a good example of European solidarity.
Currently, no special repatriation flight is organized between Germany and Russia; however, we are maintaining contacts with Russian authorities, the Russian Foreign Ministry in Moscow on this issue. Our colleagues in Berlin also maintain permanent contacts with the Russian embassy. I'm sure that if things get to organizing direct flights between Russia and Germany, our cooperation will prove successful.
Q.: As far as I know, EU authorities made a decision to extend visas for Russians who for a number of reasons remain in Europe. Even if their visas expired, they may extend them for 90 days. It seems to me that this is a positive humanitarian move on behalf of the EU. Are these problems also solved, if German citizens remain in Russia and their visas expired?
A.: As the Russian side told us, the authorities created a mechanism that provides for a rather simple procedure for extending visas for people who remain in Russia and whose visas are expiring.
I assume that this mechanism works well. Apparently, there are quite a lot of European citizens who, for objective reasons, were unable to leave Russia in due time.
Q.: Has Berlin been providing any humanitarian aid to Russia in countering the pandemic? Do doctors and experts cooperate on developing measures to counter Covid-19?
A.: This pandemic is a stress test for healthcare systems all over the world. This applies equally to Germany, European countries, and Russia. The exchange of experience is a key element to best manage this crisis. I am certain that there is such an exchange at the level of Russian and German medical specialists, because thus, we all can learn how to facilitate overcoming the severe period of the pandemic more efficiently.
As to a concrete request to Germany from Russia for humanitarian aid, I'm not aware of it.
The German government is up to now providing medical assistance primarily to its neighbors who are suffering from the pandemic the most, including Italy, France, and the United Kingdom.
On the other hand, Germany has provided significant assistance to Russia in repatriating Russian citizens. For example, a group of Russian tourists was able to return home from the Caribbean region through Germany. After they landed in Frankfurt-am-Main, they were issued special transit permits which allowed them to get to Berlin and fly home from there, despite the fact that they did not have visas.
Q.: How has the pandemic influenced the economy of Germany and the European Union? Ursula von der Leyen has recently spoken about the new Marshall Plan for Europe in order to overcome other crisis. Are the things that bad? Will the EU survive this crisis?
A.: This crisis is a challenge not only for healthcare systems all over the world, but also for national economies, like in Germany, European Countries or in Russia, and for the global economy, as well.
The German government has adopted an unprecedented package of measures of economic support. There has been nothing comparable in Germany's history.
Moreover, the finance ministers of the EU member states adopted a few days ago a large-scale package amounting to more than 500 billion euro that provides for various instruments of support at the levels of states and enterprises, and at the individual level.
Additionally, the possibility of stimulating large-scale investments for the post-crisis period is being considered. All this together is a very ambitious package for economic stabilization, which was developed in a short period of time. At the same time, it is a strong and bright symbol of European solidarity. Thanks to this solidarity, the European Union should be capable of coming out of this crisis even stronger.
Q.: The Spanish flu pandemic claimed 20 million lives, twice as more as WW I. Apparently, Europe and the world in general did not learn the lesson then either in from the medical or from global perspective. Do you think the coronavirus pandemic will teach people something?
A.: I believe that we all will stockpile certain experiences in the wake of this crisis. This will contribute to together form the world of tomorrow and solve issues that are crucial for the planet. These are the issues, like of climate, healthcare, and natural resources. This seems to be particularly important.
Globalization opens great opportunities for all parts of our planet, but at the same time it bears certain risks. The fact, that problems pass borders of countries and continents unhampered, we are witnessing during this pandemic. That is why it is key to approach these challenges jointly, and this requires achieving the utmost trust and transparency, ensuring the provision of reliable statistical data – especially at the initial stage of a crisis – and show readiness for joint actions. I think that the words of a German politician could be applied to the coronavirus pandemic: this is 'a rendezvous with globalization.'
Q.: To what extent is Berlin concerned about the current situation on the energy market wh ere prices have dropped and the demand is falling? Does Germany advocate the stabilization of the market and prices? And one more question. How do you perceive prospects of the Nord Stream 2 project, the construction of which was stopped or, it would be right to say, delayed because of the U.S. exterritorial sanctions?
A.: We follow discussions of energy producing countries on oil production volumes and oil prices with great interest. We're most interested in stability on the energy market.
As for Nord Stream 2, I continue to assume that this project will be implemented, as it's designed for a long-term period. The companies participating in its implementation will evaluate how the current crisis will affect it.
For us, the Nord Stream 2 project is an element of our diversified sources of energy, of our energy policy, and thus, it's important for the energy security of Germany and other European countries.
Germany rejects exterritorial sanctions, including those imposed by the United States in relation to the Nord Stream 2 project. As for this issue, Germany advocates a point of view that differs from that of the U.S.
Q.: A possibility of easing sanctions when the world is countering the coronavirus pandemic has been widely disused. What do you think about it? Is it possible that sanctions will be eased to a certain extent?
A.: The sanctions that the EU announced in relation to Russia were formulated quite clearly. The terms of their cancellation are well known and clear, as well. The lifting of sanctions is directly linked to the implementation of the Minsk Agreements, and I expect no changes amid the current pandemic.
I would like to note that despite the sanctions imposed, the EU and Russia continue to trade actively in specific fields. For example, German-Russian trade, which, by the way, includes pharmaceutical products and medical goods, amounted to $53 billion in 2019. This is a 10% decrease compared to 2018, which is explained primarily by lower costs for resources.
Q.: Other topical international issues, for example the situation in Ukraine, are withdrawing into the shadows. Have things stopped there or is there any movement? Is there any information about a possibility of holding new meetings in the Normandy Format at the level of foreign ministers or heads of state? How does Berlin treat Moscow's position that rather clearly and harshly said that any net meeting in the Normandy Format may take place only after considerable progress in the implementation process is reached?
A.: Of course, you are right. Before a summit or a meeting at the level of foreign ministers, the situation would have to undergo certain changes. I must say that over the weeks and months that have passed since the Paris meeting, the process has halted slightly. Nevertheless, active negotiations are underway, and Germany and France are not weakening their activity for a second and are continuing to make proposals on how progress could be made, as far as the details are concerned. These may be small issues, but they allow at least small progress to be made.
I would like to touch on another aspect in the current situation. This is the issue of denying access to a number of areas in eastern Ukraine for the OSCE Special Monitoring Mission, allegedly because of the spread of coronavirus. I hope that Russia will use its influence and that local authorities in eastern Ukraine will also take measures to grant access to officers of the OSCE Special Monitoring Mission, in order to secure a high level of transparency.
Q.: I am sorry for being persistent, but I would like to ask you once again. I am right to understand that currently no real dates of holding a Normandy meeting in any format are in sight?
A.: Regretfully, not yet
Q.: Two more important international topics are the situation in Syria's Idlib and Libya. It seems that there is certain pause in hostilities. What is Germany's attitude to prospects of the development of the situation in these two trouble spots? Is Germany satisfied with interaction with Russia in settling them?
A.: You are right about the situation in Libya. The German government is engaged in settling this conflict within the framework of the Berlin process. Regretfully, hostilities near Tripoli are continuing. A ceasefire has so far failed to be implemented. That's why it's still necessary for all who are involved to exert their influence on the conflicting sides in order to stabilize the situation. This is of utmost importance in respect to the humanitarian situation in which the people of Libya find themselves keeping in mind the pandemic, which is about to affect this entire region as well.
A certain calm period can be seen in Idlib, but this is not the end of the war, as in certain districts, hostilities have continued. It is very important to ensure access to humanitarian aid for the population there, especially amid the possible pandemic. They live in an especially fragile situation. This also applies to other Syrian regions wh ere, as a result of the deliberate shelling of hospitals, medical aid cannot be provided to any satisfactory extent.
One more important aspect related to Syria: Just a few days ago, the OPCW published a report on chemical attacks in March 2017. As part of this report, it was unambiguously shown for the first time what side was responsible for using chemical weapons. In this case, it's the Syrian army. It is crucial that the culprits are held liable for such horrendous crimes they committed in using chemical agents.
Q.: What is Berlin's position on the future arms control and strategic stability process after the collapse of the INF Treaty and vague prospects of the New START Treaty? In your opinion, what format is the most preferable for the further dialogue on these fundamental problems? Between Russia and the United States? Or in a broader international format, for example Washington wants to engage China, while Moscow wants to engage the United Kingdom and France? From Germany's point of view, what is the most preferable format allowing to reach an agreement as soon as possible? Because uncertainty in this area is potentially very dangerous, including for security of Europe and Germany?
A.: The German government and governments of other countries are very much disappointed by the situation that is coming to shape in the arms control sphere after the INF Treaty was first breached and later ruptured. It is important that we can continue to rely on arms control mechanisms that are based on concrete international treaties and agreements.
As for the New START Treaty, we hope - and this corresponds with our strategic interests - that this agreement will be extended. This issue is about preserving the mechanisms of control and verification over the measures provided by this agreement.
If we look at the development of the situation in the past years and decades, apparently, China has considerably expanded its potential in this sphere. This is why we hope for and comprehensively advocate for engaging China in arms control mechanisms. This requires negotiations, even if this process is difficult and demands great patience.
I would also like to touch on one more aspect, which is new arms technologies. As for their classification and applicability, we also need clarity and transparency. There should be no blank spaces in the sphere of arms control.
Q.: The 75th anniversary of the WW II victory is approaching. What is Germany's attitude to this date? May a high-ranking delegation visit Moscow on May 9?
A.: We know how this anniversary is important to Russia. We in Germany treat this event with greatest respect, too. For example, we had scheduled a solemn state ceremony dedicated to the 75th anniversary of the end of WW II for May 8. Regretfully, it had to be canceled because of the coronavirus pandemic.
We will carefully follow the respective situation in Russia and discussions on the format of events in Moscow on May 9. As soon as there will be clarity, we will be able to understand in what form Germany may participate in it.
I would like to stress that for us this commemoration gains additional significance, too, as a symbol for the reconciliation of the people of the two countries. This reconciliation we value and esteem highly.
Q.: As far as we know, military archives are expected to be transferred as part of the celebrations. Could you please tell us more details?
A.: This joint project is very important for us, because it affects the fates of prisoners of war from both countries.
In this regard, an agreement was reached on the transfer of digital copies of archive materials dealing directly with the fates of prisoners of war. A large number of historians from both countries and different organizations are involved. Currently, we are working on transferring the first package of digital data which includes materials on 20,000 prisoners of war. In the future, the project will cover about 500,000 copies of archival data. We aspire to organize the transfer of the first package before the upcoming solemn memorial date.
We are currently considering together with our Russian colleagues how to organize this event in an atmosphere that is appropriate to the date. This project we consider an important political step, a political symbol, but it has a deep sense at the level of interpersonal relations as well, because, as a result of this work, many families will learn of the fates of their relatives
Q.: Is there any progress in the investigation of the murder of Zelimkhan Khangoshvili in Berlin? Is there contact with the Russian side in this area?
A.: The Federal Prosecutor General of Germany is conducting the investigation, so it is being supervised by the justice agencies. I hope that, as part of the investigation of this murder case, a satisfactory cooperation with the competent Russian authorities has been established.