31 Aug 2021
Chinese Ambassador to Russia Zhang Hanhui: China, Russia ready to step up efforts to achieve Afghanistan settlement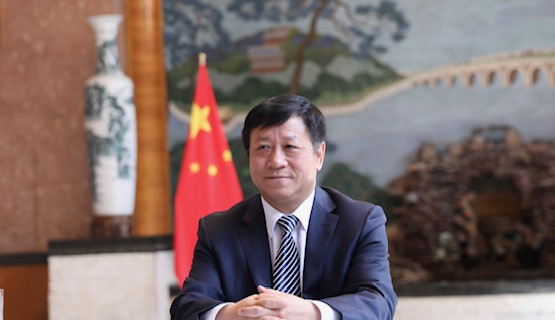 Zhang Hanhui
Photo: Press service of the Embassy of China in Moscow
Chinese Ambassador to Russia Zhang Hanhui has given an interview to Interfax in which he speaks about the situation in Afghanistan and Chinese-Russian cooperation on this issue.
Question: Do China and Russia intend to coordinate joint efforts in connection with the radical change of the situation in Afghanistan and the de-facto rise to power of Taliban (banned in Russia)? If so, then how? Will SCO mechanisms among others be employed?
Answer: China, which is Afghanistan's biggest neighbor, continuously respects the country's sovereignty and territorial integrity and adheres to a policy of non-interference in Afghanistan's domestic affairs and friendship with the whole people of Afghanistan.
Based on the principle of full respect for the national sovereignty of Afghanistan and the wishes of various groups in the country, China has long maintained contacts with the Afghan Taliban and other forces and has played a constructive role in facilitating a political solution to the Afghanistan problem. Over the past few months, Wang Yi, a member of the State Council and Foreign Minister, presided over the second meeting of foreign ministers in the China – Central Asia format and the fourth trilateral dialogue of the foreign ministers of China, Afghanistan and Pakistan.
He also took part in a meeting of foreign ministers in the format of the SCO-Afghanistan Contact Group and other events and met with a delegation of the Taliban political office led by its leader Abdul Ghani Baradar in China's Tianjin. He maintained close contacts and interaction with Russia, Pakistan, the United States, Central Asian countries, the European Union, Iran, Turkey and other important interested parties related to the Afghan issue and put forth China's plan to promote peace and stability in Afghanistan in the near future.
China and Russia have been playing an important and constructive role in promoting peace and reconciliation in Afghanistan. They have been maintaining close contacts and coordinating efforts to help resolve the Afghanistan issue.
Chinese Foreign Minister Wang Yi and Russian Foreign Minister Sergei Lavrov once again confirmed in their recent conversation that they will strengthen strategic interaction depending on how the situation in Afghanistan unfolds and will coordinate their positions if need be.
The permanent representatives of China and Russia in the UN also attended an urgent Un Security Council session on the Afghanistan problem.
China, together with Russia, will encourage the Taliban to pursue a moderate and well-balanced religious policy, to work with all parties in order to form an open and inclusive political structure, to pursue a peaceful and friendly foreign policy, and, above all, to live in harmony with neighbors in order to ensure the country's restoration and development.
China and Russia will encourage the Taliban to take on responsibility, to truly guarantee the security of Chinese and Russian personnel, their agencies and enterprises, and to protect lawful and fair interests of China and Russia in Afghanistan.
Afghanistan has always been an important item on the security agenda of the Shanghai Cooperation Organization. Back in 2005, the SCO established the SCO-Afghanistan contact group in order to constructively interact with all sides of the Afghanistan conflict in order to unite regional effort for the peaceful Afghanistan settlement.
The situation in Afghanistan has changed radically of late, and the SCO needs to secure a consensus to help the situation in Afghanistan develop in line with the shared interests of Afghanistan and countries of the region. China believes that the SCO ought to make full use of the functions and role of the Regional Anti-Terrorist Structure in order to avert a revival of terrorist forces in Afghanistan, and to work to advance the peace and reconciliation process in Afghanistan conducted and directed by the Afghans themselves and to be actively involved in various conferences of multilateral mechanisms related to Afghanistan in order to contribute to solving practical problems. It is necessary to make full use of the existing mechanisms of economic, trade and cultural cooperation to constantly assist in Afghanistan's peaceful rebuilding.
Q.: Do you think that the recent developments in Afghanistan could lead to the destabilization in the region, to growth in the number of refugees and the infiltration of radical militants into neighboring countries? How do China and Russia intend to act under this scenario?
A.: After the recent serious changes in the Afghanistan situation the leaders and representatives of the Afghan Taliban have said publicly on many occasions and through various channels that the movement wants to solve problems that the people face, to satisfy its wishes and that it is committed to establishing an open and inclusive Islamic government. The Taliban also says that the movement is committed to a policy of equality for all and the eradication of discrimination. They announced the pardoning of former public servants and promised to guarantee the rights and interests of women, such as freedom of speech, employment and education. A Taliban representative also said that the movement would take responsible actions to ensure the security of Afghan people and foreign missions in Afghanistan and that it was ready to establish good relations with all countries and would never allow anyone to use Afghanistan's territory to threaten other countries. China took note of these positive statements and messages.
We also note that some high-ranking officials, including in Russia, as well as many international media outlets are saying that the current actions of the Taliban, after entering Kabul, are justified in every aspect and think that the movement's current approach is good, positive and pragmatic. Though the situation in Afghanistan is not yet totally clear, the Taliban will not repeat past history. Today's Taliban are more sober and rational than during their previous administration.
China expects the Taliban and various groups in Afghanistan to establish an open and inclusive political structure based on dialogue and consultation, to pursue moderate and sustainable domestic and foreign policies and to genuinely protect the security of foreign missions and personnel in Afghanistan.
At the same time, we also expect to see the Afghan Taliban fight resolutely against all sorts of terrorist forces, including the Islamic Movement of Eastern Turkestan, and their true commitment to their pledge not to allow any forces to use Afghanistan's territory to threaten the security of neighboring countries.
China will continue to cooperate with the international community, including Russia, to facilitate the peaceful restoration of Afghanistan and help Afghanistan to achieving lasting peace and stability.
Q.: In your opinion, what is the reason behind such a dramatic unfolding of events in Afghanistan in recent weeks?
A.: The United States is the initiator of the Afghanistan problem. The U.S. started the war in Afghanistan on the pretext of combating terrorism in 2001. However, the number of terrorist organizations in Afghanistan has grown from single figures to over 20 in the past 20 years. More than 100,000 Afghan civilians have been killed or injured with American or allied weapons and more than 10 million people have been displaced.
The war in Afghanistan has cost $60 million per day on average, which has seriously hindered Afghanistan's economic and social development. The U.S. military has also lost more than 2,400 people and their expenditures have topped $2 trillion.
The turmoil in Afghanistan shows that, following years of war and turbulence, the people of Afghanistan crave stability and don't want to sow chaos again. This also shows that the governance model imposed from the outside wasn't supported by the people of Afghanistan, and trying to resolve urgent regional problems through military intervention has no prospects. The situation in Afghanistan is yet another negative teaching aid. The lessons are very painful, and if the United States doesn't properly learn them, it'll experience more suffering.
We noted that U.S. President Joe Biden said in his speech that he would repeat the mistakes, investing too much energy in foreign civil wars and trying to change other countries through endless military interventions. We expect the United States will be able to think harder about its policy of repeated military pressure, stop pointless interference in the internal affairs of other countries on the pretext of defending democracy and human rights, and will not disrupt peace and stability in other countries and regions.
Currently, the problem of Afghanistan has entered a key stage of transition from a military to a political settlement. The situation in Afghanistan will remain unstable and uncertain at the next stage. The international community should come together in encouraging and supporting unity and cooperation between all political parties and ethnic groups in Afghanistan so as to open a fresh page in that country's history.
China is willing to continue to play a constructive role in Afghanistan's affairs based on the principle of non-interference in Afghanistan's domestic affairs.