2 Aug 2021
Chinese Ambassador to Russia Zhang Hanhui: China and Russia are ready to consider mutual recognition of vaccines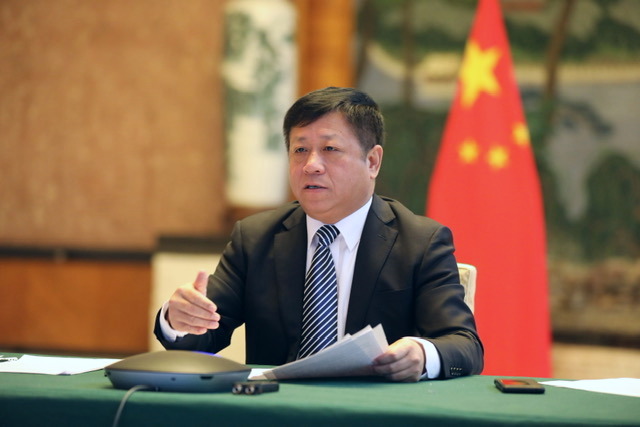 Zhang Hanhui
Photo: Press service of the Embassy of China in Moscow
Chinese Ambassador to Russia Zhang Hanhui spoke in an interview with Interfax about the prospects for Chinese-Russian cooperation in the fight against the pandemic, economic interaction, and space cooperation.
Question: Are China and Russia negotiating the mutual recognition of coronavirus vaccines?
Answer: Vaccines are an important weapon for the decisive victory over Covid-19. China is ready to maintain communication with all countries, including Russia, on cooperation related to coronavirus vaccines.
Wang Yi, a member of the State Council and Foreign Minister, told journalists after a meeting with Russian Foreign Minister Sergei Lavrov in Guilin in China's Guangxi Zhuang Autonomous Region in March that China and Russia would speed up the mutual approval of standards and procedures for PCR tests. He said they would explore opportunities for introducing medical certificates for international travel and creating a mechanism for the mutual recognition of information on health codes, and would effectively reduce the risk of the cross-border spread of the infection. The countries would promote a new procedure for the healthy, safe and well-organized movement of people, and would continue to cooperate in the study, development and production of vaccines in order to make a Chinese-Russian contribution to ensuring the accessibility of vaccines.
Currently, the WHO has approved two Chinese vaccines for the Emergency Use Listing Procedure and their efficacy and safety are widely recognized, while Russia's Sputnik V vaccine is registered in 68 countries and has been well received internationally. Although Europe and the United States are now refusing to recognize Chinese and Russian vaccines, China and Russia are ready to consider mutual recognition of the main vaccines by the two countries.
Q.: What are the prospects for opening Chinese borders for Russians on a mutual basis?
A.: After the coronavirus epidemic began, various countries, including China and Russia, took a number of legal measures to regulate arrivals and departures in order to combat the spread of the infection. Their main goals are to prevent the sporadic movement of people and non-essential travel and to preserve the health and lives of our own and of foreign citizens, as well as to maintain regional and global public health security.
Currently, the global epidemiological situation is still not giving us cause for optimism and most governments and people are still combatting the epidemic.
China attaches much importance to the unimpeded and safe movement of people between China and Russia. After the epidemic [began] the embassy closed its doors but didn't stop working and opened a green channel to provide visas and other services for Russian people taking part in large projects of practical cooperation between China and Russia, as well as travel related to urgent humanitarian needs.
China is ready to continue working with Russia to overcome the epidemic and create the necessary external conditions to finally defeat the infection and resume normal exchanges between the peoples of our countries as quickly as possible.
Q.: What is your bilateral trade forecast for 2021? What are the main trends? Which goods are showing growth and which decline?
A.: Chinese-Russian trade and economic cooperation has continued to develop steadily and very sustainably amid the epidemic. Last year, bilateral trade stood at $107.777 billion and we topped the 100 billion mark for the third consecutive year.
A stable and good trend has been maintained in Chinese-Russian trade and economic relations this year and there is both quantitative and qualitative growth.
As for bilateral trade, according to Chinese estimates, this stood at $63.08 billion in January-June, up 28.2% year-on-year. China is still Russia's largest trade partner. Exports of smartphones, laptops, and vehicle spare parts have been showing excellent results.
Russia's exports of crude oil, natural gas, coal, and vegetable oil to China have been trending positively as well. Cross-border e-commerce and other modern business areas have continued to develop robustly.
It is expected that Chinese-Russian bilateral trade will again hit a record high in 2021.
As for investment and project cooperation, China's direct non-financial investments to Russia grew 48.3%, while the price of project contracts grew 93% in January-May. China and Russia signed a memorandum of understanding and cooperation to create an International Lunar Research Station. Ceremonies were held to launch the construction of new generating units at the Tianwan and Xudabao nuclear power plants. The first process line of the Amur Gas Processing Plant, built with China's participation, was launched as well.
In general, Chinese-Russian trade and economic cooperation is stable and high in value. We are absolutely certain that this year it will continue to develop actively and there will be unprecedented trade growth.
Q.: Apart from the lunar station, what other areas of cooperation with Russia is China interested in?
A.: Chinese-Russian space cooperation has long history and a wide range of areas and is characterized by excellent achievements. Both sides have been deepening and expanding cooperation spheres over the past 30 years within the framework of the sub-commission for space cooperation under the commission for preparing regular meetings of heads of Russian and Chinese governments. They have achieved considerable results in a number of spheres, such as lunar exploration and the exploration of outer space, launch vehicles, Earth remote sensing, satellite navigation, electronic components for space and space debris monitoring. Currently, the Russian-Chinese space cooperation program for 2018-2022 is being implemented.
The International Lunar Research Station, which Russia and China are working on, is not just a Chinese-Russian project. Russia and China would welcome the participation of interested countries, international organizations and international partners in the implementation of the project at every stage and level. At present, some countries have expressed a desire to take part in it.
As far as this project is concerned, China and Russia are committed to the principles of openness, equality, joint discussion, joint construction, and joint use. We believe that space and the Moon belong to the whole of mankind and that space powers should adopt a position of cooperation and openness, abandon any confrontational mindset, break down ideological barriers and make a commitment to use space technologies to stimulate global economic development.
Q.: Are any face-to-face contacts at high or the highest level planned for this year?
A.: After the Covid-19 outbreak, top-level exchanges between all countries of the world declined, but Chinese and Russia leaders still interact closely in various formats. This fully reflects the high level and exceptional nature of Chinese-Russian relations in the new era.
In the first half of the year, Chinese President Xi Jinping and Russian President Vladimir Putin watched the opening ceremony of a Chinese-Russian cooperation project in nuclear energy by video link, had an online meeting and announced the extension of the Chinese-Russia Treaty of Good-Neighborliness, Friendship and Cooperation. The two leaders also exchanged letters and telegrams many times. It can be said that the Chinese and Russian leaders have always interacted in a timely manner, held a thorough exchange of opinions, pointing the direction in the joint fight against the epidemic, deep pragmatic cooperation, and close strategic interaction, as well as setting goals for the broader development of Chinese-Russian relations in the new era at a higher level.
At the same time, Yang Jiechi, Politburo member and the Director of the Office of the Central Commission for Foreign Affairs, visited Russia this May. He took part in the 16th round of Chinese-Russian strategic security consultations with Russian Security Council Secretary Nikolai Patrushev for the active promotion of the implementation of the consensus reached by the two leaders. The foreign ministers of the two countries met in China's Guilin and Uzbekistan's Tashkent and exchanged detailed opinions on the implementation of the agreements of the two leaders and the strengthening of strategic interaction between the two countries.
We believe that with the gradual improvement of the epidemiological situation in China and Russia there will be more opportunities for personal meetings on the development of Chinese-Russian cooperation in various spheres. China is ready to maintain close interaction with Russia and to jointly carry out thorough planning and serious preparations to ensure such exchanges are even more effective.
Q.: Does China back the results of the meeting of the Russian and U.S. leaders in Geneva, as well as plans to resume strategic stability and cybersecurity dialogue? Is it possible that consultations on these and other topics will be held in a broader international format in the future?
A.: We paid a lot of attention to the recent summit of the Russian and U.S. leaders in Geneva. Russia and the United States are permanent members of the UN Security Council and are two nuclear powers with special responsibility for international peace and security. China welcomes the prolongation of the Russian-U.S. START and the dialogue on strategic stability. It will help maintain global strategic stability and promote international peace and security in accordance with the general expectations of the international community.
As for strategic stability, China and Russia largely see eye to eye and China appreciates Russia's statement that it does not agree with linking bilateral U.S.-Russian nuclear disarmament talks with China, which was proposed by the U.S.
China calls on the U.S. to react positively to the relevant demands of the Russian side, to effectively realize its special responsibility for nuclear disarmament, to continue a considerable reduction of nuclear weapons and to create conditions for the other countries that have nuclear weapons to join the nuclear disarmament talks.
Q.: Is China ready, if need be, to help North Korea combat the pandemic? Is coordination with Russia to this end possible? Is Beijing concerned about the humanitarian situation in North Korea in light of the recent statements by the North Korean leadership about the most serious crisis there? Is China ready to help its neighbors?
A.: Recently, Chinese President Xi Jinping and Workers' Party of Korea General Secretary, State Affairs Council President, DPRK Supreme Commander Kim Jong UN exchanged congratulatory messages on the 60th anniversary of the agreement on friendship, cooperation, and mutual assistance between China and the DPRK. This has given relations between China and the DPRK a new coloring. China is ready to work with the DPRK to effectively implement important agreements reached between the supreme leaders of both countries, to contribute to the continuous development of traditional relations of friendship and cooperation between China and the DPRK for the benefit of the people of both countries.
As the pandemic spreads across the world, China calls on the U.S. to pay attention to the justified concerns of the DPRK and to lift illegal unilateral sanctions imposed on North Korea as soon as possible.
China resolutely supports the DPRK in developing its economy and essential services and promoting the building of socialism, and is ready to strengthen cooperation with the DPRK in combating the epidemic and providing assistance within our own capabilities to meeting its needs.
The DPRK is a neighbor and partner of China and Russia. China is ready to work closely with Russia and the DPRK to jointly advance the political settlement of the Korean Peninsula's problems, to expand trilateral cooperation between China, Russia, and the DPRK and to promote peace, development and prosperity in Northeast Asia.
The Korean Peninsula's nuclear problem has lasted almost 30 years and has seen several turns. China's position on the peninsula's nuclear problem is consistent and clear. China consistently says that dialogue, negotiations, and a peaceful solution are the basic principles, that actions by the parties to the denuclearization process should be gradual and synchronized, and that advancing the peninsula's denuclearization and the parallel construction of a peace mechanism is the right way.
Joint work on maintaining peace and security in Northeast Asia is an important sign of Chinese-Russian comprehensive strategic partnership. China and Russia have always played a constructive role in advancing a political settlement on the peninsula. China is ready to work with Russia in order to continue unwaveringly to promote a political settlement of the peninsula's problem, to encourage dialogue and consultation, and to maintain peace and stability in Northeast Asia.
Q.: Judging by statements by the U.S. and Europe, they intend in the next few years to exert more pressure on China on a large number of issues ranging from the economy and security to investigating the origins of the pandemic and criticizing Chinese vaccines. How does Beijing intend to react to this?
A.: Chinese-U.S. relations have strayed from the correct path and are now undergoing their most complicated stage since the establishment of diplomatic relations.
The main reason is that the former U.S. administration has adhered to the outdated mindset of a zero-sum game. Stemming from its own political needs, it has it misjudged and misinterpreted China's development trends and policy, taking various restrictive measures and exerting pressure on China, which has seriously damaged bilateral interstate relations. History has shown that cooperation between China and the U.S. is mutually beneficial, while confrontation, on the contrary, damages both countries. Healthy and stable Chinese-U.S. relations meet the common interests of the peoples of both countries and of the whole international community.
After the Biden administration came to power, the Chinese and U.S. leaders on the eve of the Lunar New Year held important telephone negotiations in which they outlined the general direction of relations between the two countries.
The Anchorage Dialogue gave birth to direct interaction of the two countries at a high level amid the pandemic. The parties discussed trade and the economy, climate change, and other issues.
At the same time, we also note that the new U.S. administration is treating China as its most serious rival and has continued gross interference into China's domestic affairs as far as Taiwan, Xinjiang and Hong Kong are concerned. This proves that U.S. policy towards China hasn't emerged from the shadow of the policy of the previous administration.
This year is the fiftieth anniversary of [Henry] Kissinger's secret visit to China. We emphatically call on the U.S. to learn the lessons of history, to remedy previous mistakes, to learn to coexist peacefully with countries with different histories, cultures and other development paths, to maintain a constructive policy towards China, to meet China halfway, to focus on cooperation, to eradicate differences, and to return Chinese-U.S. relations to the path of healthy and stable development.
As for investigating the source of the novel coronavirus, U.S. statements regarding China are simply unfounded. Disregarding the facts, they are trying to cast doubt over the consensus of scientists, setting against this conspiracy theories made up by intelligence workers, and are thereby seriously politicizing scientific issues.
In investigating the origins of the coronavirus outbreak, China has since the very adhered to principles of openness, transparency, and cooperation. It has invited WHO experts twice to jointly investigate the origins of Covid-19.
"A laboratory origin of the pandemic was considered to be extremely unlikely," says an authoritative report on the results of the WHO study.
Lately, the U.S. has exerted more pressure on the WHO and its Director-General, Tedros Adhanom Ghebreyesus, has started to promote so-called independent and transparent investigations directed against China in order to accuse it for no reason of non-transparency and unwillingness to cooperate.
The U.S. has always discredited China's international image, partly by spreading false information and fake news.
The investigation of the origins of the coronavirus should rest on science and facts, and it should be held in many countries simultaneously. If the U.S. indeed seeks truth and transparency, it should agree to hold an international investigation into the origins of the epidemic in the U.S. and its ineffective fight against it, and to answer questions being asked about a biological experiments site in the U.S. itself. The U.S. is closely monitoring the situation in other countries but hiding the situation on its own territory.
Q.: Russia has included the yuan in its currency basket for investing into the National Welfare Fund, first at a level of 15% and then 30%. The share of yuan in Russia's forex reserves is growing. Does Beijing view these steps as significant for strengthening the yuan's role as a world reserve currency? Is China interested in the Russian ruble? Do you see prospects for the further growth of bilateral trade settlements in national currencies?
A.: In recent years, Russia has been actively promoting the de-dollarization of foreign trade, and expanding the use of the yuan in settlements in national currency, for the purchase of financial products denominated in yuan and as an investment reserve currency. The yuan is gaining increasing recognition and favor from the Russian government, businesses and investors.
The yuan's share of bilateral trade settlements between China and Russia grew from 3.1% in 2014 to 17.5% in 2020. Its share of Russia's international reserves reached 12.8%, while its share among the currencies for investment of National Welfare Fund grew to 30.4%. This proves that the yuan has its advantages and potential on the Russian market, indicating that China and Russia have made progress in diversifying bilateral trade settlements and gradually increasing the role of national currencies as settlement means.
The expansion of settlements in national currencies is one of the main areas of deepening financial cooperation between China and Russia and helps to build a stronger and more flexible international currency system. China sees Russia as a priority partner and is ready to cooperate with it to further deepen settlements in national currencies and improve the formation and integration of cross-border payment systems.
Energy cooperation plays a particularly important role in Chinese-Russian practical cooperation, which Chinese President Xi Jinping has called "the most weighty, fruitful and large-scale area of practical cooperation between China and Russia." Since the beginning of the year, Chinese-Russian energy cooperation has reached a new level, the scale of energy has been growing, the content of cooperation has become richer and its value has grown.
In particular, in May, Chinese President Xi Jinping and Russian President Vladimir Putin took part by video link in a ceremony to launch a Chinese-Russian project in the nuclear energy sphere outlining a new and important area for the further highly qualitative development of Chinese-Russian energy cooperation.
In the context of the global green transformation, China is still in the category of developing countries, and despite the double goal of cutting carbon emissions, the base for future fossil fuel demand is still huge. This particularly applies to demand for natural gas, it still has huge opportunities for growth (China is aiming for its greenhouse gas emissions to peak by 2030 and to achieve carbon neutrality by 2060). The level of energy consumption per capita in developed countries after the peak of carbon emissions is reached, and the decrease of fossil fuel consumption after China reaches that peak will also be a slow process.
There is still immense potential for Chinese-Russian energy trade. Based on the current relatively mono-commodity trade, both sides can further deepen cooperation in the oil refining and coal chemical sectors, increase added value in the fossil fuel chain, and strengthen cooperation in renewable energy sources. I believe that Chinese-Russian energy cooperation will not only have a stronger foundation, but will also provide new points of growth for cooperation in scientific and technical innovation, green energy and other areas.
Q.: Is it possible that the Tianjin Oil Refinery project with Rosneft's participation will be implemented, and what are the perquisites for this?
A.: As far as I know, CNPC and Rosneft are cooperating in the oil refining sector within the context of the Tianjin Oil Refinery project. The key to this project is resolving the issue of oil production resources. The lack of oil production resources is leading cooperation into a dead end, it's like cooking porridge without cereal.
Hopefully, companies from the two countries will move this project forward after they reach an agreement.
Q.: The joint statement of Russia and China on 20th anniversary of signing Treaty of Good-Neighborliness, Friendship and Cooperation mentions facilitating mutual access for agricultural products. How have both sides been progressing in this sphere?
A.: Russian agricultural products are of good quality and are very popular with Chinese consumers. China's and Russia's agricultural products complement each other very well, and mutually beneficial cooperation between the two parties in this area is gaining momentum.
China is the biggest importer of Russian agricultural products, including meat products. Imports totaled $4.09 billion in 2020, an increase of 13.7% from the previous year.
According to Russia's Agroexport, Russia exported $1.88 billion of agricultural products to China in H1, a 2% decrease compared to the same period last year. Nevertheless China has kept its leading position in imports.
The further progressive development of Chinese-Russian trade in agricultural products depends on mutual access for agricultural products, which is written in the joint statement, and to this end, the authorities are responding positively to industry concerns in both countries and are working intensively to expand cooperation.
The specific issues include phytosanitary requirements for Russian herbal medicines, dried deer antlers for medical use, seafood, and peas and alfalfa for export to China; expanding the zone of supplies of Russian wheat and barley to China, as well as the resumption of Chinese exports of stone fruit and pome crops and citrus fruit to Russia. It seems that, with the full cooperation of the authorities and the active participation of enterprises of both countries, new and beneficial cooperation in opening markets for high-quality agricultural products for each other would soon benefit the people of China and Russia.