8 Jul 2021
Israeli Ambassador to Russia Alexander Ben Zvi: Relations with Russian won't change under new Israeli govt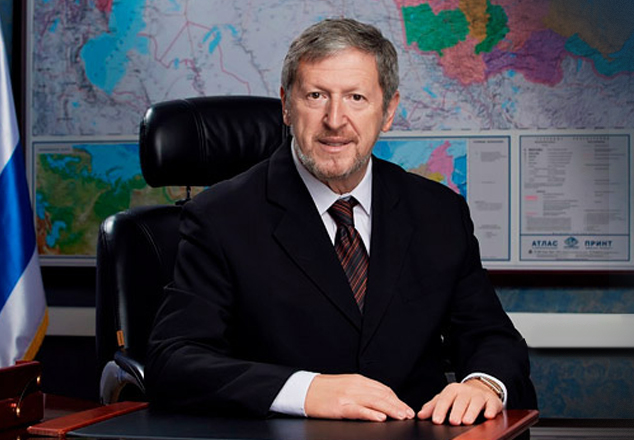 Alexander Ben Zvi
Photo: Embassy of Israel in Moscow
Israeli Ambassador to Russia Alexander Ben Zvi spoke with Interfax about the future of Israeli-Russian relations after the election of Naftali Bennett as Israeli prime minister, about the prospects for a Middle East settlement and about the conditions under which Israeli will open its borders for Russians.
Question: Israel has a new prime minister for the first time in 12 years, with Naftali Bennett having been elected as head of government. Are any changes in Israel's policy towards Russia possible under the new government?
Answer: I don't think there will be any changes in relations with Russia. There is already a proof of this. President Vladimir Putin had a telephone conversation with Prime Minister Naftali Bennett on July 5. They discussed all issues and no changes are expected. Clearly, there will no longer be the so-called 'special chemistry' that existed in the relations between President Putin and Prime Minister Netanyahu. After all, President Vladimir Putin and Prime Minister Benyamin Netanyahu had numerous meetings, phone calls, etc. But from what we are seeing, the greetings from Russia on the election of Naftali Bennett and the recent phone call, I do not notice any change, and there should not be any.
Q.: You have already mentioned that it's no secret that the former prime minister had a warm, trusting personal relationship with Russian President Vladimir Putin. Will the new prime minister seek a similar level of relations and contacts?
A.: We will of course seek this because this is our common interest, the interest of Russia and the interest of Israel.
Q.: The Israeli prime minister and the Russian president agreed on a personal meeting in the July 5 telephone conversation. When might it take place, and will there be other high-level contacts?
A.: There will be. Indeed, there is an agreement on the meeting. For now, as you can see, our situation is quite complicated, both in the political respect and because of the pandemic, and our prime minister is not very active in paying foreign visits, so I do not think the meeting will take place in the coming weeks. But I have no doubt this will happen before the year is out. Moreover, there is an agreement on meetings at the ministerial level. We should hold a meeting of the intergovernmental commission that was postponed because of the pandemic. The 'old new' chairman of the commission, Zeev Elkin, who knows these topics well, has already been appointed. We also want to hold a meeting and sign a protocol of the intergovernmental commission this year. Our ministers have already communicated, so effort is needed, but I think that it will take place by the end of the year, if things calm down from the pandemic point of view.
Q.: The foreign ministers should also meet, shouldn't they?
A.: Yes. They will be the first to have a conversation. We are working on the exact date. I hope that the conversation between the foreign ministers will take place within a week. I am sure they will agree on the dates of visits and all the rest. Moreover, our foreign ministries have quite a list of what we call political dialogues. I mean a dialogue at the professional level – on Africa, Latin America and CIS countries. We have a broad spectrum of contacts and they will continue. If there was no pandemic, these contacts would have long been intensified, but we try to maintain them.
Q.: Is it expected that communication with Russia on such sensitive foreign policy topics as Iran, Syria, and Libya will continue?
A.: No doubt. We are doing that on an ambassadorial level, as direct meetings are currently impossible. I visit the Russian Foreign Ministry very often, and the Russian ambassador often visits our Foreign Ministry. We discuss the matters of Iran, Syria, the Middle East settlement and the Palestinian issue all the time, our contacts are continuous and very close, as both sides are interested in that.
Q.: On the Middle East settlement. Are any changes in this policy, on the deal of the century, possible? Just a few days ago the foreign minister visited the UAE. Does this mean that this policy will continue?
A.: Of course, the policy will continue. Most of our political parties that make up the coalition government favor continuing the settlement policy. Usually when the Middle East settlement is spoken about, Israeli-Palestinian settlement is meant, because with countries around us – except of course Syria and to a certain extent Lebanon, but with Jordan and Egypt we have settled our relations long ago. Now countries of the Persian Gulf, Morocco and Sudan are joining them, so the process is underway.
As for Israeli-Arab issues, things are more complicated here. I don't think there will be any major breakthrough because it will be necessary to decide what to talk about and who to talk with, and this is not exactly clear. If we talk for example with Palestinian National Autonomy President Abu Mazen, or Mahmoud Abbas, this is one option. And what will Hamas in Gaza say then? They have totally different ideas, they cannot agree with each other. When there is a common Palestinian position... I know that Russia is trying to do something in this area, but the fact remains that there is none of this, there is no common position. Moreover, if we take the lowest denominator, some people in Hamas say that the State of Israel must be destroyed, what shall we talk about then? That is why it should be decided who to talk with.
Concessions are concessions, but as we say somebody has to deliver, somebody has to meet their obligations. Everything is clear with us, and the Palestinian side is the question.
Q.: There are no contacts between the new government and the Palestinian autonomy, are there?
A.: Nothing in particular so far. Of course, there have been contacts regarding vaccines and what I would call practical issues, such as security and so on, they are happening all the time. They never stop. We have no contact with Hamas. Egypt and some other countries are trying to do something in this respect, but there are no contacts so far. Moreover, as I have already said we have to decide not only who to talk with but also what about. It's easy to say for example let's get back to the borders of 1967, as some European countries, and by the way Russia as well, are proposing. This border, or to be more precise the demarcation line, is 10 to 16 kilometers from the sea and is very near our most densely populated districts. It is four kilometers from our central airport. And you understand our experience with Gaza when missiles are fired on us, and furthermore no missiles are needed there, we could be pelted with stones there. Do you understand what problems this could entail? That is why the question is not only about who to talk with, but also what to talk about, because the security of our borders is the main topic for us.
Even in times of political instability Israel has continued working. We held the world's best vaccination campaign, there are no economic problems. But the main thing for us is the security of our citizens. I always give the example of what happened with Egypt. In 1977, when Egyptian President Anwar Sadat visited Israel, he said, "No more war, no more bloodshed." The Sinai Peninsula was under our control and we returned the whole peninsula to the Egyptians. Why did we do that? Because we were sure that there would be no more military threat to our citizens from there. When we come to the same understanding with the Palestinians, then it will be possible to speak about other technical aspects.
Q.: It was mentioned in the statement following the conversation between the Russian president and the Israeli prime minister that the prime minister thanked Putin for the assistance as regards captives and missing persons. Could you specify what this was about? Is this work currently underway?
A.: Let me put it this way. In the past Russia helped Israel in this respect very much, especially in terms of the return of the remains of the soldiers from the Syrian territory.
We have certain issues related to the Palestinians, especially in Gaza, there are remains of soldiers there, and there are also two Israeli citizens being held by Hamas. We seek Russia's assistance in dealing with that.
Q.: You have mentioned that there are contacts underway with the Palestinian side on vaccines. It was reported that there were problems with their delivery through Israel to Palestine.
A.: No, this is absolutely untrue. Deliveries have been made, everything is normal. We have discussed an exchange of vaccines with them, but that's a different matter. There have been no limits on the deliveries.
Q.: Russia is now on the red list of countries for visiting because of the Covid-19 situation. In what conditions could this change? When might Israel open up to Russians?
A.: Everything is very simple. Now there are just eight countries with which there are serious restrictions as regards entering Israel, and the issue of reducing this list even more is under discussion. The agency responsible for this gets data from our migration service every two weeks and checks whether the number of people whose PCR tests were positive upon arrival in Israel has fallen or grown. We are counting such cases and they exceed the level that could make the death rate in Israel grow. Indeed, there is a certain growth of the death rate because of the Delta variant. There are people who were vaccinated but still got sick with this strain. That is why we should impose restrictions. Our country is officially considered a post-corona one. There are no restrictions inside the country. There is no need to wear masks. It is still advised to do so indoors but this is not mandatory. Concerts, football, restaurants and so on are open. We are made to impose restrictions on entering the country in order not to impose internal restrictions, because this is the only way the virus could get to the country.
Q.: Does this mean that the overall number of cases in Russia has to fall?
A.: No, we are not monitoring Russia, we have a different system. We are controlling the number of sick people among those arriving in the country. By the way, we are asked if we recognize this or that vaccine, but we have a different system. When you arrive you should take a test for antibodies, and if you have them, it doesn't matter how you got them. For example, I was sick in Russia, and when I came to Israel I was told that I was to be quarantined if I failed to prove that I have antibodies. I took a test, got a certificate that I had antibodies and then I was told – ok, you're free.
Q.: So, there are no green passes, are there?
A.: There are none now, because we are a post-corona country. They were some previously, but there aren't any now. If deaths increase they may be introduced again, but there are none of them for now.
Q.: And there will be any for entry?
A.: No. Those coming from Russia in any case must be quarantined, no matter if they are vaccinated or not. Those coming from other countries should take a test for antibodies no matter where they are coming from, and green passes aren't needed.
Q.: What are the current vaccination figures in Israel?
A.: About 6 million got the first dose of the vaccine and over 5 million the second. Plus there are 800,000 who recovered from the illness. The have been 6,000 deaths during the whole pandemic. Now just about 30 people are seriously ill, 37 if I'm not mistaken.
Q.: It was reported that it is hard for foreigners to get a QR code to visit restaurants in Moscow. Is this really so?
A.: It is. Moreover, I can say that we and some other embassies have written an official note to the Foreign Ministry, asking what we should do. For example, we received Pfizer, not Sputnik, and we didn't receive them here, we received them at home or in a different place, and what if someone had the disease abroad? And so on. There needs to be a common solution here, for all diplomats.
Q.: Has the Foreign Ministry replied?
A.: We sent the note a couple of days ago, so there has been no reply so far. But they should respond because, if I want to go to a restaurant now, I can sit on the veranda, let's say, until July 11. That's fine with me, I don't have a problem with that, but they are banning that from July 12 as well, and they are also saying there will be restrictions in shops, etc. Where do we buy food in this case, what should we do? It's a problem, it needs to be solved.