15 Jun 2021
Severstal CEO Alexander Shevelev: Investment or dividends – this is not an issue for us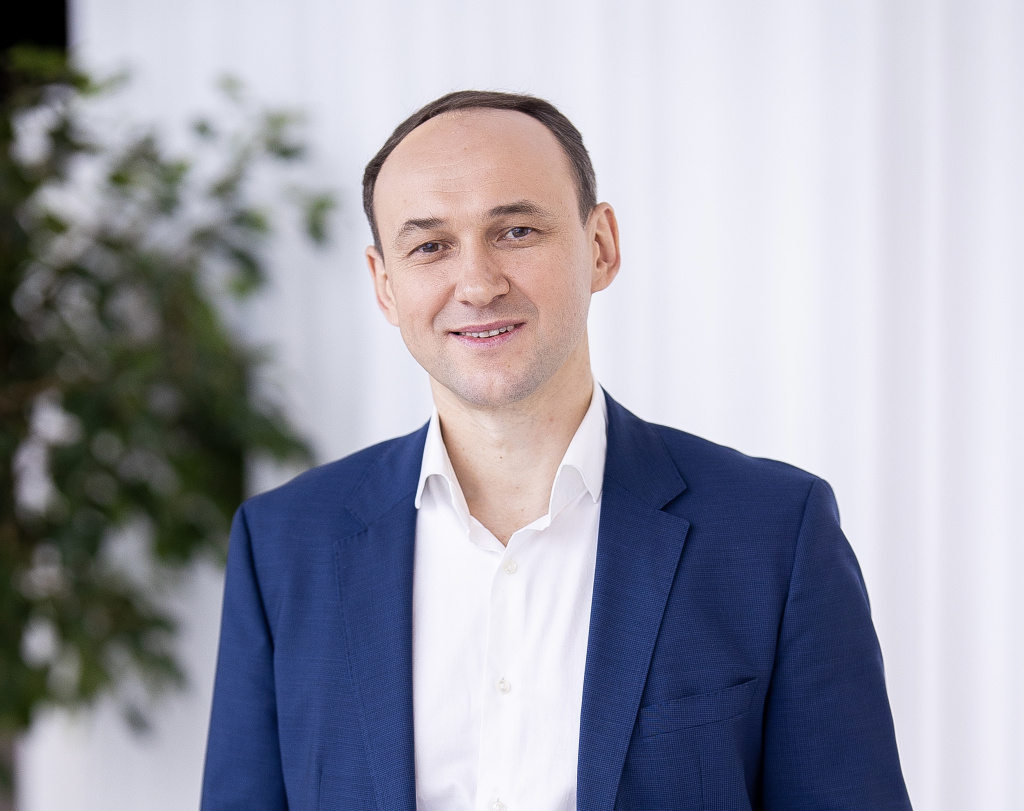 Alexander Shevelev
Photo: Severstal press office
Severstal CEO Alexander Shevelev commented on steel prices in the domestic market, on possible solutions to the problem of rising costs for public investment projects, on further plans for the company's development and production targets for 2021 in an interview with Interfax during the St. Petersburg International Economic Forum.
Question: The state is leaning on companies to step up investments, which it is pitting against dividends, and will be watching how companies dispose of their profit, whether they pay more of them as dividends or reinvest them. On the other hand, it is being suggested there is something not quite right about that profit, for example the episode with the 100 billion rubles of excess profit that steel makers received from raising prices under government contracts. What are your plans in this situation? Will you remain committed to your own dividend policy? Perhaps in this situation it might be better to allocate more for investment?
Anwer: Investment or dividends – this is not an issue for us. Severstal is a financially robust company, a stable one and attractive to investors. We do not choose which is better - to invest in our own production, in the future, in strategy, or to pay as much as we can as dividends.
Severstal does both. The company ensures maximum return on investment for our investors. Our task as far as investors are concerned is to generate steady cash flow, and to pay dividends in line with FCF or even higher, which is, in fact, what we do.
Severstal has the sector's biggest investment program. This means that the company invests in the sector, in its own production, not only to maintain fixed assets, but also in the future, and we are able to do this organically. So I'm sure it's not a matter of choice - it's not "either or" but "as well as".
As for the rhetoric. Our point of view is as follows: it is obvious that there is no need for any non-market mechanisms, because in the long and medium term this will result in big losses and to greater damage not only to the industry, but also to the economy as a whole.
All Russian steel companies are very big taxpayers today, and our payments have grown with the rise in prices: according to Russian Steel, in the first half of 2021, metallurgical companies will pay 100 billion rubles more tax than in the same period of last year. According to forecasts, we will for the whole of 2021 pay about 250 billion rubles in additional taxes, which can and should be used to support industries facing higher prices.
And there are objective reasons for the rise in prices - the market opportunity that is being forged by the market today, based on pent-up demand, economic recovery and the Russian government's stimulus measures, results in a high level of demand. Market mechanisms are such that prices are going up everywhere, globally, due to limited supply. But prices are growing more slowly in Russia than in other countries. Our current price on the domestic market is 15-20% lower than in Europe, and 40-50% lower than in the States. We are repeating this global trend.
Q: When might it be possible to talk about prices stabilizing?
A: Obviously, it is highly volatile on the one hand, but on the other hand, it will clearly be rebalanced in the near future. We believe that in autumn demand and supply will more or less balance, reach equilibrium. We can expect some downward price adjustments in the autumn.
Q: So we can already talk about world prices falling in the autumn?
A: Yes. We think there's a strong likelihood.
Q: What sort of drop do you think there'll be?
A: It's hard to say. Everyone who will giving you any predictions, obviously, will be deceiving you, even speculating on something. The decline could either be very sharp, as we have seen many times, or remain low. From our point of view, there will be a correction, but it will not be very significant or abrupt and prices will stay at quite high levels, we believe. I don't know what level it will be, but we believe it will be quite high compared to previous periods.
Q: The Industry and Trade Ministry and steel companies are actively discussing the signing of long-term contracts with state-owned companies and the provision of discounts under such contracts. How real is this mechanism? Is there not a selective approach to signing them? What might be taken as the starting point here, what parameters will be taken into account when determining the size of the discount?
A: The mechanism that is being proposed today is absolutely clear, market-based, and constructive. It consists of the following: we ask the Russian construction sector, first and foremost public construction and defense procurement, to define a list of key budget projects and pass it on to us via the Ministry of Industry and Trade. We need to understand the demand for rolled steel, the required product range, which construction projects it will go to, who is the official contractor.
We understand the problem with public construction projects, where there are very rigid, fixed pricing, complex mechanisms that are not tied to market indices. Builders do face this situation at certain moments. For these projects - budgetary, socially significant, state projects - we are ready to create special conditions.
Q: What might they be?
A: The following: we are ready to sign long-term contracts with these organizations - for a year, a year and a half or two, either with fixed or clear formula-based pricing, which would allow these companies, contractors to be sure that within this period and these projects, the price will be exactly the same.
Q: Are we talking about a fixed price for the duration of a contract?
A: Yes. We have a very clear, specific, constructive mechanism. And it's a market one, because even today the companies that consume rolled steel can set their own prices. After all, the price is not the same for everyone: some have a strategic partnership, others have integrated supply, and so on. This is all taken into account during pricing. So we believe we are offering constructive interaction mechanisms, which are concluded in a long-term contract, a direct B2C relationship, not through a system of contracts, traders, resellers; and with a comprehensible pricing system.
Q: Can this approach somehow be systematized?
A: In a word – yes. Systematizing it means consolidating the whole list of key socially important projects and state defense order facilities and ensuring transparent interaction both in terms of pricing and in terms of carrying out these construction projects.
Q: How is cooperation with the Federal Antimonopoly Service going in the framework of the investigation into high monopolistically high prices for rolled products?
A: I think we are working well. One meeting has already taken place, with us in attendance, providing a full package of documents. The FAS is now asking some follow-up questions, and we are answering them in full. The FAS is well aware of the reasons for the rise in prices on the Russian market, and is also understands very well that prices in Russia are growing more slowly than anywhere else. They understand what is driving that growth, so I look forward to an objective decision
Q: You said in March that Severstal was contemplating a future without integration into coal assets. UC Rusal has announced it will spin off its high-carbon assets into a separate company, following the example of Evraz, which has said it plans to demerge its coal business. Your company's vertical integration is one of its competitive advantages, but do you plan nevertheless to gradually move away from coal in the future?
A: Firstly, we are reducing its consumption considerably due to the fact that we are improving the efficiency of our coke batteries and blast furnaces. We are consuming less coke and more natural gas.
We'll be reducing specific coal consumption by about 8-10%. On the other hand, we are not fully self-sufficient in coal, we buy it on the market, so this tendency will result in higher coal self-sufficiency for Severstal. Given the growth of pig iron production, it cannot be said that Severstal will consume less coal, but we will be more effective in terms of coal self-sufficiency - we will increase it from the current 60% to 85-88% in the near future.
Also, starting in the second half of 2022, we will stop producing steam coal at Vorkutaugol, because our main customer for that (T Plus) is switching to gas. We will have metallurgical coal only for our own internal consumption.
Q: Is the company looking for any other solutions to increase its investment appeal in the context of the ESG agenda?
A: As for the climate agenda, we have given ourselves the short-term goal of reducing emissions 3% by 2023 compared to 2020. This year, we aim to announce a more ambitious target for the medium term, up to 2030.
All the goals that we announce come with a specific set of measures. We participate in the Clean Air program, and our ESG strategy, which we are now finalizing, concerns not only greenhouse gases, but also emissions of harmful substances into the air. We plan to reduce emissions in Cherepovets 22.5% by the end of 2024.
Q: What's the company's self-sufficiency in electricity?
A: Right now it is the highest in the sector at 81%. This is important because the gases that are formed – coking, blast furnace, converter – are very often discharged into the atmosphere. Our job is to recycle these gases and use them to generate electricity. We plan to be 95% self-sufficient in electricity by 2023 and to stop emitting gas into the atmosphere.
Q: Does the company plan to remain committed to its declared strategy in relation to new deals to create joint ventures?
A: We consider joint ventures, like other types of partnership, to be a very quick and correct means of access to the market niches that we need.
Q: One recently announced deal was the acquisition of a 20% stake in Nizhne-Volzhsky Pipe Plant, which produces construction pipes. Has the deal been closed? Are you planning to increase your stake in the plant?
A: The deal is closed. We are not planning to increase the stake. The joint venture enables us, on the one hand, to increase the supply of metal for structural pipes to be produced for the Russian market, and on the other hand, to be effective in those regions where we have not previously been represented so broadly. The company has a market share in its own product range of approximately 60% in the Southern Federal District. We received direct access to the Southern Federal District through our partner with the help of this joint venture.
Q: Do you plan in the near future to return to the issue of building a pipe mill jointly with Tenaris in the Khanty-Mansiysk Autonomous District?
A: We still consider this project to be strategically important, significant and appealing. We are in consultation with our partners on some points. I am sure that they will conclude in the very near future, after which we will be ready to announce some further actions.
Q: Can you confirm steel production guidance for this year?
A: Yes, we plan to produce 11.5 million-11.6 million tonnes of steel in 2021.