4 Feb 2021
Russian Deputy Foreign Minister Alexander Grushko: Point of no return has not yet been passed in Russia-EU relations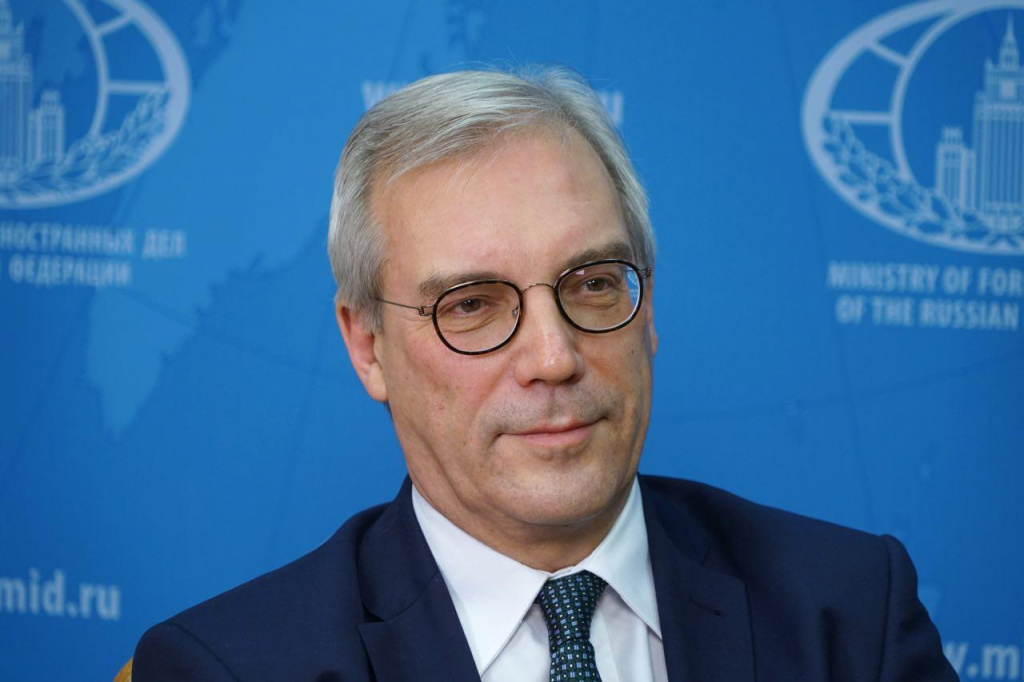 Alexander Grushko
Photo: Russian Foreign Ministry
Russian Deputy Foreign Minister Alexander Grushko gave an interview to Interfax correspondent Ksenia Baygarova ahead of the visit of EU High Representative of the European Union for Foreign Affairs and Security Policy Josep Borrell to Russia. Grushko speaks about the prospects for developing Russia-EU relations, the potential impact of the Navalny case on them, possible Russia-EU cooperation on coronavirus and the future of the Nord Stream 2 project.
Question: EU foreign policy chief Josep Borrell's visit to Russia is the first high-level visit by EU representative in the past three years. What do you expect from the upcoming negotiations, especially bearing in mind that they will take place amid condemnation of Russia by European countries due to the prison term given to opposition activist Alexei Navalny?
Answer: A lot of time went into preparing for the visit. We're set to discuss every aspect of the state of Russian-EU relations, including the new global context of their development. This is the establishment of a multipolar world order, the shift of main economic drivers and centers of political influence to the East, and the strengthening of the [Eurasian Economic Union] EAEU that has become a reality. [Foreign] Minister [Sergei] Lavrov agreed with the high representative to discuss the nature of Russia-EU relations in general.
Clearly, our relations cannot be based on the so-called 'Mogherini principles,' which with due respect cannot be called a rational policy towards our country. They are dysfunctional and don't allow us to focus on spheres of common interest and act in the best interests of the people of Russia and the EU. This is a real problem.
As you know, the EU is rethinking relations with Russia. Perhaps this visit, if it is actually held as agreed and avoids being distorted by external factors, will contribute to this process. We're ready for constructive work, especially as Russia and the European Union have similar tasks in many areas. First and foremost, this is related to such issues as the climate agenda and digitalization. The pending EU decisions on the Green Deal and the related prospective imposition of the so-called carbon tax inevitably affect our interests. So, the objective agenda is extremely broad, and it's impossible to get by without dialogue. The actual problem is that systemic dialogue between us is practically non-existent. Its absence may lead to the appearance of absolutely unnecessary dividing lines in areas where equal cooperation is both possible and relevant.
Q.: Aren't you afraid that the Navalny topic will overshadow all other topics on the agenda during Borrell's visit?
A.: There are no such fears, as we are ready for dialogue on the entire range of relations, naturally, including outstanding problems, and, considering the preparatory work, we expect the EU foreign policy chief to feel likewise.
Q.: A new round of sanctions has started to unfold on the EU's part following the Navalny incident. Could this result in Russia limiting contacts with the EU and interacting with Brussels only on a limited number of issues that Moscow is interested in, as is now the case in Russia-U.S. relations?
A.: Alas, the past year became another period of lost opportunities for Russian relations with the EU. Instead of encouraging EU partners to combine efforts with us the coronavirus pandemic just led to a further pause in bilateral dialogue, while the differences that have built up have gained further momentum. In particular, we were baffled by accusations made against us in some European capitals of political speculation and disinformation about the pandemic. And it is Russia that demonstrated its readiness to act in the spirit of neighborliness and provide assistance to EU countries affected by this disaster free of charge.
In general, it should be noted that the EU follows a rather peculiar logic of conduct regarding Russia. Amid the expansion of unilateral restrictions against our country, the EU theatrically favors the development of 'selective interaction' with us. However, what kind of interaction can there be if many dialogue channels, including formats of sectoral interaction such as energy dialogue and environmental dialogue which were established years ago and which proved their efficiency, have remained frozen at the initiative of Brussels itself? And the EU ties any shifts on the way to the resumption of these and other formats to Russia's implementation of the Minsk Agreements, which the Ukrainian authorities have been torpedoing for more than five years.
Moreover, having driven themselves into a corner due to their own politicized approaches, our EU partners are trying to substitute normal cooperation channels with sporadic contacts with some agencies and expert meetings with businessmen and civil society representatives on issues that Brussels is interested in. And against this backdrop it is very surprising to hear some EU representatives saying that is unacceptable to stop Russia-EU dialogue. However, we were not the ones who initiated the policy of unilateral sanctions and winding down our cooperation under the pretext of 'punishing' the partner.
It is also hard to understand why the EU, which favors replacing universal legal norms enshrined by the UN with a set of certain 'rules' favorable for itself, reproaches us for non-compliance with international law. The EU's criticism for undermining 'European values' cannot be taken seriously given that some of its member states consider it normal to hold marches by apologists for fascism, to preserve the shameful institute of statelessness for unwelcome ethnic minorities and overt media censorship.
Instead of once again embarking on a futile exchange of mutual claims, we should finally begin serious work at normalizing bilateral relations on the basis of mutual respect and equal rights. This would be the best evidence of the EU's true readiness for a fair and serious conversation on the future of our relations.
Of course, we should remember that EU member states have remained traditional and important trade and economic partners of our country. For example, in January-October 2020, altogether they accounted to about 38.8% of Russian foreign trade. Trade and economic cooperation is still a 'safety net' that supports Russia-EU relations, and this is a major difference compared to our relations with the United Sates where the economic element is considerably smaller. Many issues that one way or another define the economic policy of EU member states are resolved at the level of Brussels. This creates an objective need for systemic dialogue between relevant agencies.
Q.: Is it possible that if mutual understanding with Brussels is not reached, Moscow could lower the level of its representation in the EU and recall its ambassador?
A.: Russia has never been the one to initiate a curtailment of cooperation with the European Union. There is a well-known axiom: the more acute a crisis is, the more relevant the work of diplomats becomes. We believe that, despite all these difficulties, the point of no return has not been passed in Russia-EU relations. There is still a chance to improve the situation using diplomatic methods. The close contacts maintained by our diplomats in Brussels at the highest level with representatives of official EU agencies, the business community, and the general public fully meet this objective.
Q.: Historically, Russia had strong relations with 'old' EU members, such as Germany, France, and Italy, while sharp rhetoric was exchanged with 'new' EU members, in particular the Baltic States and Poland. Do you agree that this situation has now changed? Could problems in relations with Germany and France have a negative impact on Russia-EU relations in general?
A.: You are right, EU member states demonstrate varying degrees of common sense on matters of relations with Russia. This happens for a whole number of reasons, ranging from cultural and historical to purely economic. This is the cause of the different dynamics of our bilateral relations. Let me stress that Russia is committed to developing constructive interaction with everyone who shows interest in doing so.
Speaking of the EU in general, I have to say that the trend toward a stronger destructive influence of the predisposed minority on the general policy of the European Union on Russia has clearly manifested itself in recent years. Considering that the EU makes all foreign policy decisions by consensus, the result is a policy based on the least common denominator and obviously hostile toward us. There are many reasons for that, including misunderstood solidarity, in which Russia-EU relations are sacrificed to demonstrating seeming unity against a backdrop of a growing number of internal antagonism and disagreements. Brussels doesn't seem to be bothered by the fact that this policy has little correlation to the fundamental interests of the populations of EU member states.
Obviously, leading nations have the biggest influence in the EU. Unfortunately, for that reason, the role played by Berlin and Paris in spinning a propaganda campaign around blogger Navalny cannot be underestimated. This has dealt another blow to Russian-EU relations.
If the EU, which already has a coronavirus vaccine, also develops an antidote to obsessive phobias about our country, perhaps we'll see more common sense and adequacy in the EU policy on Russia.
I would like to draw your attention to the fact that Russian-EU relations are not developing in a vacuum. Russia pursues a multi-vector policy and towards Asia this, as well as economic interaction, will develop rapidly.
Russia's trade and economic interests are closely tied to EAEU partners. Brussels should understand that the development of integration processes will remain Russia's foremost priority. It is impossible to mend relations with our country if this factor is disregarded. We assume that Brussels will finally understand the need to establish equal dialogue between the EU and EAEU serving common interests.
Q.: Many experts believe that EU-U.S. relations are likely to improve after Joe Biden was elected U.S. president. In your opinion, how could this influence relations between Moscow and Brussels, bearing in mind the U.S. pressure on Russia?
A.: Indeed, many EU officials hope that the Biden administration will restore so-called trans-Atlantic partnership which obviously cracked during the presidency of [Donald] Trump. Time will show to what extent these expectations are justified.
On our part, we expect the EU, despite feeling euphoric about the return to power of representatives of the U.S. Democratic Party, which is ideologically close to it, to insist on the right to build relations with Russia based on its own interests, rather than on Washington's instructions. The U.S. course toward a gradual strengthening of its 'freehand' policy through the dismantling of international and regional arms control regimes could lead to further degrading of the European security situation with potentially unpredictable consequences. Hopefully, awareness of this fact will prevent EU hot heads from yielding to the temptation of thoughtlessly strengthening trans-Atlantic unity based on the mythical 'threat from the East' by means of Russia's 'deterrence.
A lot will depend in the trade, economic, and other areas of sectoral interaction on whether the possible rapprochement between the EU and the new White House administration develops into 'friendship' against Russia and China. Let us wait and see whether key EU capitals, first and foremost Berlin and others, are able to resist the blackmail of the extraterritorial use of U.S. sanctions and political pressure.
Q.: Russian-EU trade, to put it mildly, fell considerably after the Ukrainian crisis. What ways to repair the situation can you see? What economic spheres do you consider as the most promising it terms of developing mutually beneficial cooperation?
A.: Indeed, our trade has shown reduction; however, it is impossible to make a conclusion about a landslide reduction of Russia-EU trade and economic activity. In 2013, Russia-EU trade reached a record high of $417.7 billion. In 2016, it shrank to $200.5 billion; however, the figure started to grow in 2017, reaching $277.8 billion in 2019. There are several reasons for such dynamics. This includes EU sanctions that required us to take response measures and ban the imports of certain types of agriculture products from EU member states to Russia, the expansion of Russia's production base that allowed to reduce imports, and price fluctuations on energy markets. Now the Covid-19 pandemic has a negative impact on the development of bilateral trade as well. It is also necessary to keep in mind the growing protectionism trend in the EU, which is aimed at toughening trade and investment regimes in the EU, including the creation of additional barriers. Finally, this includes rapid growth of trade with EAEU partners and Asian countries.
There are also encouraging circumstances. In particular, despite the climate in Russia-EU relations, which isn't the best, Western investors are not leaving Russia, although the political risks associated with the Western line on our country, naturally, do not promote entrepreneurial activity.
Speaking about promising areas of economic cooperation between Russia and the EU, I would like to mention traditional spheres such as energy, the auto manufacturing industry, processing industry, machine-building, and new spheres such as the digital economy, artificial intelligence, and climate-neutral technologies. There is still potential for interaction in the sphere of transport, including the development of transport corridors between Europe and Asia.
In a word, there are many possibilities for increasing mutually beneficial cooperation in the economic sphere. It depends on the political will of our Western partners, who should realize sooner or later that the task of politicians is to create favorable conditions for entrepreneurial activities and the implementation of mutually advantageous projects, not to make them worse. This task can be achieved if trade-economic policies are transparent and predictable. In this regard, our partners also have things that they need to work on.
A good example is the development of a so-called carbon border adjustment mechanism, which Brussels regards as a key instrument in the EU transition to a climate-neutral economy by 2050. This measure may seriously reflect on the export in the EU of products from a whole range of industries, but EU partners are still avoiding a substantive discussion on this issue. We also have questions about the EU decision to file an appeal with the non-functioning [World Trade Organization] WTO Appellate Body about a dispute on the use of the 'energy adjustment' method on some Russian goods. Let me remind you that after this WTO body stopped functioning in December 2019 due to the blocking by the United States of the procedure for appointing new arbiters, it was Brussels that encouraged other members of the organization to refrain from filing appeals and thus suspending trade disputes. Now, the European Union, which positions itself as a defender of the multilateral trade system, is trying to avoid revision of its anti-dumping measures on Russia, which have been found noncompliant with WTO rules, using the non-working procedures as a cover.
Q.: Many European businessmen are interested in working in Russia, but they often complain about insufficiently soft business conditions in Russia. In particular, one of sore points is the visa issue. Is Russia going to make some effort to simplify the work of European businessmen in Russia? For example, to ease visa requirements?
A.: As you know, before the Ukraine crisis, Russia and the EU were actively working on liberalization of the visa system and the mutual cancellation of short-term entry visas. Consistent with the Russia-EU visa liberalization agreement of 2006, a number of categories of citizens, including businessmen, received the opportunity to travel on multi-entry visas, which had a validity period of up to five years.
In 2014, the EU unilaterally "froze" cooperation on this subject. What is more, since 2014, the EU has been unceremoniously holding the 'visa discrimination' policy for residents of Crimea and Donbas, it is refusing to recognize their international travel passports issued by Russia and, therefore, to issue Schengen visas. This kind of practice is blatantly violating international law, as well as the legislation of the European Union itself.
For our part, we are committed to creating the most comfortable conditions for the trans-border travel of Russian and EU citizens, including business community members. However, progress towards this objective is only possible on a reciprocal basis. One should not be expecting unilateral concessions from Russia.
Q.: Are there any preconditions for Russia-EU cooperation on a coronavirus vaccine?
A.: The Russian side is consistently demonstrating openness to interaction with the EU in the sphere of healthcare, including in the fight against the spread of Covid-19.
Russia is ready to help deal with this common misfortune. Moreover, we are already actively working on this track with a whole number of foreign states. In the meanwhile, we aren't forcing anything on anyone, and we believe it is absolutely unacceptable to politicize this issue with elements of openly unfair competition and protectionism. The fight against Covid-19 is not a sporting competition, where some of our Western friends are used to winning by removing Russia from the game using any methods. It's about saving human lives, and someone should put a stop to attempts to profit from the pandemic, at least for a little while. And it seems that an understanding of that is gradually coming. Some Western pharmaceutical companies are already demonstrating an interest in establishing cooperation with Russian manufacturers of coronavirus vaccines.
For example, on December 21, 2020, the Russian Direct Investment Fund, the Gamaleya Center, the R-Pharm group of companies and British-Swedish pharmaceutical corporation AstraZeneca signed an agreement om the development and implementation of a program of clinical studies of a combination of vaccines in order to increase the level of people's protection against the coronavirus.
Q.: Clearly, Nord Stream 2 is likely to be completed despite all political differences. Does Moscow fear that after the construction is over there could be problems with operating the pipeline, keeping in mind U.S. sanctions and deteriorating Russian relations with European partners?
A.: We view Nord Stream 2 a major commercial project of a common Europe, which meets the interests of both the Russian Federation and the European Union. Obviously, the growth of stable Russian gas supply to EU member states will bolster their energy security and will assist in achieving EU objectives in the fight against climate change. This project is advantageous from the point of view of market predictability and reliability, as it will stabilize the gas market and will help avoid price fluctuations and diversify gas supplies, which the EU loves to talk about.
In my opinion, this can be disputed only by those who are far from being guided by European interests, but wish to win praise from Washington, which is promoting its more expensive and less ecological liquefied natural gas on the EU market by all means available.
Clearly, European companies participating in this project are afraid of falling under the U.S. secondary sanctions. However, the project will function, because we'll be selling gas on the basis of commercial contracts.
Disregarding any details on sanctions, this is a question of the Europeans' ability to resist U.S. pressure. If they demonstrate political will and declare Washington's diktat unacceptable on issues pertaining to their energy needs and methods of accommodating them, Nord Stream will actually become a pillar of the energy security of Europe.