15 Jun 2020
Ukrainian Prime Minister Denys Shmyhal: We should heat up economy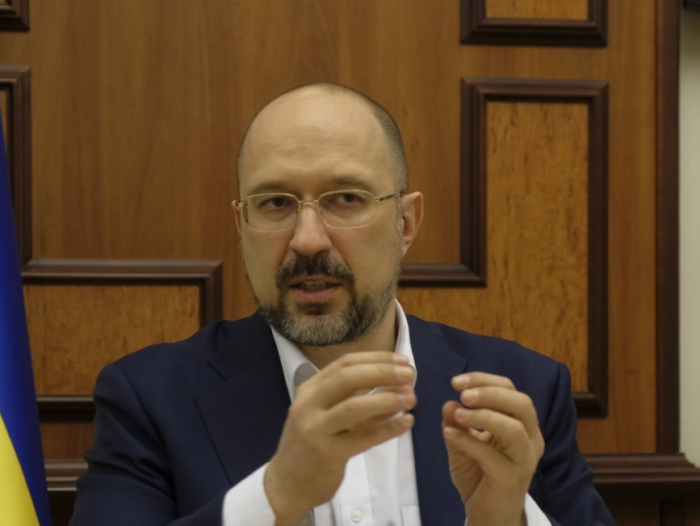 Denys Shmyhal
Photo: Interfax-Ukraine
Ukrainian Prime Minister Denys Shmyhal has given an interview to Interfax in which he speaks about easing coronavirus restrictions, the pandemic's impact on the Ukrainian economy, and structural reforms in Ukraine.
Question: Ukraine has entered the stage of easing quarantine restrictions. Could you explain how areas, where the second stage of easing restrictions starts, are picked, because the criteria and real steps do not always match each other?
Answer: Adaptive quarantine. Naturally, we are moving the same as the whole world, we are looking at the balance between saving lives and health of people and saving the economy. Opinion polls conducted in Ukraine over the past month show that about 20% of people fear consequences of the coronavirus crisis as an infection, while 80% fear consequences of the economic crisis. That is why today people demand a clear understanding of how we will move forward in conditions of the global economic crisis. We were entering the quarantine smoothly, gradually closing certain industries, introducing emergency situation in some regions and later throughout the country. We should be exiting quarantine smoothly the same, keeping in mind that the epidemic has not gone away.
Today, we have reached the limit of 9,000 tests per day. Further on, we will take on the pooling method, when four or five tests are mixed in one tube, and if a tube tests positive, each of these five tests will be considered separately. This allows, if need be, to increase [the number of] tests four- or five-fold, and make 40,000-50,000 tests per day with the current level of laboratory equipment. The number of those sick will remain stable, while [the number of] tests will grow, and the number of recoveries will be either close or will surpass the number of infections.
We are waiting when we will pass the peak, and the decline will begin. Full-scale exit from the quarantine will begin then. The world has never faced such a pandemic, that is why we are in a constant stress experiment.
Q.: If an outbreak in certain cities and regions occurs after the quarantine is eased, will this restore the previous level of restrictions?
A.: Everything will depend on decisions of local commissions for industrial and environmental safety and emergency situations. We are controlling this at the state level, but the final decision is for local authorities to make. As for specific outbreaks, we will be containing them starting with specific institutions, villages, towns, districts and regions. So, if there is an outbreak at a certain institution, we will contain and then monitor it. If the disease starts spreading, and if there are several such outbreaks within a district, we will close the district. If there are 10 problematic districts out of 20 in a region, we will close the region to prevent [the disease] from spreading all over the country.
Q.: Is there an understanding today of how much Ukraine will spend in total on supporting its economy because of the coronavirus?
A.: Our anti-coronavirus fund amounts to almost 65 billion hryvni, and we understand that we will spend all of them, we will not be saving there. This applies mainly to buying individual protection means, equipment, medicines and to doctors' salaries. A separate issue is giving 26 billion hryvni to the Pension Fund and six billion hryvni to the Unemployment Fund. The total sum is about 100 billion hryvni.
We should also take into consideration that we relieved small businesses of paying the unified social tax, but the government undertook an obligation to pay this tax. So, we continue to calculate this period as years of pensionable service. The sum has yet to be calculated because everything depends on how long the quarantine will continue. There are separate programs to support small- and micro-sized businesses, in particular four billion [hryvni] in the 5-7-9 program, which has now become the 0 program, which will allow to refinance over 30 billion [hryvni] in loans, or up to 40% of all loans of small- and micro-sized businesses in Ukraine. This is enough for all who sustained damage this year to go on loan holidays.
Q.: How seriously will the crisis in Europe, where Ukraine exports a significant share of its products, influence the country?
A.: We are working together with the Foreign Ministry on slightly changing the areas of Ukraine's diplomatic work in foreign countries. We will task our diplomats with promoting Ukrainian exports. This is a kind of a reform. The promotion of Ukrainian exported goods on global markets will become of the KPI's for Ukrainian diplomats.
Drawing investments to the country may become another KPI. Exports from here, investments to here, while imports to Ukraine will come here due to foreign diplomats' efforts.
Q.: And Ukrainian investments will go to foreign countries with no assistance?
A.: Investments from Ukraine is a great topic, but I would limit myself today to economic and investment nationalism, in a good way, and invest in Ukraine. There are very good conditions for investments here. There is also a good margin in certain areas from the point of view of economic opportunities. That is why one should investment at home, develop local products, increase quality and then start exporting goods.
Q.: Given all the factors, is there an opportunity to move some assembly factories working for Europe from the Asian region to Ukraine?
A.: We are looking now at how to win regional competition, because Ukraine now has a whole range of advantages. Let me cite the Doing Business ranking. In 2012, we started with being below the 150th position. We were gradually moving to the 71st position, and today we are the 64th out of almost 190 countries. Our goal is to get to Top-30. This is not just a brand, or status issue to get to the top. This will mean that we are meeting certain indicators for investors. Today they say that Ukraine is very good for investments, but they are uncomfortable with several parameters. The key such parameter is connection to power grids. We are between the 120th and 130th positons as far as connection to power grids is concerned. Should we improve this parameter, we automatically, with no other effort, get to the Top-30 of the overall ranking. In reality, this will mean that we are winning regional competition with our neighbors, Poland, Hungary and Romania.
The second parameter is access to financial resources. As you can see, we are interacting with the National Bank of Ukraine. The rate is already 8%, and we have an understanding of how to move further. We want to make attractive mortgage loans, as far as interest rates are concerned, starting from the second half of the year. This requires working on lowering the rate and on creating special tools for our banking system. The banking system is now stable, but the inflation rate is 11.6% according to the governmental macroeconomic forecast, while in fact, we got less than 3% in the first quarter, which is putting colossal pressure on exporters.
We cannot heat up the economy, but we need to do that. Small- and medium-sized businesses should create more jobs, while the big economy should heat up through state orders and construction. Those are the drivers that will have a very good multiplier effect. And it should be boosted by various tools: inflation, exchange premiums and loans.
Q.: Do you understand that this must be a controllable process, because, it is said, that it is easy to start printing money, but very hard to stop doing that?
A.: The issue is not about printing money, even in theory. From the macroeconomic viewpoint it is far easier to stop inflation rather than to accelerate it, when it is needed. The only exception is when you really print money and give them away, but this is simply a crime. A healthy inflation of 2%-3% is a means of gradual economic growth, and it should be launched. This is difficult. Now the majority of companies are curbing production, they have fewer orders. That is why consumption needs a slightly bigger demand than production, and this growth needs permanent control.
Q.: What about structural reforms?
A.: This is an important discussion both in the context of the IMF and in cooperation with our international partners. For sure, we are not going to give up on reforms in those spheres where they are on.
In particular, we are actively working on the completion of the decentralization reform. Today, we have adopted 21 long-term plans for regions. We will soon complete the whole state's long-term plan, which will allow us to get to the next stage - the electoral process.
Q.: When will constitutional changes dealing with decentralization be ready? Earlier, you said that preparations would end in March.
A.: The coronavirus made changes to our previous plans. Ideally, we would like to complete this by the electoral process, meaning by July.
Q.: Another widely discussed issue is supervisory councils of state companies, the presence of foreigners in them and their terms of work. What is your vision?
A.: Supervisory councils are a good example of corporate governance, which was to be an efficient instrument. What I am worried about as prime minister is non-market and in some cases unreasonably high salaries of members of supervisory councils, which we have evened during the quarantine. In the future, we should again find the right balance.
In general, the issue of whether there should be supervisory council or not is not a topic for discussion for me. They should be because they add certain systemic work and stability to companies. The issue is about the qualitative composition of these councils. I have an understanding regarding almost every company where we have problems in supervisory councils: in some there are not enough personnel, in some there is not quite responsible attitude, and in some people are not quite professional. That is why, it is likely, that pinpoint changes in the supervisory councils will take place.
Q.: When will the 'green' tariff issue be solved?
A.: The memorandum is ready. There are calculations regarding all possible scenarios. This is a complicated issue, which underwent almost six-month mediation and almost one-month negotiations with key players that occupy 90% of this market. We have agreed on almost everything, but one detail that is still being discussed. We are reaching the final lap. It may not be a fast one, but we know and see what we want. Representatives of 'green' energy also know what they are ready to agree on, so the compromise will be found.
Q.: How do you cooperate with head of the Executive Committee of the Ukrainian Presidential National Council of Reforms Mikheil Saakashvili?
A.: We cooperate with him absolutely constructively, we discuss areas of reform. There are no interesting and intriguing things there. It is calm communication and transfer of experience.
Q.: The idea of introducing the post of deputy prime minister for defense and space industry and separating the ministries is being discussed now. Will there be any novelties here?
A.: There are several ideas. The first one is isolating the agriculture sphere from the Economy Ministry into a separate ministry. This is at the level of an idea, we are working on it together with the Economy Ministry and deputy prime ministers.
The second one is the separation of the Energy and Ecology Ministry. This idea is at the level of a plan and the start of its implementation. Regretfully, the unification did not bring the effect that we had expected. It was strange for me when I first got at a governmental meeting when the energy minister first reported on nuclear energy, then on coal mining and then about Red List plants and catching bloodworms. Since then I began advocating that a professional environmentalist who lives this life and who is close to such things address ecological issues. The separation of the ministry and the creation of the post of the ecology minister is on the agenda.
The third one is a stronger industrial sector. Ways of reaching it are still under discussion, either to make a separate deputy prime ministerial post, or to appoint a strong deputy in the Economy Ministry, or maybe to create the ministry of industrial policy and state defense order. Discussions are underway, we are searching for formulas, people, and the best implementation format. We would like to make it as fast as we can, because this is highly needed.