25 May 2020
VTB Deputy Chairman Vadim Kulik: Remote services will be not even the mainstream but the basic hygienic standard in literally a year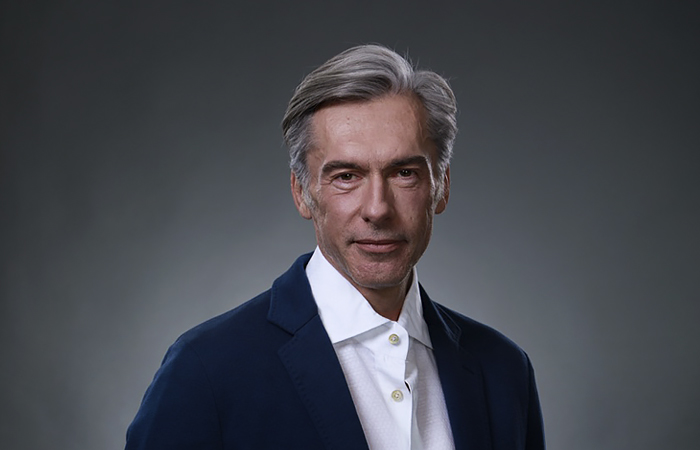 VTB Deputy Chairman Vadim Kulik


Photo: VTB press service
The Russian banking sector had been doing its best to keep up with the latest digitalization trends even before the coronavirus pandemic, which has now sped these processes up, forcing banks to introduce products that do not require physical contact with a customer more quickly. VTB Deputy Chairman Vadim Kulik talked in an interview with Interfax about the difficulties the state bank has faced at the height of the restrictions, how the group's IT strategy has altered and what the bank has done to mitigate the risk of glitches in its VTB-Online system.
Question: VTB's strategy until 2022 assumes substantial growth of the share of digital channels in servicing group's clients. What percentage of the bank's sales and transactions are currently conducted remotely and how quickly has the digitalization process accelerated from the time when coronavirus began escalating? Will the goals for the period until 2022 be reviewed?
Answer: VTB's digital transformation strategy, which assumes transfer of 100% of services to digital channels, has become even more relevant. The whole world has received strong momentum for transferring services for individuals and legal entities to an online format. It's obvious that everyone is talking about this now, but we already have definite results for this work.
Now, we can provide a higher number of services remotely both to clients of the bank and non-clients. For example, recently it has become possible to confirm accounts on the Public Services website on VTB-Online. Earlier, we did fully digital auto loans and we are conducting digital deals for mortgages. Shortly, in literally a year, this will have become not even the mainstream but the basic hygienic standard.
Our strategy has not just become more relevant, it is now closer to us from the point of view of deadlines for its implementation and stricter in terms of requirements for ourselves. Earlier, we believed that some of our processes might run until 2022, but now we have already done a great deal of what we were planning for the end of this year or next year. The pandemic compresses time and causes us to be more collected, faster.
Q.: How much more will it cost to implement VTB's IT strategy and how much have operating expenses risen since the bank sent some of its employees to work from home? You probably had to buy equipment for that?
A.: Our IT budget has not changed, and we will not exceed it. There is a total IT budget of 180 billion rubles until 2022, and we are within its framework and are operating according to the strategy. We have not ceased a single technological development project. We have not stopped a single investment related to improving reliability, developing an omnichannel, and unifying our IT landscape.
But costs have been redistributed within the budget. We did need more laptop computers - we handed out something like 7,000 of them to employees in the space of two weeks while ordinarily we would have needed around 2,000 and done this gradually. It turns out we had planned those costs in advance, not instantaneously.
Q.: You have mentioned online mortgages. What other new distance products are planned this year?
A.: We have big plans for this year. A lot of changes are in store. There'll be a new version of the mobile bank for individual customers and a mobile version and web version for corporate clients, which is also entirely new. Here we need to talk not just about products or product features but also about whole future product classes or channels that will be revamped entirely. The mobile bank's image will change, there will be some big product news. We have put a lot of work into this since the start of the year and we have achieved some notable success but we will take another step in the third and fourth quarters of this year to enhance its reliability.
Q.: VTB has announced plans to create an IT platform that will include a residential rental service, a mobile phone provider, digital accounting, and a marketplace for banking services. What stage is this project at now? What products will the digital platform offer and when will the bank start to offer them as part of its ecosystem? How will it differ from the products being offered by Sberbank of Russia?
A.: Several projects are developing very successfully, for example, everything related to housing. Others are still under development.
We now face a global question, and we are discussing two options for developing an internet platform. A final decision will be taken in the summer, which could turn out to be a high-volume loyalty program or a kind of center for combining products geared toward retail customers within the VTB ecosystem. These are two very different models. The first is conditional, the counting of points in mobile phone applications with simple implementation and small investment. The second option concerns an open super app, which is an interesting topic and something completely new. If we go this way, then a program would appear by which a client would be able to complete absolutely different needs using not only our solutions and products, but also third-party products.
Now everybody is trying to create apps based entirely on their own products and developments but we are opening them up to third parties. That path brings fewer financial benefits as you are sharing the profit with other companies. But for us it is important that a client should get the most at the best price and on the best terms. It doesn't matter to us even if these are outside vendors, producers, services. Customer value means more to us, so we will be opening up completely.
This is our fundamental position: VTB would like to develop open products and position itself as being available to any players, to open all its libraries, so that any developer could coordinate with us.
Q.: VTB and Rostelecom registered the 50-50 joint venture Big Data Platform at the end of March to develop and monetize projects based on big data processing. What products will this company offer and how will this project be monetized? When will it get fully under way?
A.: The main goal of the JV is to create products based on big data for ourselves and other companies that will help provide services to a customer that are needed specifically by them and specifically now.
When a call center or some agents call you many times, for example from insurance companies, we all just experience pain. I don't even understand how so many people have my phone numbers. Moreover, they have no scruples about the length of the call, or the style or form of conversation. Our objective is to move away from this, make something fundamentally new.
The venture's advantage is in the large variety of data from completely different companies, he said. The partners in the platform are approximately equal by amount of data. For some types of data, Russian Post or Rostelecom have a larger amount than VTB. The company's partners also include fiscal data operator 1-OFD and retailer Magnit.
Monetization options vary, from growth in the number of approved loans and better risk forecasting to the sale of additional products to clients by precisely determining preferences and correctly locating points of service. For example, there are additional products related to mortgages. We know what you will have inside the property and we can provide some additional recommendations of products or additional discounts, predicting specifically your preferences. Ideally, it's possible to say that in general, based on the results of your search, consumer behavior and everything else one can surmise what style of furniture you're looking for and what we can recommend to you. And that's just a couple of examples.
The operating plan and strategy for the new venture are now being drafted and this is the objective for the next six months. We want to do the first commercial pilot projects before the end of the year. We have confirmed the key members of the JV's management board and board of directors. The initial contribution to the company's charter capital has been made. The issue of recapitalization will be decided based on the results of the defense of the JV's strategy.
Q.: Might other partners join the platform besides Rostelecom?
A.: Yes. I've already said we'll be doing everything openly. As soon as we arrive at operational provision of services and fine-tune this on ourselves, we'll start putting products on the market. Moreover, we'll be interested in an exchange, receiving data for data. Here there could also be many new monetization models.
Q.: Let's go back to technological innovations. The Central Bank is thinking of allowing banks to gather information for the Unified Biometric System remotely, by telephone or tablet given the coronavirus situation, when it is preferable not to visit a bank in person. Is VTB introducing that option?
A.: Yes, of course. We aim to be first in everything to do with state initiatives. This is very advantageous for us. Serving somebody who was not a bank customer used to be almost taboo, we would definitely have had to meet them in person. The Central Bank is now taking a big step forward. In my opinion this is the right direction. Moreover I think this opportunity for an individual to de facto connect with any provider remotely, without any unnecessary contact, will be sought after not only during the pandemic but for ever more.
Q.: When does VTB plan to file an application to use the internal ratings-based (IRB) approach to capital requirements for credit risk?
A.: We've begun a program to transition to IRB and must prepare in 18 months, and file the application six months ahead of time. That is, we'll submit such an application on the horizon to 2022.
Q.: Have you estimated how much capital that would save?
A.: The amount of capital saved using the IRB approach will depend on changes in regulations in the next few years. Obviously, right before submitting the application we will do the latest calculations and make forecasts. We're preparing very seriously, the restructuring of many models is now underway.
Q.: You have mentioned the new reality several times, but will that affect how you operate? Are you prepared to work remotely all the time?
A.: These are different things. One would like to work with one's colleagues, to get back into the office - it's very hard to work from home. I used to think I worked like crazy, but now.... I want to talk to real people, I want to go out for a meal with someone and have a pleasant discussion.
But I also know for sure there are certain establishments that I never want to visit again. I'll be only too glad to look at my screen, click a few buttons and get to know the system if only to avoid having to go somewhere. And this is definitely going to be the new normal. It'll be like this for good. It'll be what we take for granted, our comfort level, and we will have to learn how to work with it.